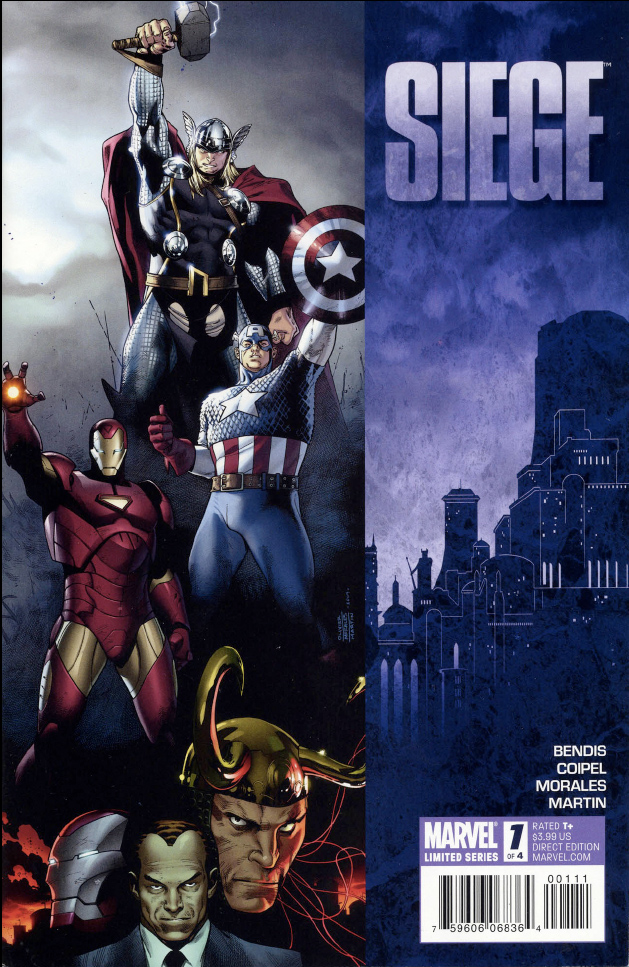 Issue: Siege #1 of 4
Release Date: January 6, 2010
Writer: Brian Michael Bendis
Penciler: Olivier Coipel
Inker: Mark Morales
Colorist: Laura Martin
Covers: Coipel, Morales, and Martin; Gabriele Dell'otto; Joe Quesada, Danny Miki, and Richard Isanove
Publisher: Marvel
Norman Osborn and Loki. Working together? Oh, lordy, this can't be a good thing. Of course, they're going to war with a bunch of Nordic gods and goddesses, so I'm thinking that really can't be a good thing.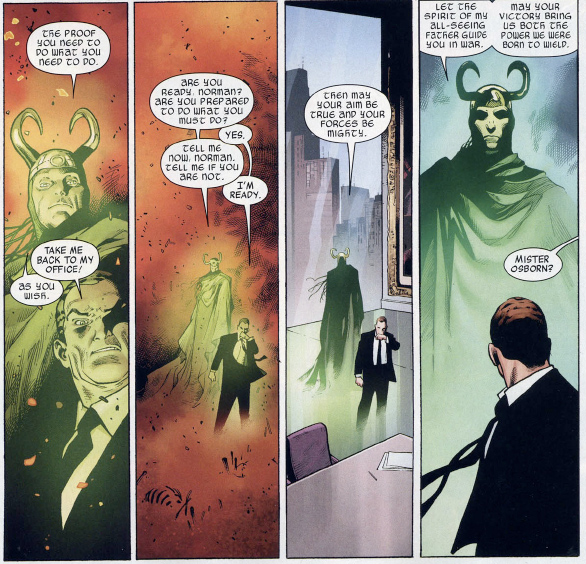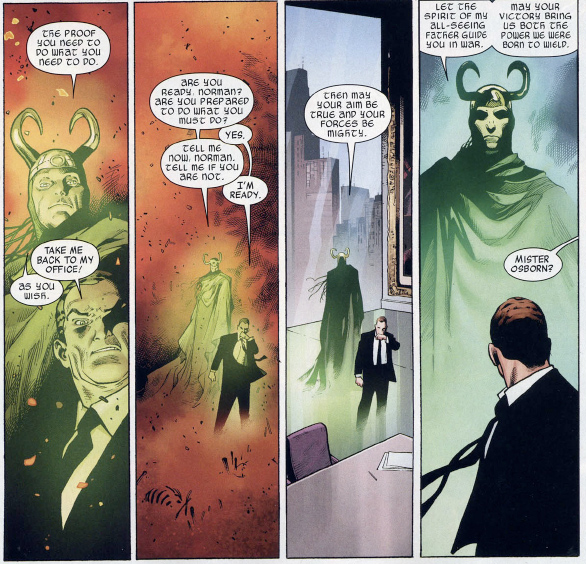 So Osborn and Loki need some kind of "incident" to get people against having Asgard floating over Broxton, Oklahoma. Why, you might ask yourself (because I did)? Well, my guess is because they're villains and that's the kind of thing they do, but I doubt the story is going to end up that simple. Loki sets the whole thing up for Osborn by getting Volstagg to wipe out an entire stadium full of people while being attacked by a set of Osborn's cronies (with only the "Volstagg wiping out an entire stadium full of people" part getting caught on video).

This gives Osborn the reason he thinks he needs to go to war, but the President isn't exactly okay with that. Alright, so 1: Obviously the President in the Marvel U is stupid because who the hell would ever believe that Norman Frakking Osborn wasn't six kinds of bat-crap crazy, and 2: Who the hell puts Norman Frakking Osborn in charge of ANYTHING, let alone a bunch of other super powered nut jobs to "protect" people?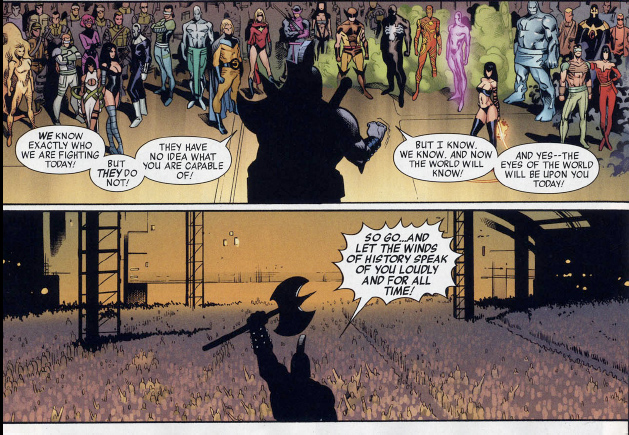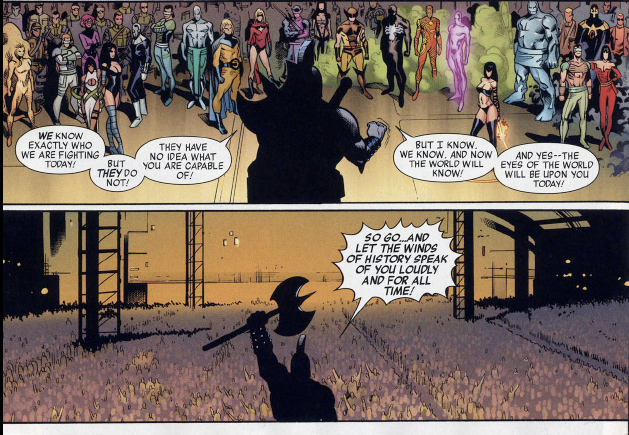 While the weirdo version of the Avengers are giving Asgard a beat down, a brain-damaged Tony Stark is being looked after by Maria Hill and Dr. Donald Blake in the same town. Not really a coincidence since Blake is Thor (I totally let out a fangirl squee when he went all "KAAAAKOOOOM!" and had that gigantic lightning bolt come down). He goes to fight Osborn head-on while Maria stays to get Stark out of Dodge, and that surprisingly doesn't go well for The Mighty Thunder God. He totally gets his face introduced to the dirt. Maybe I was the only one surprised by this, but there are four issues so I guess he can't take everyone out singlehandedly in the first issue (especially when you go back and look at the cover again). But if I thought I was a complete geek when I squee'd at Thor, the fact that I near wet myself with that last page pretty much put the official "geek" stamp on it. I am super excited to see where this goes in the next four issues and the fight that's around the corner.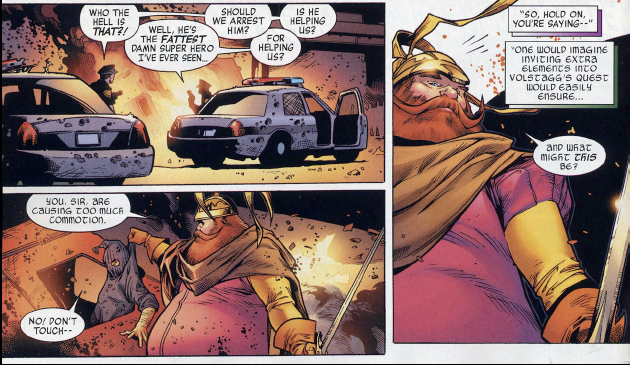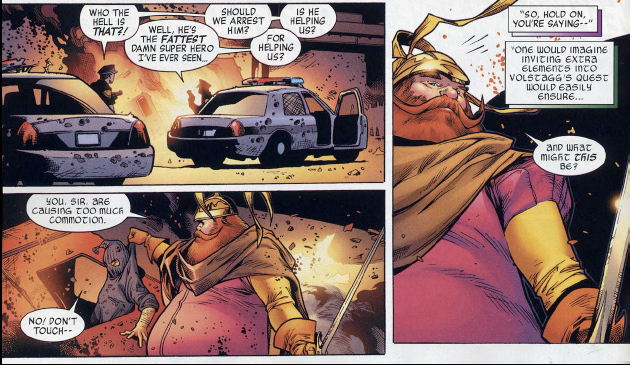 Like I said, it's been awhile for me and Marvel. I'm still trying to catch up on the trades because Wikipedia is only so reliable, even when it comes to fictional universes and characters. My excitement for this issue might be because I haven't read a proper, good old-fashioned "superhero" comic in a long time. Sometimes you just need a panel that is basically filled with a made-up word like "KAKOOM," you know? So take my rating with that in mind. Beyond that, the pacing here was great for me. They just went right into battle and didn't bother with the standing around and jaw-flapping too much (even if I wanted someone to stop the story and explain why Wolverine was in this comic — yeah, it's been a really long break between comics for me). Speaking of that, Marvel put a nice little "in case you lived in a cave like Summer for the past 7 years" before the issue started and Quesada did a quick summary of everything that's lead up to this at the end of the comic. There is something about all these characters in a big battle royale that makes me smile. The first run has already sold out on this issue, and I can understand why. Siege looks like it might be setting up the MU for another shakeup, and it's off to a good start.
Rating: 4 / 5 Stars