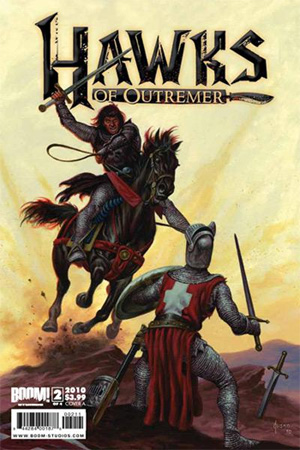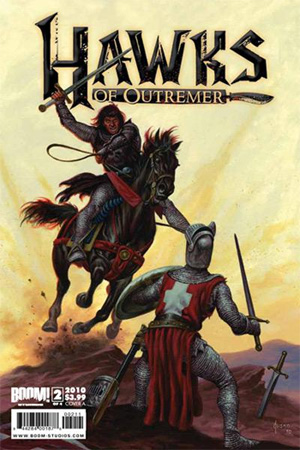 Issue: Robert E. Howard's Hawks of Outremer #2
Release Date: July 14, 2010
Story: Robert E. Howard
Script: Michael Alan Nelson
Artist: Damian Couceiro
Colors: Juan Manuel Tumburús
Letterer: Johnny Lowe
Cover A: Joe Jusko
Cover B: Damian Couceiro (Colors: Juan Manuel Tumburús)
Publisher: BOOM! Studios
On July 14th, BOOM! Studios released the second issue of Michael Alan Nelson's comic book adaptation of author Robert E. Howard's famous Hawks of Outremer story, and if you haven't read the series yet then you should definitely check it out. The Robert E. Howard's Hawks of Outremer comic series tells the tale of a savage warrior named Cormac FitzGeoffrey, who discovers that a young French knight named Sieur Gerard de Gissclin to whom he owes his life was murdered and sets off to exact swift revenge upon those responsible for his death.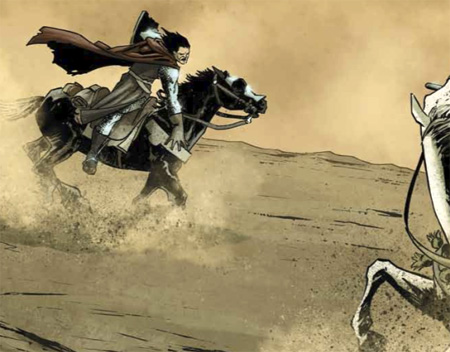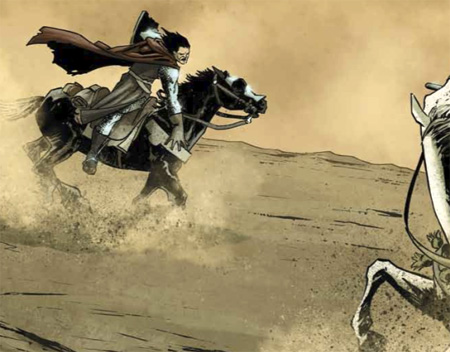 In Hawks of Outremer #1, Cormac seeks out and confronts Baron Conrad von Gonler, whose decision to withhold aid from Sieur Gerard contributed to the young knight's death as much as the actions of the individuals who killed him. After dealing with Baron Conrad, Cormac sets off to find the Sheik Nureddin el Ghor, the man responsible for killing Sieur Gerard and his men and reducing his property to little more than burned rubble. Hawks of Outremer #2 opens as Cormac happens upon one of Sieur Gerard's squires being tortured by one of the Sheik's men. Given that word-of-mouth is the main way that information is communicated, it is not until Cormac meets the squire that he discovers the sordid details of Sieur Gerard's demise and the true extent of the Sheik's involvement in facilitating it.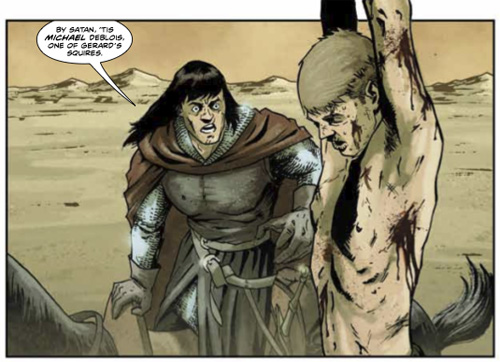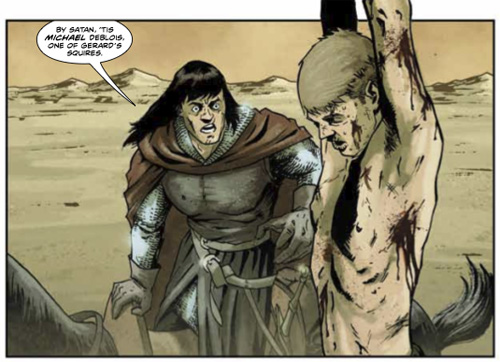 My initial reaction to the Hawks of Outremer series was not a positive one. Compared to the comics and graphic novels I read on my own time, the illustration style of this series is very subdued and the story was rather confusing the first time I read it. Fortunately, I took the time to re-read both the first and second issues of Hawks of Outremer in order to wrap my head around the events unfolding on their pages. As it turns out, Hawks of Outremer is one of the best BOOM! Studios series I have ever read, and certainly a worthwhile purchase.
It is extremely impressive how much Michael Alan Nelson, artist Damian Couceiro, and colorist Juan Manuel Tumburús are able to achieve in each issue of the Hawks of Outremer series. I usually read comic books after the issues are collected into volumes because single issues never contain enough substance to satisfy me. In the case of Nelson's Hawks of Outremer series, however, each issue presents a rich, well-developed and detailed addition to the overall story arc that incites a desire to know more about Cormac's quest for revenge, but won't leave readers feeling cheated by a lack of content.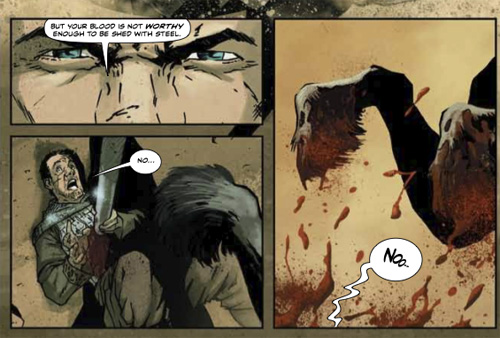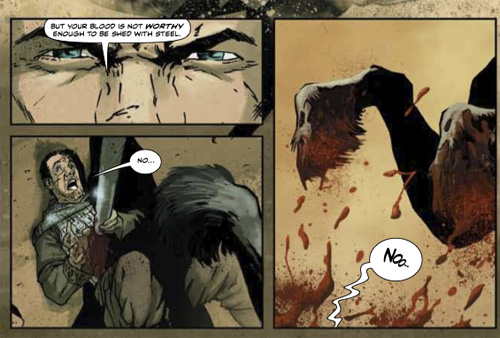 The way that Couceiro utilizes the space provided on each page of the comic book inevitably contributes to the overall quality of the Hawks of Outremer. In issue #2, for example, there are only two splash pages: the first and last pages of the issue. Although splash pages are an excellent way for a comic book artist to show off his or her work within a comic issue, Couceiro opts to make the most of the space available to him, using an average of four panels per page. The end result of such a decision is the ability to provide readers with a large amount of visual information that compliments, illustrates, and even further develops the information provided by the dialogue.
Overall, Robert E. Howard's Hawks of Outremer comic series is very well done and is worth purchasing from BOOM! Studios. In my opinion, all comic book fans should check out this series, but I do recommend reading the first issue of the series before starting the second to avoid being confused by the somewhat complicated story.
Rating: 4 / 5 Stars