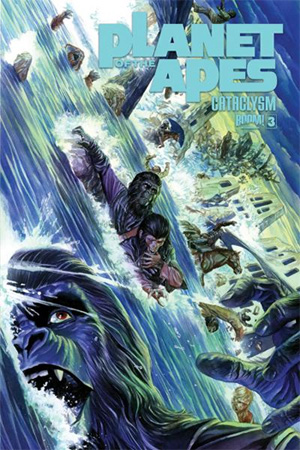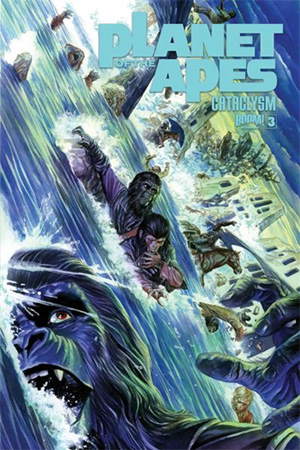 Issue: Planet of the Apes: Cataclysm #3
Writer: Corinna Bechko and Gabriel Hardman
Artist: Damian Couceiro
Colors: Darrin Moore
Letters: Ed Dukeshire
Cover A: Alex Ross
Cover B: Gabriel Hardman (Colors: Matthew Wilson)
Publisher: BOOM! Studios
If Syfy were to ask me what they should do for their next big ongoing Friday night original series, I would tell them to do three things: 1) do a POTA remake, 2) hire Man of Action to produce it and, most importantly, 3) base it on POTA: Cataclysm and hire BOOM! as creative consultants or as writers for the show (or both).
As I was writing the below summary to this is issue, I noticed myself inserting a lot of "meanwhile" and "elsewhere" segues. I realized this is because the masters of visual storytelling at BOOM! are doing exactly what you expect from good POTA: throwing the sanctimonious apes into situations they can't handle (which forces them to question their own character) and seeing what kind of interesting catastrophes develop. There are a lot of plots being seeded here.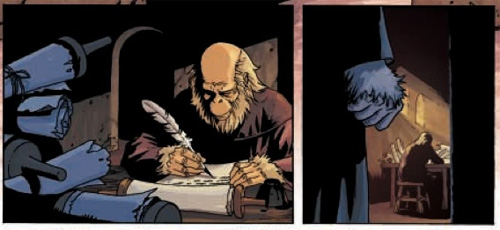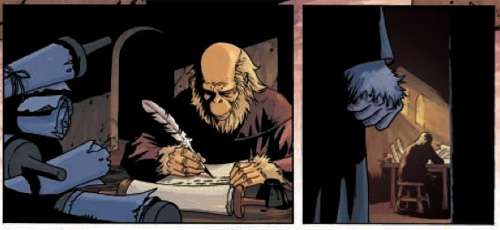 Of course, with so many related but separate plot lines, they run the risk of turning it into a big pile of mush that gives the reader a sense of confusion instead of adventure. But they haven't gone over that cliff yet. So, let's see what happens in this issue.
The opening scene presents an interesting set-up: six months ago, the guy from the first issue (the ape that shot his way into the underground moon-missile-weapon control center and launched the doomsday device that is causing all this chaos) shows up at a monastery, dressed as a monk, and strangles another monk ape to death.
We then cut to the present: Cornelius is pulled from the river (the bridge out of Chimp City had collapsed at the end of last episode) and is told he is the only survivor. Apparently, Cassia supposedly died when the bridge went out.
Elsewhere, Zaius is getting news that some crazy chimps from outside the city are planning an assault. It looks like they are led by the monk from the opening scene.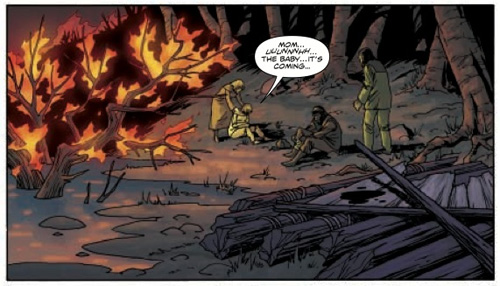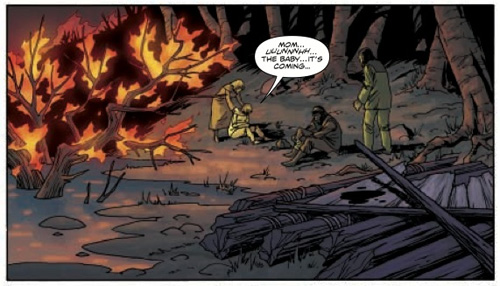 Elsewhere, Sienna is being taken to safety on a raft, and they come across apes and humans that have been shot and killed (even though ape doesn't kill ape). Presumably they are victims of the same apes that are planning to attack the city. The small party pulls up to a river bank because Sienna is about to give birth. Marcus has to do the delivery. But before they can get the towels and hot water and whatnot, they notice Prisca trapped in a building that's about to collapse, being chased by crazed humans. They try to help Prisca escape, but the building collapses on them, with a pregnant Sienna looking on from across the river.
Meanwhile, Dr. Zaius has been pulled from his duties to talk to a dying soldier who insists he has come back from a sacred mission. He informs Dr. Zaius he was one of the apes guarding the sacred cave (the one from the first issue in which the crazy ape shot his way into the underground bunker and launched the missiles from the moon and caused this whole mess to begin with). Dr. Zaius asks who shot him, and the soldier points to the monk standing behind in the corner "it was him."
Come on, Syfy! I'll give you pro wrestling. But give us POTA!
Rating: 4 / 5 Stars