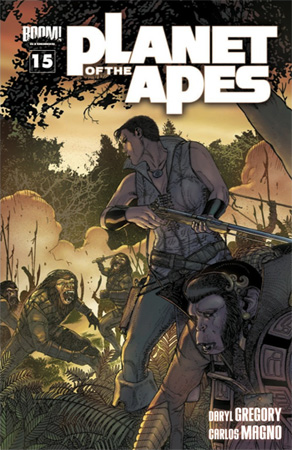 Issue: Planet of the Apes #15
Writer: Daryl Gregory
Artist: Carlos Magno
Colors: Darrin Moore
Letters: Travis Lanham
Cover A: Carlos Magno with Darrin Moore
Cover B: Damian Couceiro with Nolan Woodard
Cover C: Carlos Magno
Publisher: BOOM! Studios
It's been a while since I've read up on this POTA series, and a lot has happened. The Lawgiver is dead, Sully gave up on peace, and the humans are on the run. It's madness! Of course, that's the appeal of a Planet of the Apes comic series: it's a madhouse!
The thing about the POTA franchise is that we know how it all starts (society as we know it), and we know how it all ends (a madhouse where the apes are at the top of the food chain), but you don't know what happened in between. That's the fun part: finding out how we got from point A to point Z. This installment is not different. Here's the latest scoop: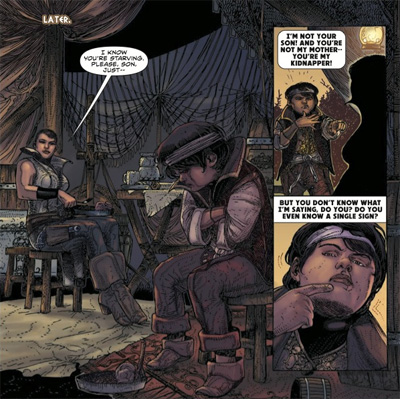 The Voice Alaya has an adopted human son Julian, who has been kidnapped by the human resistance. In this issue, he is on the run with his captors. Sully liberates him, although Julian is no happier to see Sully than he was to see the chimps she rescued him from.
Meanwhile, Nix, the gorrilla who is no longer leading the ape security force, convinces General Jommu that the security forces have to move the Voice away from the capital. There are conspiracies afoot, and she is not longer safe in her own palace.
Sully sends one of her lieutenants to rally the humans and prepare for battle. At the same time, the Voice finds out that getting her out of the capital was a clever ruse by Nerise who still has the loyalty of the ape soldiers.
This installment is basically putting the pieces in place for the next act. There are a lot of shifting elements. There's some action, but mostly this is the tension before the explosion.
Rating: 3 / 5 Stars.