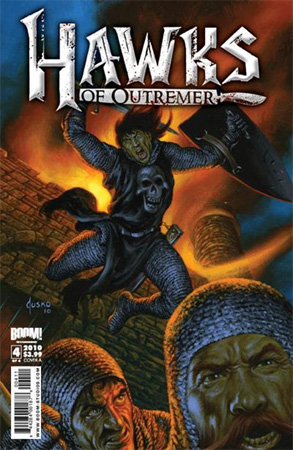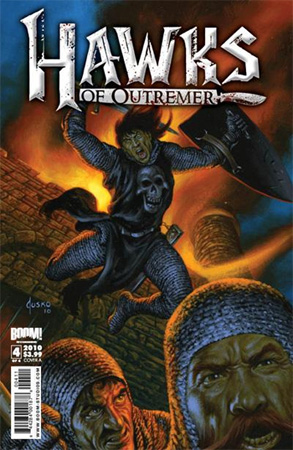 Issue: Robert E. Howard's Hawks of Outremer #4
Release Date: September 15, 2010
Story: Robert E. Howard
Script: Michael Alan Nelson
Artist: Damian Couceiro
Colors: Juan Manuel Tumburús
Letterer: Johnny Lowe
Cover A: Joe Jusko
Cover B: Damian Couceiro (Colors: Juan Manuel Tumburús)
Publisher: BOOM! Studios
The final installment of Michael Alan Nelson's adaptation of one of author Robert E. Howard's relatively unknown series, Hawks of Outremer, was released by BOOM! Studios last month. Like its predecessors, Hawks of Outremer #4 is violent, bloody, and action-packed, and fans of the series thus far will not be disappointed.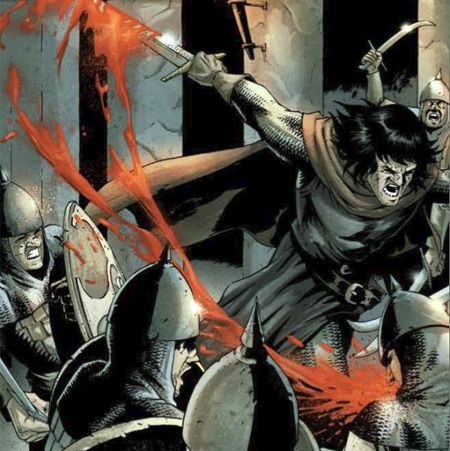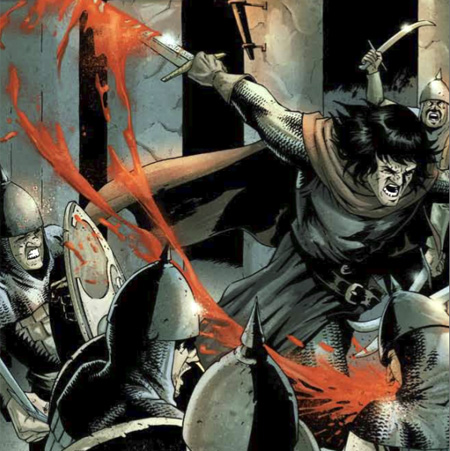 The first twelve pages of the Hawks of Outremer #4 feature a total of three very short lines of dialogue (the first of which doesn't appear until the eighth page), each of which amounts to "… No… Please…" or something similar. Traditionally, dialogue and narrative provide comic book readers with important background information on the characters and actions taking place on the page before them, but interestingly enough the final installment loses nothing by virtually omitting dialogue, and even narrative, throughout the first half of the issue.
The choice to illustrate rather than explain the events that take place in the first half of Hawks of Outremer #4 is a bold one, and it makes it difficult for a reader unfamiliar with the story thus far to read this issue out of context. Of course, the ease with which comic book readers can make their way through a four-issue miniseries like this one means that few people will pick up Outremer #4 without reading at least one of the previous installments.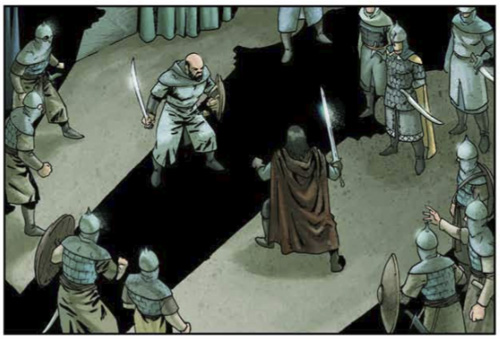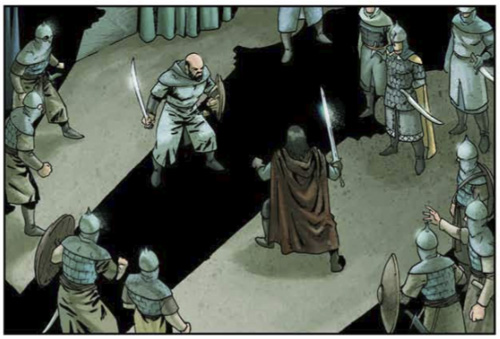 Regardless of its need for context and its sparse dialogue, Hawks of Outremer #4 is one of the strongest concluding issues to a comic book miniseries that I have ever had the pleasure of reading. Series protagonist Cormack Fitzgeoffrey's quest for revenge finally comes to an end when he faces the perpetrators of the plot against his liege lord. When Cormac and his enemy are surprised by a group of Muslim warriors just returned from the crusades, Fitzgeoffrey is left with a simple choice: kill or be killed.
To our hero's surprise, however, his life is not necessarily forfeit if he wins the duel, for the Muslim soldiers display honor and fairness even to someone who is not one of their own. Interestingly, the series concludes Fitzgeoffrey's story, but there is enough room left for another mini-series or spin-off if BOOM! Studios so desired. After reading all four issues in the miniseries, I would be very interested to see what else could be done with Cormac Fitzgeoffrey. Michael Alan Nelson did an excellent job of adapting this historical fiction without making the story dry or boring, and I certainly wouldn't mind seeing Cormac set off on another bloody quest sometime in the near future.
Rating: 4 / 5 Stars