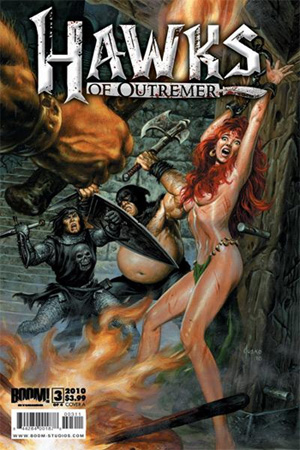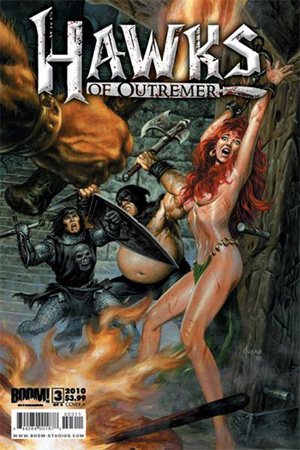 Issue: Robert E. Howard's Hawks of Outremer #3
Release Date: August 11, 2010
Story: Robert E. Howard
Script: Michael Alan Nelson
Artist: Damian Couceiro
Colors: Juan Manuel Tumburús
Letterer: Johnny Lowe
Cover A: Joe Jusko
Cover B: Damian Couceiro (Colors: Juan Manuel Tumburús)
Publisher: BOOM! Studios
Cormac FitzGeoffrey will stop at nothing to avenge the murder of one of his allies, and now that quest has taken him into the heart of the Baron Conrad von Gonler's castle in pursuit of a kidnapped woman named Yulala. Accompanied by a treasonous squire, FitzGeoffrey must fight his way into the Baron's dungeon before his ruthless minions torture Yulala to death.
Hawks of Outremer #3 is by far the most graphic issue of the series released to date, which makes sense given FitzGeoffrey's current mission to rescue Yulala. FitzGeoffrey is a skilled warrior, and few who stand in his way live to regret their decision to defy him. The artwork created for this issue of the Hawks of Outremer series is a testament to the increasingly bloody and graphic nature of the comic book's content, especially the cover created by renowned artist Joe Jusko.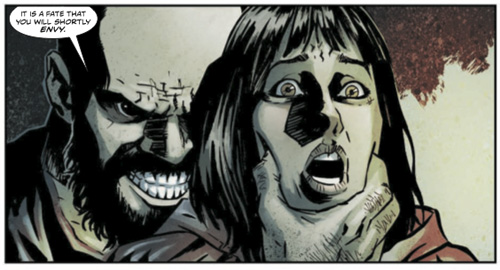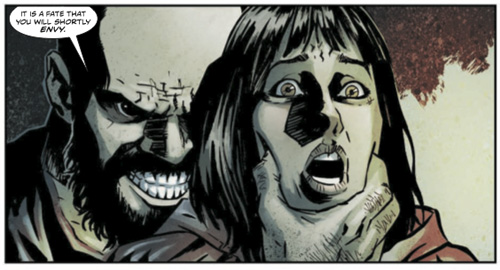 Known for his work on The Savage Sword of Conan, Jusko's cover for Hawks of Outremer #3 features a mostly-naked Yulala, held captive in the Baron's dungeon. FitzGeoffrey is in the background fighting past one of the Baron's grotesque executioners, but it is unclear whether he will be in time to save Yulala. Rather than the raven-haired woman that appears within the pages of Hawks of Outremer #3, Jusko's cover pays homage to Robert E. Howard by using the likeness of one of the writer's other characters in her stead. The woman on Jusko's cover can only be Red Sonja, a character that first appeared in Howard's Conan series in 1973.
Aside from Jusko's cover and the increased amount of gore in Hawks of Outremer #3, Michael Alan Nelson again succeeds in providing readers with an entertaining, compelling story that is complemented perfectly by artist Damian Couceiro's illustrations. Although unfamiliar with Howard's original Hawks of Outremer, I can say with confidence that it is amazing how much information and action Nelson is able to pack into each issue of this series. Granted, by the third issue of Hawks there is a great deal more action than information, especially when compared to the exposition-heavy first issue, but it is clear that readers who stick with Nelson's four-part miniseries through to issue #4 will be greatly rewarded.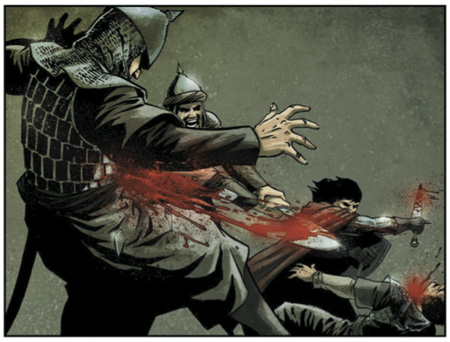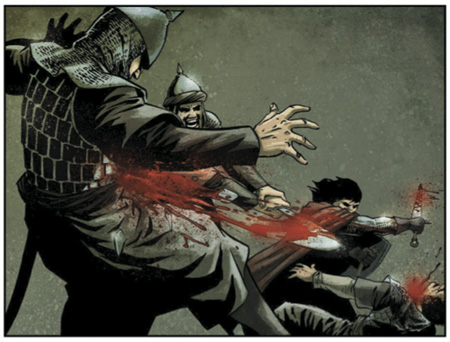 Hawks of Outremer #3 sets the stage for an epic confrontation between FitzGeoffrey and Baron Conrad von Gonler, and although the outcome of that encounter will likely favor FitzGeoffrey, watching the fight play out on the pages of Hawks of Outremer #4 will surely be something to behold. If you haven't read this series yet, I highly recommend that you pick up the first three issues right away, because Hawks of Outremer is, without a doubt, the best series released by BOOM! Studios to date.
Readers can check out both covers for Hawks of Outremer #4 on BOOM! Studios's official website. From the looks of these covers, the final issue of Nelson's adaptation will be even bloodier than Hawks of Outremer #3, and is not something you want to miss.
Rating: 4 / 5 Stars