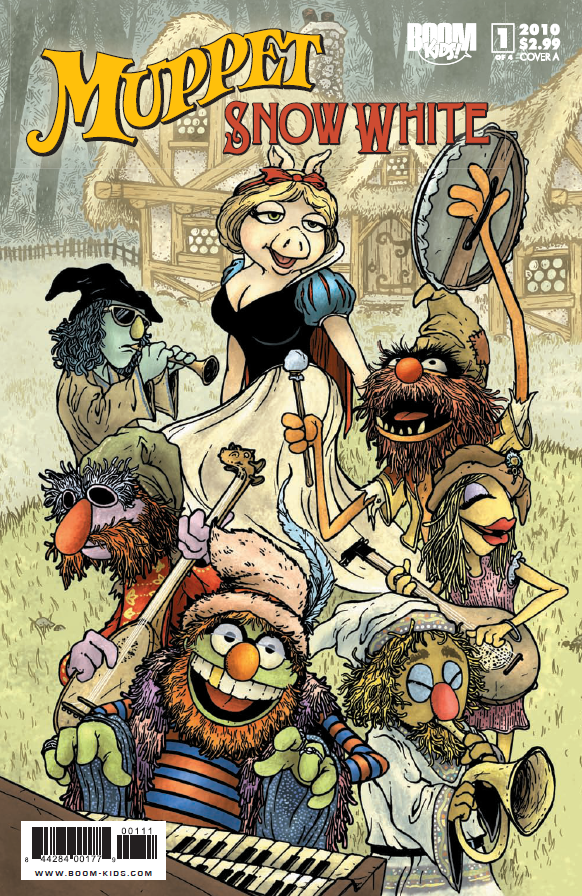 Issue: Muppet Snow White #1
Release Date: May 19, 2010
Writers: Jesse Blaze Snider with Patrick Storck
Artist: Shelli Paroline
Colors: Braden Lamb
Letterers: Troy Peteri & Deron Bennett
Cover A: David Peterson
Cover B: James Silvani
Publisher: BOOM! Kids
Wow. This is a funny comic. I mean it. It is actually funny and all the Muppets are perfectly in character. The authors' ability to weave a story into the midst of the soupy mire of Muppet interruptions and craziness is just short of genius.
Each member of the cast has been placed into a predictable and yet totally unexpected role. I mean, of course Fozzie is the magic mirror (who else would it be?); of course, the Electric Mayhem is the Seven Dwarves; and, of course, Gonzo and Rizzo are the Brothers Grimm. It all makes sense now!
The only stable element in any Muppet story is Kermit. Here, he's Prince Charming and fits the role to a tee. When the story goes careening out of control, Kermit's the only one trying, in vain, to stick to the script. But Kermit has no control over this chaos. The Electric Mayhem sing their version of "Heigh-Ho" to the tune of "Blitzkrieg Bop," and there's simply no stopping. You can't put down the comic and say, "This makes no sense." That's the beauty of the writing. There's no editorial comment to tell the reader what song they're singing; you just know. And because you know, you know that it's all reasonable and makes perfect sense.
But the Muppets aren't all crazy. When Sam the Eagle starts a debate about the subject matter of cutting Snow White's heart out, we all know that he's got a point. This is a kid's comic, after all.
Oh yeah, and when you read the comic, whether you're reading it out loud or just in your head, use voices. That's all I'm saying.
Rating: 5 / 5 Stars