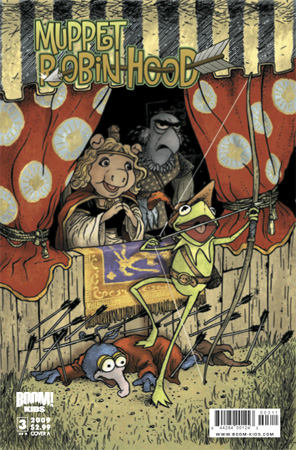 Review: Muppet Robin Hood #3
Release Date: August 5, 2009
Writer: Tim Beedle
Art: Armand Villavert Jr.
Colors: Kat Valliant
Letters: Marshall Dillon
Editor: Paul Morrissey
Covers: David Petersen & Christopher Schons
Publisher: BOOM! Studios
At the risk of sounding mildly repetitive in the matter, I'll say this of BOOM! Studios's take on the Robin Hood legend using Jim Henson's Muppets: it is really, really, amazingly hilarious.  I have to say I'm fairly surprised at the level of comedic seriousness with which Mr. Beedle and Mr. Villavert Jr. have taken to their tasks.
In this issue you get to see the deviousness of Prince John and his evil crew as they try to trap our "handsome" hero.  While they do this we learn that "King Richard" is being portrayed by none other than Pepe the Prawn and we learn that the Crusades are nothing more than one big concert tour that the King has set up.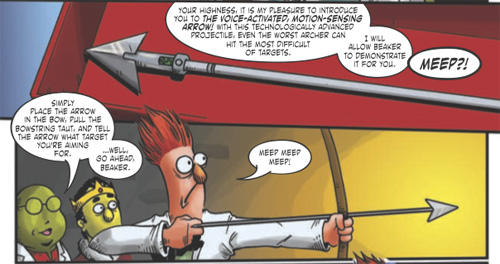 Another thing that I found really interesting is the fact that they have made the Friar Tuck character take the archetypal role of the trickster because the Prince has his mother held in custody.  Basically the Prince is blackmailing the "Friar" into helping him.  I did enjoy the appearance of Dr. Bunsen Honeydew and his assistant Beaker ("MEEEP MEEEP").
So the trap is set with the whole "archery contest" thing and the Prince's "scientists" have engineered the perfect arrow that will hit the target no matter what.  The day of the contest dawns, and Robin attends, incognito of course.  But, as fate would have it, he is snitched on by the Friar and the sheriff's men are about to capture Robin Hood and… CLIFFHANGER!
Overall, I give this issue of the series a 4.1 out of 5.