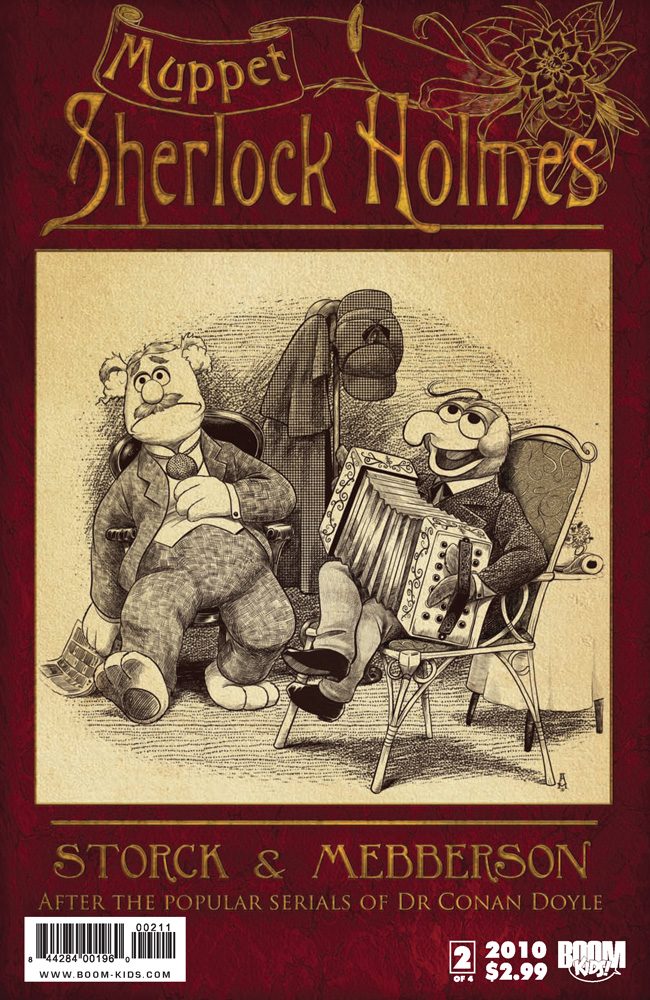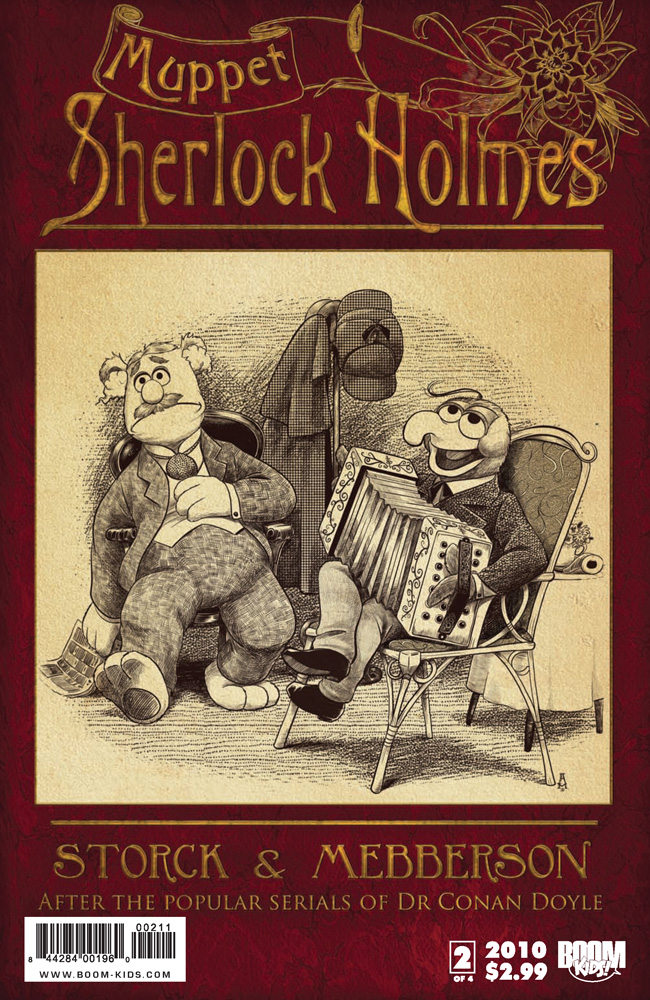 Issue: Muppet Sherlock Holmes #2
Release Date: October 13, 2010
Writer: Patrick Storck
Artist: Amy Mebberson
Colors: Braden Lamb and Amy Mebberson
Letterer: Deron Bennett
Cover: Amy Mebberson
Publisher: BOOM! Kids
A mystery is afoot! Sherlock Gonzo, with Fozzie Bear as his good man Watson, plans to get to the bottom of things — with the help of their friend, the American police frog Kermit, of course.
Gonzo gives a decent performance, playing up Sherlock Holmes as a slightly clueless know-it-all with a devil may care attitude. Fozzie Bear missed the first season of the BBC's Sherlock and opted for the more popular portrayal of Watson as the bumbling straight man. It's been awhile since I read the Sherlock Holmes mysteries, so I don't recall any adventures with an American policeman, let alone an American police frog. Kermit stars in the tale as Kermit with a fine mustache.


No question, this is a comic meant for children. There are plenty of classic Muppet sight gags and puns to keep younger readers enthralled and eager to turn the page to see what happens next. And by happen next, I mean what the next sight gag or pun will be. The storyline drags and plays upon the bad stereotypical portrayal of British detective shows. Older fans — say, those learning multiplication — will be bored and disappointed. Nostalgic fans — those who grew up with The Muppet Show — will overlook the lagging storyline and just enjoy the sight gags and puns. However, the puns and sight gags are not enough to carry the storyline.
Just a warning: if bad puns and sight gags aren't your thing, avoid this comic. Then again, if bad puns and sight gags aren't your thing, you probably aren't a fan of The Muppets anyway. Go pick up a copy of Oscar Wilde's Wit & Wisdom instead.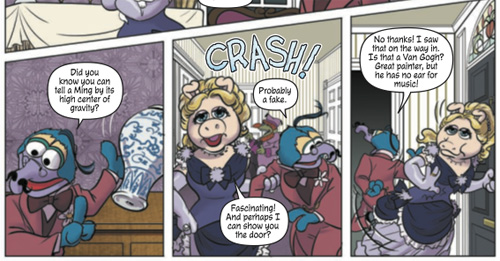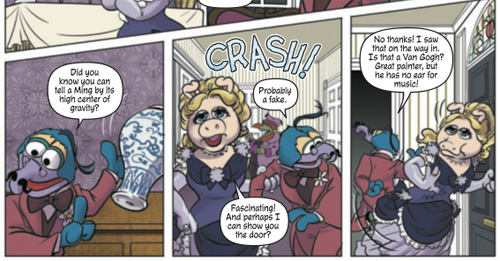 The comic ends with one mystery solved while another begins to unfold unbeknownst to the main characters. Children will get a kick out of being in the know before the great Sherlock Gonzo. Alright, I got a kick out of being in the know before the great Sherlock Gonzo. The children are probably off reading The Duchess of Padua. That's fine, more Muppet comics for me.
If you are a die hard fan of The Muppet Show, you already own a copy of this comic. If you are looking for something to distract your child who is between the ages of two and six, this wouldn't be the worst purchase you could make. If you are a casual fan, don't bother.
Rating: 3 / 5 Stars