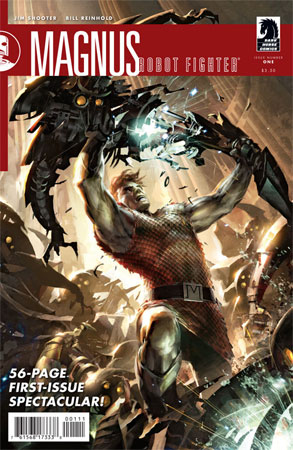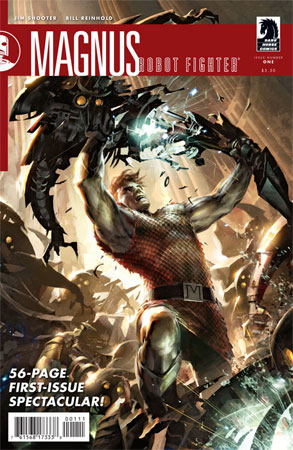 Issue: Magnus, Robot Fighter #1
Release Date: August 4, 2010
Writer: Jim Shooter
Artist: Bill Reinhold
Colorist: Wes Dzioba
Letterer: Blambot!
Cover A: Raymond Swanland
Cover B: Bill Reinhold
Publisher: Dark Horse Comics
The first issue of Dark Horse Comics's new series Magnus: Robot Fighter was released last week. The series is a reboot of a Gold Key Comics series originally published in the 1960s. It is the year 4000, and the human race has become dependent on robots for nearly every task, including law enforcement. Unfortunately, robots are also the tools of the corrupt and violent, and when a high profile crime spree strikes the ritzy parts of North Am, a continent-spanning mega-city known as a technological paradise, Magnus is the only one who can stop the rampaging "thug-bots" and track down the human mobsters that control them.
Raised by a robot named A1, Magnus was trained from a very early age to harness his inner strength, designed in the most deliberate of ways to be the protector of the human race and a force capable of overcoming even the most threatening robots. When one of Magnus' longtime friends, a well-known heiress named Leeja Clane, is kidnapped, Magnus is drawn into the mob's deepest sanctuary where he must face the fight of his life against a formidable half-man, half-robot known as Big Guns.
Although the premise of the series is simple, Magnus: Robot Fighter #1 is actually quite complex, especially for a single issue of a comic series. Written by Jim Shooter (who is also responsible another comic book series reboot from Dark Horse Comics, Doctor Solar, Man of the Atom) and illustrated by Bill Reinhold, Magnus: Robot Fighter #1 presents readers with an unusual heroic figure. While many well-known comic book heroes are fueled by a desire for revenge or vengeance due to the loss of a family member or a tragic childhood event, Magnus is driven by the knowledge that he is the only human alive capable of saving society from being overrun by robots. Even more interesting is the fact that Magnus isn't fazed in the least by his unconventional childhood and family situation; in fact, the A1 robot's ability to simulate human emotions facilitates a surprisingly accurate father-son dynamic between these two characters.
Magnus: Robot Fighter #1 not only introduces readers to an interesting twist on the traditional superhero, but also provides nearly non-stop action, excellent fight scenes, and an enormous amount of information. This series is a must-read for any science fiction comic book fan, without a doubt.
Magnus: Robot Fighter #1 is a complex installment in Dark Horse Comics' new series, and neither the story nor the illustrations and coloring will disappoint. Even better, this initial issue is a 56-page special that contains the very first Magnus story, created by Russ Manning, from 1963. Magnus: Robot Fighter #1 is available on Dark Horse Comics' official website, and you can even pre-order the second issue in the series, Magnus: Robot Fighter #2, which is set for release on Sept. 15th with a cover by Raymond Swanland.
Rating: 4 / 5 Stars