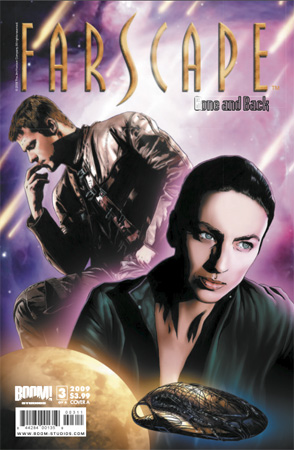 Review: Farscape: Gone and Back Part 3: Call in the Murines
Release Date: September 23, 2009
Story: Rockne S. O'Bannon
Script: Keith R.A. DeCandido
Artist: Tommy Patterson
Colors: Zac Atkinson and Marc Letzmann
Inkers: Nick Schley and Juan Castro
Letterer: Ed Dukeshire
Cover A: Joe Corroney
Cover B: Dennis Calero
Editor: Ian Brill
Managing Editor: Matt Gagnon
Publisher: BOOM! Studios
Let me be frank. Here's exactly what this issue is: the build-up before a series finale. While, thus far, the premise of this series has been interesting, there hasn't been much forward momentum. It's mostly been about Crichton getting his bearings in his alternate timeline, and explaining the importance of his hunt to find Aeryn to his shipmates. Finally, with Gone and Back #3, the pins are set up for the hopeful strike in the last issue.
So, for those of you who haven't read the other issues in Gone and Back, or any Farscape comics, you probably want to stay away from this page. Go. That's right, I said it. Get out!
You want to stay? Alright, fire up Google Maps. Let the all-seeing Google-Eye direct you to your nearest comic book shop and pick up a few issues of the Farscape comics. Heck, if you want, I'll even come pick you up. Just leave a comment with your address, phone number, and best time to contact you, and I'll make it happen. Really.*
With that said, onto my review/sarcastic synopsis:
The big reveal for Roiin, is… well, strange. Given his resemblance to Destro, I half-expected him to be some kind of hideous looking alien. Or a killer robot who was never programmed to love. But he turns out to be a blonde haired dude. He kind of looks like me actually. If, you know, I had blonde hair, green eyes, and killer abs tucked inside a skintight power-suit. With a cape. I want a cape so bad.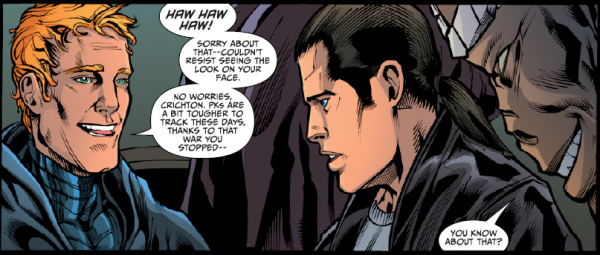 I see where they're going with him. He's a two-trick pony. First, in getting to know Roiin better, John learns some of his weaknesses. Something that'll come in handy if he ever makes it back home, where Roiin is hunting his child. Secondly, he's actually not hard to get along with. He seems pretty laid back, despite his profession. Sure, he's a for-hire tracker/assassin who cares about no one but himself. A less moral Han Solo, if you will. But he's someone that John could probably have a beer with. And that gets deep under his skin.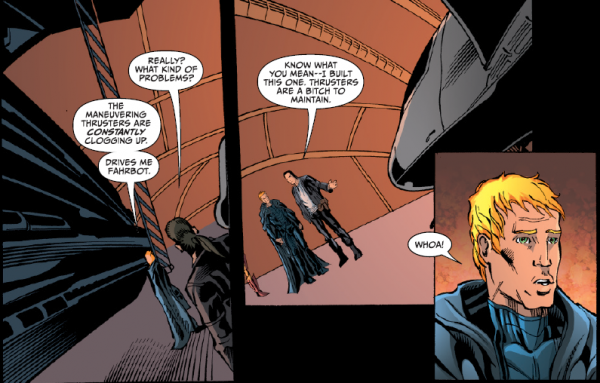 Prompted by his worries, John ends up having a decent conversation with Zaahn. She brings up a good point regarding Roiin and the danger that follows him. It ends up being another example of how for all his smarts, John can be infinitely thick-headed sometimes. And so much so that he later on has the chance to consummate with his alternate universe wife, who's looking mighty fine I might add. But he turns her down. Listen, Crichton — if it doesn't count when you're in a different zip code, you're free and clear in an unrealized reality.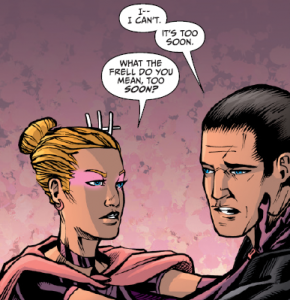 I really hope my girlfriend doesn't read this.
We get another taste of Aeryn and her Peacekeeper life. She's eating chicken and potatoes with her "recreation" buddy. Hakoac doesn't seem half as bad as some of his counterparts (read: Macton Tal), but he still bleeds PK propaganda when Aeryn talks about sensing Crichton's presence. He also looks like he got mauled by a housecat.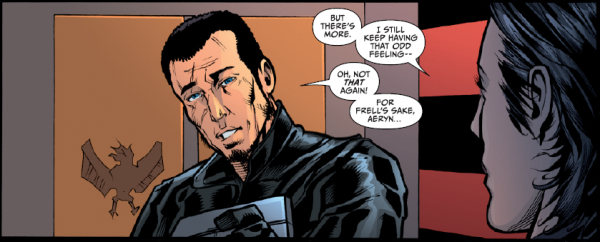 Back on Moya, Roiin finishes tracking down Aeryn in the time it takes for his Hot Pocket to finish cooking. Aeryn's on a Command Carrier, captained by none other than Meleon Grayza. And, of course, Crichton wants to go see her. So in honor of many of John's stupid plans, I've outlined his forthcoming brilliant tactical strategy in five easy steps:
Borrow D'Argo's powerful stealth ship.
Track down and board the Command Carrier with Roiin.
Find Aeryn.
?????
Profit.
Oh, John Crichton, you silly bastard.
One of the defining elements of Farscape is the breathing room in the storytelling. While some television series have a certain formula that works, and others stick to an established genre stereotype, Farscape is different. Rockne gives stories a wide berth, being supported by highly malleable and sometimes wacky scenarios, which leave you guessing at the outcome. "Predictable" was never in the series's vocabulary. Just watch "John Quixote."
And with that said, I have no idea what's going to happen next.
*NOTE: I will not actually come pick you up.