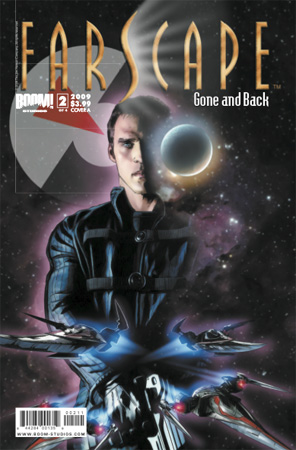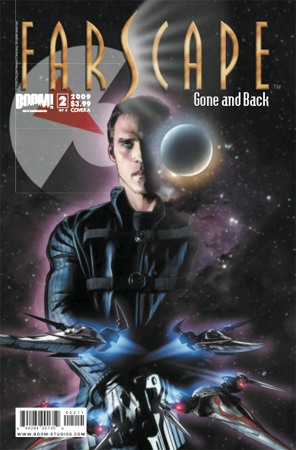 Review: Farscape: Gone and Back Part 2: With Enemies Like These…
Release Date: August 19, 2009
Story: Rockne S. O'Bannon
Script: Keith R.A. DeCandido
Artist: Tommy Patterson
Colors: Zac Atkinson and Marc Letzmann
Inkers: Nick Schley and Juan Castro
Letterer: Ed Dukeshire
Cover A & C: Joe Corroney
Cover B: Dennis Calero
Editor: Ian Brill
Managing Editor: Matt Gagnon
Publisher: BOOM! Studios
Time. It's always about time.
This issue continues the story of John "Ponytail" Crichton, stuck in an alternate universe where everything is just a little off. As surmised in the first issue, the key to escaping this unrealized reality is his wife, Aeryn Sun. He believes she's the missing variable in solving this frelled-up equation. In this universe, however, Aeryn never came aboard Moya. She never joined the crew, never fell in love with Crichton, and is still a frigid, flat-butted Peacekeeper skank (John's words, not mine).
John already has experience dipping his toes into the velvety fabric of space-time. Introduced to "Einstein" in the season 4 episode "Unrealized Reality," he learns about the infinite, complex branches that comprise a wormhole singularity. Navigating a wormhole requires skill, and a subconscious sense of direction to avoid potential disaster. One wrong move, you can fly right through a star or bounce too close to a supernova. No, wait, that's Hyperspace.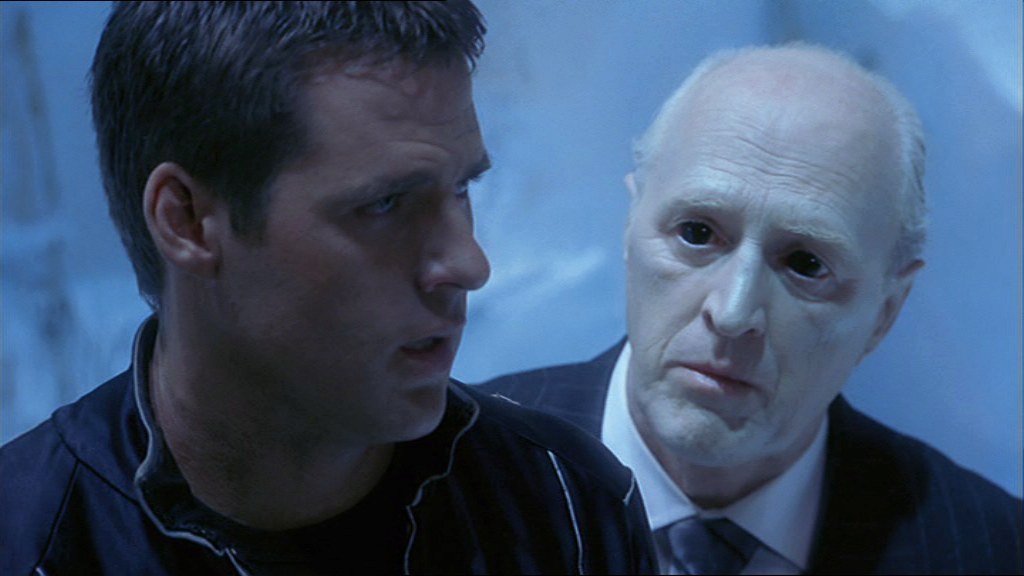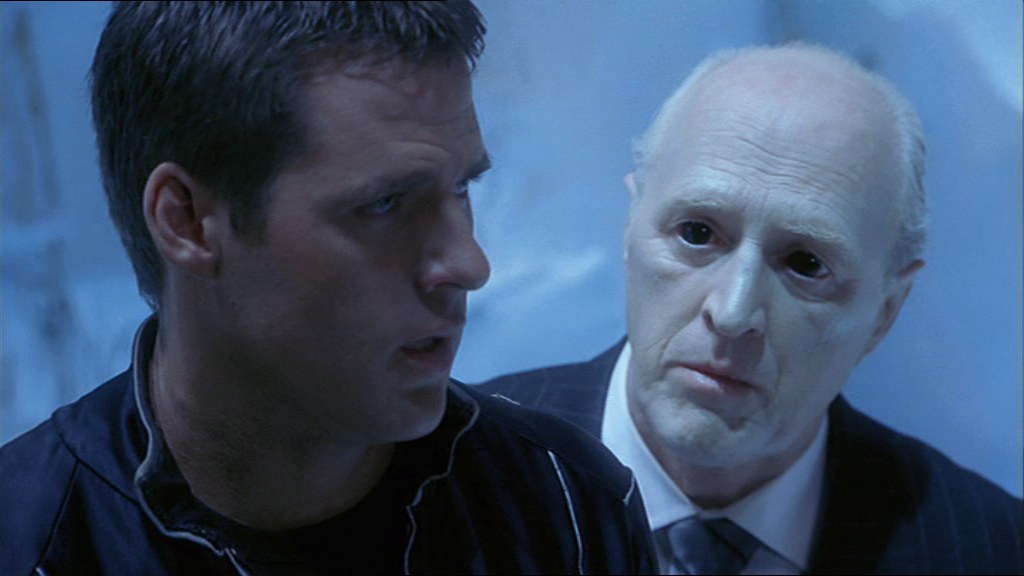 Wormholes deal in relativity. Both time and space. So turning right when you should have turned left drops you in a parallel universe. Thanks to Einstein, seeing glimpses of possible unrealized realities instilled a much-needed sense of fear in John. The rippling effects he creates could result in a permanent unrealized reality.
But this particular trip is more than just a glimpse. It hits closer to home. The setting is not unreasonably different from what he knows. He's betrothed to Princess Katralla, who appeared in the season 2 story arc "A Look at The Princess" — one of my favorites. They have a child, Katrana, who also exists in John's primary timeline. But there, he chose to leave them both behind.
So, their presence is no stretch of the imagination. There's an eerily reminiscent feeling in the air. And the possibility of not returning to the life he knows, or not knowing how to return, changes the playing field. John knows he has to tread more carefully, with as much tact as he possesses. Alas, this isn't much. He tries his best though — Katralla just has an uncanny ability to enter a room at the most awkward time possible. She's perfected the art of getting angry and walking away. Reminds me of an ex-girlfriend.
It just so happens to be that Moya is headed to Hyneria — a direct parallel of the trip he took before falling through the rabbit hole. This brings about the one detracting stint of the story where John runs into Scorpius, who in this universe is a Kai-Dominar — Vice President, I guess — appointed by the recently re-throned Rygel.
We witness a "Crichton Moment" in seeing Scorpius, as often occurs. But John's reaction here isn't one I'd expect. Perhaps to illustrate for new readers the animosity he feels towards the hybrid frelnick, he verbally explodes and points out the various atrocities he's experienced at his hands. Atrocities that didn't happen in this universe.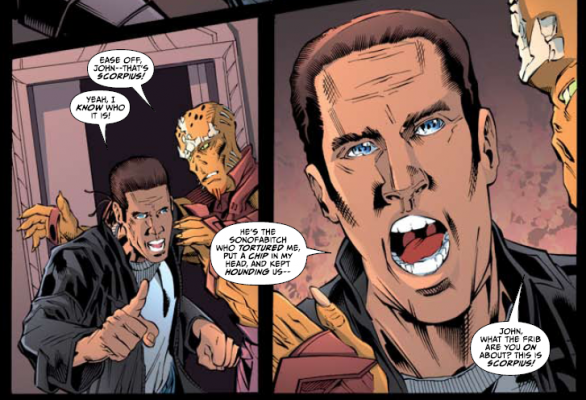 The reason this scene doesn't work is because Scorpius randomly showing up shouldn't be surprising to John — or anyone, for that matter. He's been a player, detractor, motivator, and orchestrator of some sort in the majority of experiences John has had. Hell, I wouldn't be surprised if Scorpius popped out of the Jello pudding cup I'm eating right now and asked me to do an Irish jig.
Regardless, just like a moth to the flame, John seems predisposed to rely on Scorpius for help. And help he does.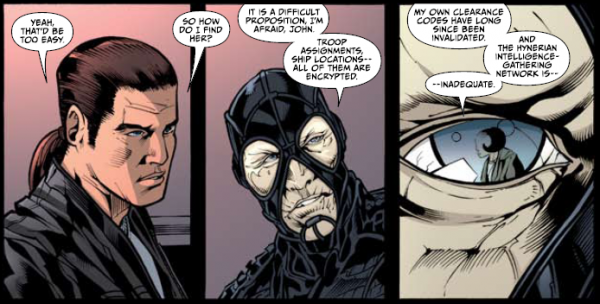 The more interesting aspect to this story regards John's attempts to reconcile with Katralla and Katrana. He figures as long as he is stuck, he might as well make the best of the situation. I also think he harbors a bit of guilt for the fact that he had to leave them both in his timeline, and is trying to make up for it. While thoughts of Aeryn occupy the forefront of his mind, it's a large enough distraction that will likely end up complicating his choices.

This arc is killer so far. We learn more about Deke and the pivotal role he plays in the future. Surprisingly, we learn that Aeryn is more important than previously surmised. And the twist at the end may help answer a critical question plaguing John's mind.
I'm really hooked, and I'm glad these comics continue the tradition of the television series in a faithful way. But outside my biased perspective, I do wonder how difficult it would be for non-Farscape fans to pick up and enjoy. A good bit of prior knowledge is required to absorb everything that's presented, or to at least appreciate the level of Crichton's insanity.
However, if you read the Boom! Farscape comics from the beginning (well, The Beginning of the End of the Beginning), then as usual I believe there's a solid mix of previous exposition and forward storytelling to make it everything come together nicely.