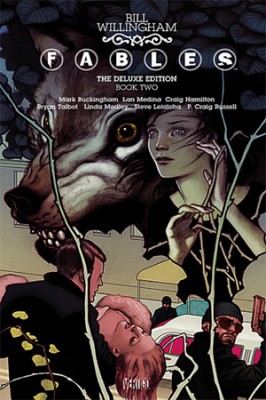 Issue: Fables: The Deluxe Edition, Book Two
Release Date: November 17, 2010
Writer: Bill Willingham
Artists: Mark Buckingham, Steve Leialoha, Bryan Talbot, Lan Medina, Linda Medley, Craig Hamilton, P. Craig Russell
Cover: James Jean
Publisher: Vertigo Comics

The second Fables Deluxe Edition manages to fit a lot in to one volume. In the space of this edition, we're treated to seven different tales, the longest of which was spread over four issues of the regular title. Fables has always been one of my favourite books, and the creator of the series, Bill Willingham, has crafted some fantastic, epic multi-issue story arcs, but there's a part of me that likes the elegant simplicity of a one- or two-issue story.
A one-issue story begins the second edition, and it's a Jack story. Jack Of The Tales has seen quite a few adventures in his time and he's always good for a story. This time, his story is about a brush with death. Or more precisely it's about about an encounter with Death during the American Civil War, a long time before Peter Griffin had dealings with Death.
Having played cards with someone that he believed to be The Devil and won an enchanted sack, Jack stumbles upon an apparently deserted mansion. The mansion turns out to be occupied by only one person, a beautiful woman of money named Sally Cornwelles. Normally, finding himself alone with a beautiful woman in a mansion would be an ideal situation for Jack, but this time, not so much. The girl is dying and given how much Jack wants to sleep with her, that's a bit of an annoyance. So Jack, knowing that Death is not just an abstract notion, makes a deal with her. If he can forestall Sally's demise, she is honour bound to sleep with Jack. Men will say some pretty outrageous things to get a woman into bed and sometimes these things are even less true than they sound, but when you're for all intents and purposes immortal and you have an enchanted sack, you can make some pretty outrageous claims and be truthful. When Death turns up to claim Sally, Jack easily traps Death in the enchanted sack that he won playing cards, and Sally is not only alive, but seemingly cured of the ailment the plagued her. It's not until the morning after the night before that Sally and Jack realise that something's wrong. If you trap Death, then the possibility of death is taken away. This might sound like a good thing, but if you're a chicken with no head, or a soldier with half of your body missing, then the absence of death is problematic to say the least.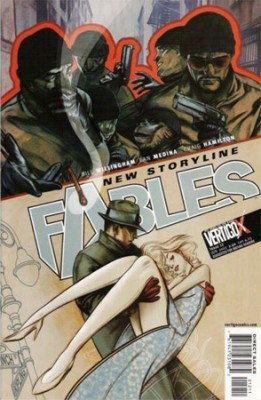 Realising that he has no choice in the matter, Jack releases Death from his prison fearing the inevitable retribution for imprisoning. But surprisingly, Death is actually thankful for Jack's trap, viewing it as a holiday from his never ending work, and allows Sally to live for another year on the condition that Death is given another day's holiday inside the sack every year. It turns out that Sally and Jack don't have a full year together though, as we are told that Sally leaves Jack and the story of the magic sack is not quite over yet.
Jack's story of times past is followed by a two part story about what life must be trying to keep a whole society of secrets in the Information Age. In "A Sharp Operation," the Fables are threatened with the possibility of having their secret exposed to the world, kind of. A journalist named Tommy Sharp informs Bigby Wolf that he knows all of the secrets of the community that Bigby lives in and is going to expose the secrets to the world. The thing is, even though Sharp has certain aspects of his story right, the conclusion that he comes to is totally wrong. He thinks that Fabletown is a community of vampires. Bigby does his best to dissuade Sharp from publishing his story but it's pretty clear that Sharp isn't going away. Even if Sharp was totally discredited and nobody believed anything that he published about Fabletown, there would be enough questions raised that somebody would eventually start asking the right questions and coming to the right conclusions. In fairness, it's not that much of a leap from vampires to fairy tale characters, so Bigby and Jack come up with a plan to make sure that Sharp's story never sees the light of day.
"A Sharp Operation" is my favourite story in the second Deluxe Edition. I like to think that Sharp's conclusion that the Fables are actually vampires is a commentary of sorts about how vampires have become the most prevalent modern fairy tale. Some of the vampire stories that we have today are better than others, but you can't deny that they are here to stay for the foreseeable future. The other reason that I like this two issue story so very much is that I find a good heist story irresistible.
This particular heist story is a little bit different than most as at almost every turn it uses the magical nature of the Fables to carry out the plan, from Briar Rose's curse to Boy Blue's physical appearance to Jack's astounding ability operate with a total lack of conscience when the occasion befits it. But what it does have in common with almost every other heist story that I've come across is that the heist doesn't go totally according to plan and some last minute alterations need to be made. Though after the heist has been pulled off and all seems to have worked out OK, Bluebeard takes it upon himself to kill Tommy Sharp after getting assurances from Sharp that all of his research has been destroyed. Sharp isn't killed in order to guarantee the safety of the Fables, he's killed by Bluebeard purely to spite Bigby Wolf.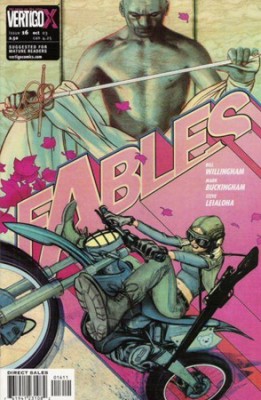 Just like Briar Rose's thorns in this short arc, Willingham has planted certain storylines that grow throughout the series. And just like Rose's thorns, it's worth the wait for them to grow. Willingham hints at something greater about Flycatcher than meets the eye — if not something greater in his future, then definitely something greater in his past. We know that only a Prince who loves Briar Rose is capable of waking her from her enchanted sleep, and Flycatcher is capable of doing just that, so he must be a prince. But towards the end of the story, we find out that Rose has also at one time been woken from her enchanted sleep by an over affectionate dog… named Prince. So maybe this spell isn't that discriminating and Flycatcher is actually about as princely as a dog. But maybe not.
"Storybook Love" gives us the end of one era and the start of another. Having been embarrassed by Bigby, Bluebeard plans to have Bigby and Snow White assassinated by Goldilocks after having been put under an enchantment and sent out to a remote forest. But some Fables are harder to kill than others, partly due to how strong they are, but also partly due to how popular they are with the Mundys. The story of Snow White and the story of the Big Bad Wolf are incredibly popular, even still today, and this makes both Bigby and Snow White very very hard to kill. They can still be badly hurt, but they recover over time. Bluebeard sends Goldilocks to kill Snow White and Bigby, confident in her skill to get the job done and make sure that he never has to worry about either of them again. The thing is, not only is Bigby incredibly hard to kill, he's also had a lot of practice hunting and killing. So it's not too long before the hunter becomes the hunted.
While Snow and Bigby are running and hunting, we're treated to the story of how Bigby fell in love with Snow over the course of centuries while Snow went about her business oblivious to Bigby's ever-increasing affections.
Snow White has known love before though, and the first time it was with Prince Charming. In the intervening centuries, Charming has gone from woman to woman using them and leaving them, never feeling any guilt or remorse about it. But here and now, Charming has gotten wind of Bluebeard's plan to kill Bigby and in a most uncharacteristic bout of kindness, he feels that he needs to stop it. Over the years and the centuries since being exiled in the Mundy world, Snow has become far fonder of Bigby that she realises. Charming knows people though, he sees the affection that Snow has for Bigby, even if nobody else does, and to make some atonement for the sins of the past, he's going to stop Bluebeard's plan by killing Bluebeard. Bluebeard might well be the richest of all the Fable community, but he's not an overwhelmingly popular or well known Fable. Bluebeard's story isn't know by many Mundys so his death is a possibility, and he knows it.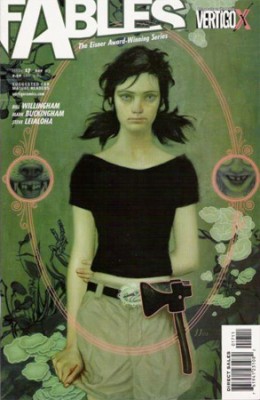 Charming kills Bluebeard without too much effort, and Goldilocks is seemingly dispatched by the team of Bigby and Snow White and all is seemingly right with the world. Even more so when Prince Charming marches in to the offices of the Mayor of Fabletown announcing that Bluebeard is dead and that Old King Cole, the Mayor of Fabletown, doesn't need to rely on handouts from Bluebeard in order to run the community any longer. Because Bluebeard left no will, all of his wealth automatically goes to Fabletown. But happy endings don't always make for an interesting or dramatic tale so there's a couple of complications that are thrown in for good measure. After revealing that all of Bluebeard's money goes to Fabletown, Prince Charming tells his new butler that he wants to get his hands on that money and that the way to do this is to get himself voted to the position of Mayor of Fabletown. Possibly his decision to kill Bluebeard wasn't as much for the benefit of Snow White as it was purported to be.
Speaking of Snow White, following her joint ordeal with Bigby, she comes to realise that maybe she does in fact have some small feelings for him and tells him that if he was willing to take it slowly, then maybe they have a chance. But taking it slowly goes out the window a day or two later when Snow finds out that she's pregnant with Bigby's kids. Apparently more happened while under Bluebeard's enchantment than just a long drive and witty conversation.
The book closes out with three tales of times past, of the worlds that the Fables came to the Mundy world from. Two of the stories weren't printed as issues of the regular series, and indeed, one of the stories was previously released as a Prestige Format Graphic Novel and one of the stories is actually a prose story which what can't help but feeling like a testing ground for the eventual Fables prose novel, "Max and Peter."
But therein lies the beauty of books like the Deluxe Editions. They almost always give you more than you've previously seen. Mark Buckingham's art, which has (in my opinion) become the standard against which all other Fables artists are measured, looks even better in this oversized format. And having so much content in one volume makes it a hell of a lot easier to find what you're looking for. In addition to a brilliant new introduction specific to this volume and a sketch section, we're treated to a brand new James Jean wraparound cover. Yeah, for a lot of people it might be double-dipping but for a package that looks and reads as good as this, it's worth it.