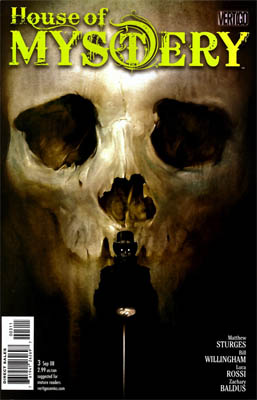 The third issue in Veritgo's new House of Mystery series released last week, and here's my review, which as usual is not spoiler-free.
House of Mystery #3
Writer: Matthew Sturges and
Artists: Luca Rossi and Zachary Baldus
What's Going On:
In the previous issue, Fig found herself apparently eternally trapped in the House of Mystery with a strange assortment of fellow detainees. She spends most of this issue trying various ways to escape the mansion's grounds. During her numerous trials and errors, Fig learns of a girl named Rina who previously was in the house but somehow managed to leave.
Each issue of House of Mystery contains a short story told by one of the bar patrons, and the one this month is a fairly simple tale of a mobster escaping death after being captured by a rival gang.
Lesson Learned Here:
In Hell, the bacon eats you!
How It Ends:
Fig is still trapped in the house, but she's become interested in learning about the girl, Rina, who made it out. At the end of the issue we get a look at where Rina is now, and it's not a very pleasant situation. She's being spirited away in a horse drawn carriage, sitting in the back with a creepily masked rider. The rider interrogates her about whether she can communicate with the House of Mystery and eventually shouts that she's worthless. As the carriage drives away, we see the ghoulish male and female specters who had been pursuing Fig watching it traverse a nightmarish landscape.

Thoughts:
House of Mystery is a quintessential Vertigo title and probably the best new series launched by the imprint in a very long time. Matthew Sturges has created an eerily out of time and place world filled with eccentric and engaging characters, and he's managed to make the whole thing feel as real and believable as it is terrifyingly strange. Luca Rossi's art complements the storytelling well with clean, crisp lines that subtly weave ornate and intricate details into the characters and their surroundings. I absolutely love the way Rossi draws Fig, and there's something about the house and its interiors that reminds me a tiny bit of Mike Mignola.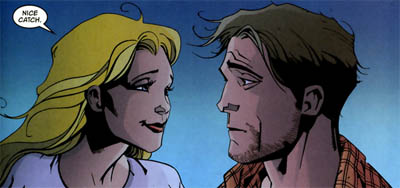 Having a short story framed by each issue is an intriguing approach to the series, as it provides us with an anthology series like old horror comics used to do, but we also get an ongoing arc from the denizens of the house. Fig's attempts to get out of the house and her learning about Rina are the best parts of this issue, and the gangster story, while amusing, feels tacked on. While I like the short stories, I hope they don't lock the creative team into a pattern, forcing them to divert too much time away from the main plot (as happened with the flashbacks in Lost's second and third seasons).
I really am enjoying this series, and I recommend it strongly to anybody who enjoys darkly quirky and mysterious tales in the Vertigo vein.