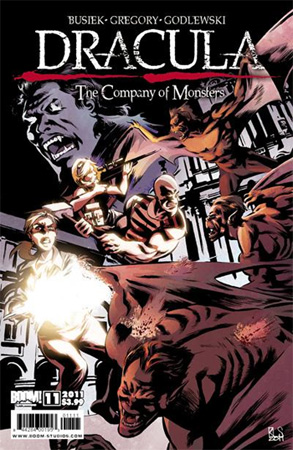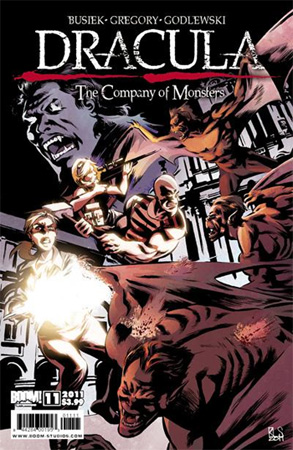 Issue: Dracula: The Company of Monsters #11
Release Date: June 22, 2011
Author: Kurt Busiek, Daryl Gregory
Artist: Scott Godlewski
Colors: Stephen Downer
Letters: Johnny Lowe
Cover: Ron Salas (Colors: Nick Filardi)
Publisher: BOOM! Studios
I think that when I read Dracula: The Company of Monsters from now on, I'm going to hear Evan's voice as the same voice that Ewan McGregor uses in Trainspotting telling us that we have to make a choice in our lives. Because that's pretty much the biggest thing that happens in Issue 11 of this series, Evan finally makes a choice. Or, to be more accurate, he acts on that choice.
The story begins back in the here-and now, with Evan facing off against Dracula and Conrad, hoping like all hell that they decide to fight each other and not decide to knock the living crap out of him for playing them the way he has.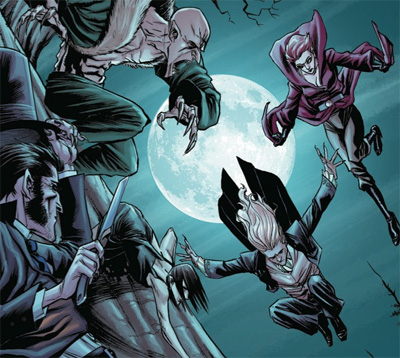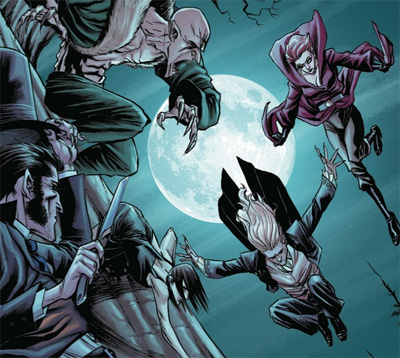 Luckily for Evan, Conrad's hatred for Dracula outweighs the annoyance he feels at being ever so slightly electrocuted by Evan in the last issue. But when Conrad tries to attack Dracula head on, Dracula bolts away, he has something else up his sleeve. Dracula leaves his army to fight Conrad's army. This of course was Evan's plan all along. He wanted one army to fight the other and who ever was left standing at the end would be dealt with by Marta and her small band of Vampire Hunters.
Probably the one thing that Evan wasn't counting on was that Dracula has a bit of magic at his disposal and that he could use that magic to raise tree-vines from beneath the ground to attack Conrad's forces and make the battle go a bit better for Drac's side.


But after a lot of fighting and a lot of killing, the fight eventually comes down to Conrad vs. Dracula with Conrad managing not to get his ass instantly handed to him by Dracula. Evan, who now is down to the last of the bullets that he made, watches the fight, presumably waiting to see who would win and then shoot the winner. "Last Man Standing" doesn't really work that well if you're not the only one standing. But Dracula and Conrad don't seem too willing to join in Evan's game and stop fighting, forcing Evan to act. And act he does, firing the last bullet in his gun toward Dracula and Conrad. But who was he aiming at? Does he hit who he was aiming at?
Honestly, I'm not overly bothered what the outcome of his choice ends up being, I'm just glad that after a LOT of setup, Evan has finally made his move. But c'mon, let's face it. No matter what Evan does, will Dracula ever really be dead?