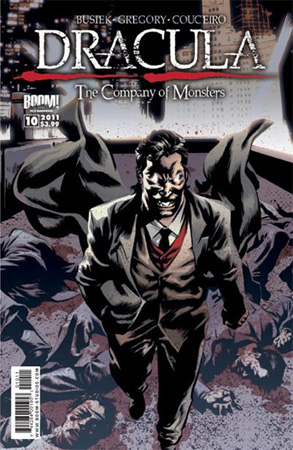 Issue: Dracula: The Company of Monsters #10
Release Date: June 1, 2011
Author: Kurt Busiek, Daryl Gregory
Artist: Damian Couceiro
Colors: Stephen Downer
Letters: Johnny Lowe
Cover: Ron Salas (Colors: Nick Filardi)
Publisher: BOOM! Studios
Dracula: The Company of Monsters #10 opens in the same here-and-now that we saw in issue #9. Evan has brought Conrad to face Dracula and has apparently given Dracula the means to kill Conrad so that Evan can become the Daytime Manager of Barrington Industries. It's still not entirely clear what angle Evan is playing here; he seems ready to ally himself with Dracula and Conrad and the band of vampire killers and then betray them as he deems necessary. Think of it as Vampires of the Caribbean.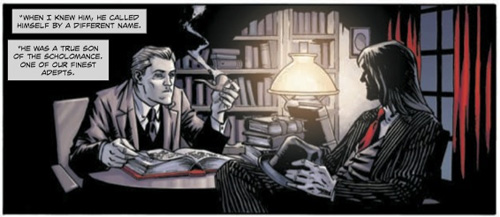 It turns out that Conrad has been keeping Evan's heritage from him. Evan's Father worked for Dracula and was indeed the architect of Dracula's preservation before Evan resurrected him. After Dracula confirms Evan's heritage, Dracula and Conrad vie a little bit for Evan's allegiance before Conrad's vampire army turn up, ostensibly to spring the trap that was set to kill Dracula.
Three days before the here-and-now, Evan is doing research into Dracula's origins as part of the plan that he's working on. The vampire killers that he's allegedly teamed up with are helping him in his plan and help him to make an enchanted silver bullet, though they do have the advantage of using the facilities at Barrington Industries. But during the mold process, Evan is interrupted by Vampire-Torrence and, after a bit of a tussle and a chase, we find ourselves back in the cage which Dracula was being held in before being set free. Remember the cage, the one with 80,000 Watts of full-spectrum light directly above it, ready to be activated at the flick of a switch? Well, this cage is the last thing that Torrence ever saw, because it turns out that the 80,000 Watts is more than enough to kill a vampire.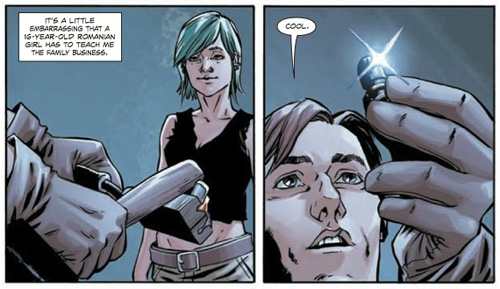 After some effort to enchant a silver bullet and a quick check-in with the vampire killers, Evan meets up with Conrad and his vampire army. Evan shows Conrad how he'll be used as bait in order to trap Dracula. Evan has apparently taken the vest which was used to keep Dracula compliant while in Barrington Industries and made it completely safe for Conrad to wear. Apparently. We do know that the vest still has some punch left to it, we saw that at the end of the last issue and the start of this.
Chronologically, the issue ended with Conrad's vampire army descending on Dracula, but the vampire killers are hot on the trail too as they can mystically track Evan. Will the killers get there in time to stop the vampire army? Will Evan get what he wants, will he get who he wants? Will he live through the next ten minutes? We'll find out next issue. Apparently.