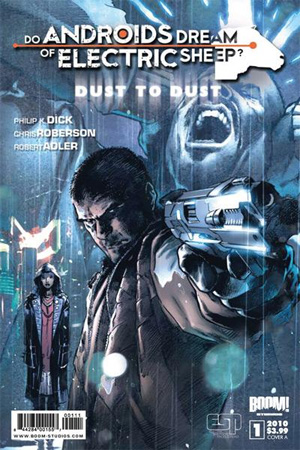 Issue: Do Androids Dream of Electric Sheep?: Dust to Dust #1
Release Date: May 26, 2010
Writer: Chris Roberson
Artist: Robert Adler
Colors: Andres Lozano and Javier Suppa
Letterer: Comicraft's Jimmy Betancourt
Cover A: Trevor Hairsine (Colors: Blond)
Cover B: Benjamin Carré
Cover C: Julian Totino Tedesco
Variant Cover: Conner Willumsen
Publisher: BOOM! Studios
This is the official prequel to Phillip K. Dick's Do Androids Dream of Electric Sheep? I have been doing reviews of the BOOM! adaptation of DADOES, and as a non-Dickian it was an interesting experience. I had seen Blade Runner, the movie based on DADOES that every self-respecting geek has seen, but I hadn't read the original novel. The term "based on" is an important distinction, because Blade Runner was only loosely based on DADOES, as opposed to the current trend of following the source material as closely as possible (Total Recall and The Minority Report being other examples of the value of "loosely" basing movies on their source material, especially if you are dealing with PKD). But then I read the original novel, which forced me to recognize the Dickian genius (even if dystopianism is not the style I naturally gravitate towards), and have been reading the comic from a different perspective.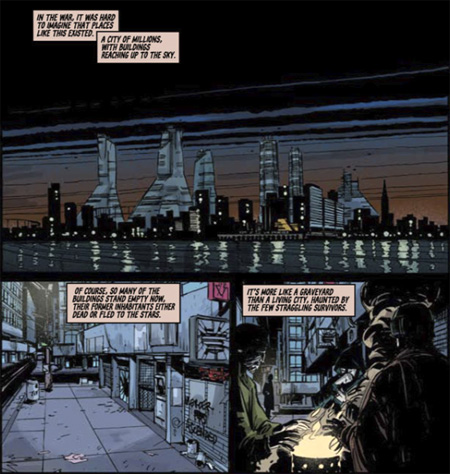 But Dust to Dust is an entirely different perspective yet again. It is a prequel. The point, in a nutshell, is that I am having "Different Approaches to Source Material Overload" (DASMO). I suspect DASMO will be a more common phenomenon amongst us geeks as the corporate behemoths find ever more scientific ways to cross-market their intellectual properties.
But BOOM! is not a corporate behemoth, and PKD definitely was not, so I'll set aside the DASMO issues and move on to the reason you are reading this review.
Our hero Charlie Victor is a bounty hunter. His job, like our hero Deckard from the original DADOES, is to "retire" Androids that may be living amongst the humans before they act out on their homicidal tendencies. This inaugural issue starts with Victor spotting the carcass of one of the last living owls on Earth, which sets him to speculating the nature of life and death. The dead body is simply like a machine that has run out of fuel. But then again it's not. It's lost its life, and will never function again. Therefore, it's nothing like a machine that has run out of fuel. Well, it kind of is…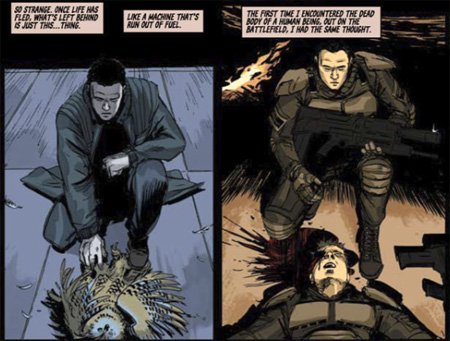 One of the major themes of the original DADOES was an exploration of the role that empathy plays in defining humanity. The Androids have no empathy, and therefore are dangerous, while humans do have empathy. But there was also the Mercer religion, the custom of keeping live pets (if you could afford them) or Androids patterned after live pets (if you couldn't afford the real ones), the use of the empathy test to determine who was human, and other elements that really drove the empathy theme in DADOES. It looks like this prequel is going to continue that exploration, but pump it up a notch.
Anyway, Victor goes to the apartment of Malcolm Reed, a person who used to have a serious psychological condition: he didn't properly feel human emotions (if my pop culture psychology serves me correctly, this is one of the indicators of sociopaths: they don't feel the full range of human emotion and therefore do not follow normal paths of behavior). However, this is a dystopian future we are dealing with, and the radiation poisoning the planet has turned him into a "special." He now has the opposite problem he was born with. Whereas before he couldn't feel emotions, he now feels the emotions of others (if he doesn't take his medication). So Victor shows up at Reed's apartment and recruits him as a new partner. He also informs Reed that, since they are now partners, Reed has to stop taking his medication. The whole idea is that, if Reed can feel other people's emotions, he'll know who is real and who's an Android.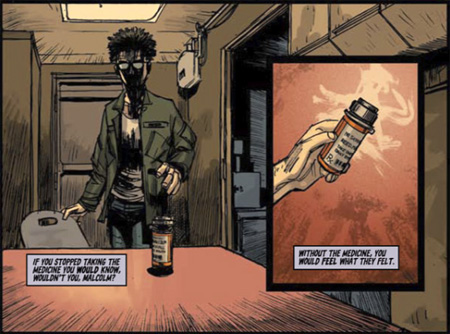 Meanwhile, on the other side of town, an Android who calls himself Talus — presumably Victor's first target for "retirement" — is babbling on about all organic life soon being eliminated from the planet. He has some plan that includes infiltrating a lab that is doing experiments on animals.
One final treat before this installment finishes is that Charlie Victor himself is an Android. This is much different than DADOES, in which all Androids are supposed to be banned from Earth. This story is taking place, apparently, before that ban was put into place. So as the series proceeds, we'll probably get plenty of friction regarding the irony of an Android hunting down other Androids.
This is a good start to an interesting idea for a comic. I am looking forward to the next issue.
Rating: 3.5 / 5 Stars