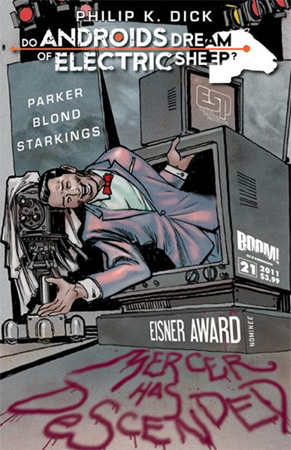 Issue: Do Androids Dream of Electric Sheep? #21
Release Date: March 23, 2011
Writer: Philip K. Dick
Artist: Tony Parker
Colors: Blond
Cover: Moritat
Letterer: Richard Starkings of Comicraft
Backmatter: Gabriel McKee
Publisher: BOOM! Studios
Prior to reading Do Androids Dream of Electric Sheep? (DADOES?) #21, the most recent issue of BOOM! Studios' adaptation of Philip K. Dick's classic science fiction novel of the same title, my sole exposure to the content of the series consisted of the 1982 film Blade Runner. Although I was aware that both the comic books and Blade Runner are adaptations of the author's infamous narrative, I didn't realize the extent to which the comic books mirror the text of Dick's novel. In fact, both the narrative and the dialogue of Do Androids Dream of Electric Sheep? #21 (and the rest of the series) is excerpted directly from Dick's original text — a practice that can spell doom for comic books as easily as it promises success by piggybacking on already popular subject matter.
After reading DADOES? #21, I am thoroughly impressed with the way that the series's creative team, including editor Bryce Carlson, translate the novel onto the comic book page. Instead of presenting readers with a text-heavy series, which can happen when someone fails to make the hard decision about what needs to be included so that the story makes sense and what they want to include in order to preserve the original work, the BOOM! Studios team has created a fantastic series that stays true to the nature of Do Androids Dream of Electric Sheep? (1974), considered the more fast-paced, action-based version of Philip K. Dick's ongoing examination of the differences between humans and androids (Dick's We Can Build You, first published in 1970, addresses the same question via "domestic melodrama").
With the "neo noir" science fiction film Blade Runner as my only preexisting reference point for the DADOES? series, I expected my first glimpse at the comic book to be one characterized by the type of dark, gritty images and narrative characteristic of movies like Blade Runner. To my delight, the artist and colorist — Tony Parker and Blond, respectively — deliver exactly what I hoped for, presenting readers with a beautifully constructed but unequivocally dark, depressing version of a future in which the landscape is a wasteland and humans cling to a belief system based on the capacity for empathy in the face of near extinction at the hands of logic-driven androids.
It can be difficult to determine who to praise when reviewing a comic book issue that is so closely based on the writing of a renowned and influential author, but that is not the case here. Philip K. Dick's writing, as presented in DADOES? #21, is as brilliant today as it was when first published in 1974, but the author is not the only person deserving of praise. The entire team at BOOM! Studios that is responsible for creating and publishing this series should be applauded for managing to further enhance Dick's Do Androids Dream of Electric Sheep? by perfectly matching its tone in the visual representation of its subject matter.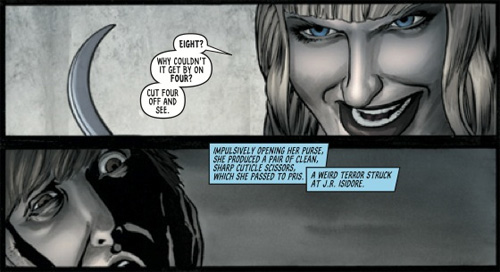 Do Androids Dream of Electric Sheep? #21 includes an informative and well-written afterword by Gabriel McKee titled "The Hand of Wilbur Mercer". McKee provides readers unfamiliar with the details of Philip K. Dick's life and career with a great deal of background on both the author and the evolution of his written work, acknowledging and then moving beyond the best known contexts in which the DADOES? world is understood and examined: Dick's religious experiences in 1974 and, of course, the previously mentioned 1982 film Blade Runner.
In an effort to avoid spoiling the issue for those of you that haven't read it yet, I will just say that the portion of plot presented in DADOES? #21 is game-changing, and as such should not under any circumstances be skipped or overlooked by those of you that read the series on an ongoing basis. With just three issues left in the 24-issue series, Do Androids Dream of Electric Sheep? is a must-read series for any science fiction fan; if it's been on your "to read" list for what seems like forever, as it was mine, move it up to the top and start reading because it's only going to get better from here. And for those of you that have been on board since day one, don't fear the end of this fantastic miniseries — in case you haven't heard, BOOM! Studios also publishes a "spin-off" prequel series titled Do Androids Dream of Electric Sheep?: Dust to Dust (because the title wasn't long enough to begin with) written by John W. Campbell Award-nominee Chris Roberson (iZombie). Although the first four issues of DADOES?: DTD are sold out, you can purchase the first two TPB volumes directly from BOOM! Studios on the publisher's website.
Rating: 5 / 5 Stars