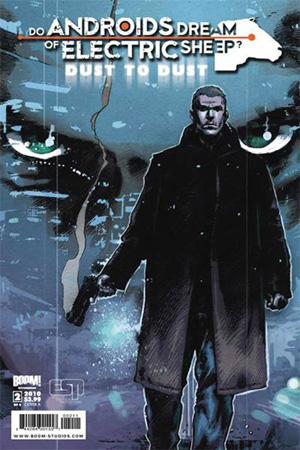 Issue: Do Androids Dream of Electric Sheep?: Dust to Dust #2
Release Date: June 30, 2010
Writer: Chris Roberson
Artist: Robert Adler
Colors: Andres Lozano and Javier Suppa
Letterer: Comicraft's Jimmy Betancourt
Cover A: Trevor Hairsine (Colors: Andres Lozano)
Cover B: Benjamin Carré
Publisher: BOOM! Studios
As we start our second installment, Victor and Reed are still at it, walking the street amongst humans to see if Reed's psychic-empathic abilities can pick up an Android. But the only Android he can sense — because of his lack of emotions — is Victor himself.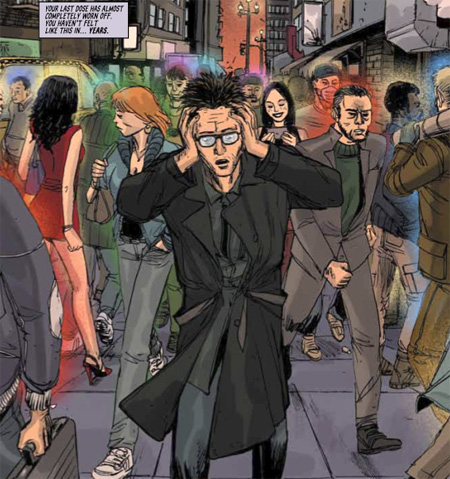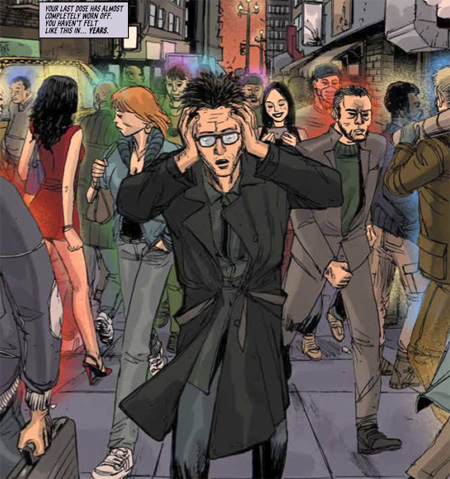 Victor decides that if their target can't be found in public, he must have already gone "underground." Reed figures he knows what their prey will do next. After all, he's an Android himself, so he knows what their operating parameters are. Reed spots the issue with Victor's logic: if the Androids are going underground and doing things they are not supposed to do, then they must be acting outside their operating parameters, so Victor's knowledge of the parameters the rebel Androids are supposed to be operating under give our heroes no advantage whatsoever. Victor doesn't have an answer for that.
Meanwhile, a new character, Samantha Wu, has been conducting experiments on animals, presumably to find out which animals are the most resistant to the poisonous dust that has caused all this environmental destruction. If we find one, perhaps we can find out their evolutionary adaptation, and use it to our advantage. The bad news is that human beings seem to be the most resistant. So, there's that to deal with.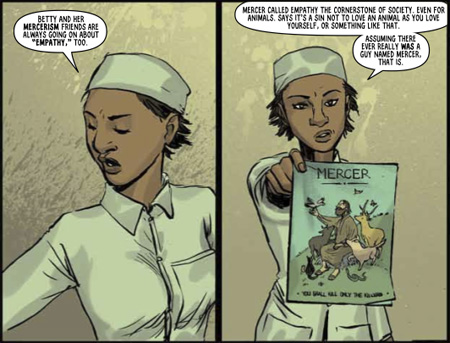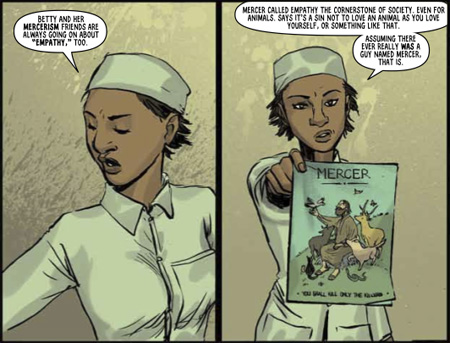 Samantha tells her lab assistant that, ever since the animals started dying out, she has started to see the animals more than just experiments. She's actually starting to — and here is that key word again — empathize with the animals. Her lab assistant tells her she sounds crazy, like that wacko who is pushing that Mercer religion. The Mercer literature says that one of the foundations of civilization is figuring out the ability to turn off aggressive impulses.
Elsewhere, Talus, the leader of the Android revolt (or something. We're still unsure what he's up to) is briefing his minions: first, he knows that Victor is on their trail, so they have to be careful. Second, he's got a plan to kill off the humans. The dust is killing them slowly, but Androids have limited life spans, and he wants to see the humans extinct before he dies.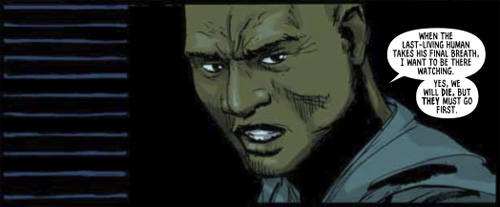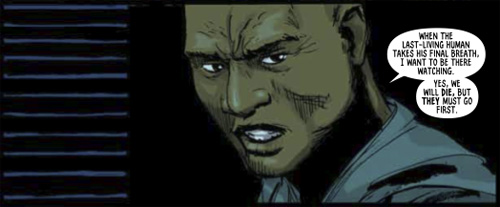 Victor is unaware of Talus, of course. Instead, he is dragging Reed through the streets, trying to track down his query. But Reed is feeling the emotions of all the people around him — since he hasn't taken his medication — and it's driving him nuts.
But Reed can't have his medication back until they get their query. It turns out one of the Androids found a way to disable the city's facial recognition software. Without the facial recognition software, Reed is Victor's only chance of finding the missing Androids.
This is a good second issue. We are still in the set-up stages of this story. But it looks promising. Another treat is that Victor is so different than Deckard, the "hunter" from the original Do Androids Dream of Electric Sheep? Deckard is a bit of a kid in a candy store who happens to be good at killing Androids. Victor, on the other hand, is an Android who used to be a soldier. It's a good contrast.
Rating: 3 / 5 Stars