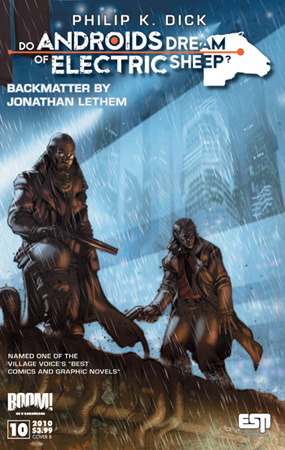 Issue: Do Androids Dream of Electric Sheep? #10
Release Date: March 31, 2010
Writer: Philip K. Dick
Artist: Tony Parker
Colors: Blond
Cover A: Frazer Irving
Cover B: Moritat
Letterer: Richard Starkings of COMICRAFT
Backmatter: Jonathan Lethem
Publisher: BOOM! Studios
I've been saying in almost every review of this ongoing adaptation that I am going to read the original source material. Last issue I finally got off my ass and into the library. By a strange coincidence I suspect PKD would have found unsettling, the library had a little PKD display, so I got Do Androids Dream of Electric Sheep?, which I read that night, and also a collection of his short fiction, which is great bathroom reading material (meaning I'm halfway through it).
So now that I've put that image in your mind, let's move onto DADOES #10. I am now doing it from the point of view of someone who has read the source material. So, remember that you know that.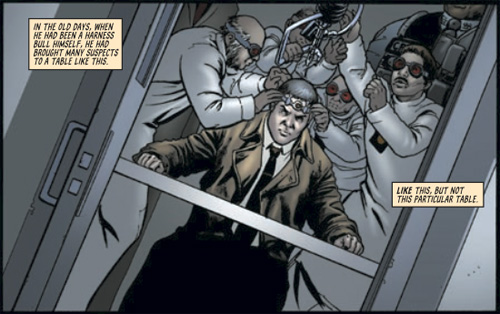 We left off with Deckard being arrested by a uniformed police officer who didn't believe Deckard was an android hunter. We pick up this issue with the officer taking him to a police station that Deckard has never seen, and booking him for impersonating an officer, murder, and other lurid crimes.
Deckard speculates whether it's some kind of parallel police department run by androids. The crazy thing is that he never questions himself regarding his own sanity. Could Deckard be an android? Could he be losing his marbles? That's what I asked I read the novel, and again as I read this issue, but not Deckard. Instead, we as readers ask the question, but our hero never does.
Soon the office chief, Officer Garland, takes Deckard into his office. Having looked through Deckard's stuff, Garland points out that he is the next person on Deckard's list. But Garland doesn't believe he's an android.
He calls in a bounty hunter from this particular police station. So now we have (1) Deckard, (2) the person who does Deckard's job at this "parallel" police station, and (3) the android who Deckard is supposed to kill. Or maybe Garland is actually a real person. We don't know. Or maybe Deckard is an android.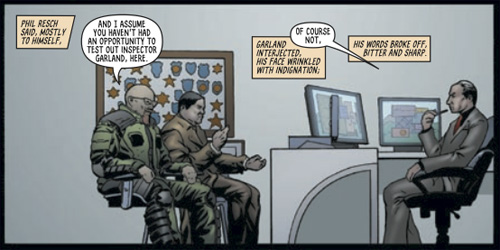 By the way, this was the page-turning part when I read the novel.
So Garland orders a bone marrow test to see if the android Deckard "retired" two issues ago really was an android. While waiting, he and the other bounty hunter get in a little shouting match. When it turns out the guy really WAS an android, we breathe a sigh of relief. Our hero isn't hallucinating.
But now it's time to figure out who the android really is — Officer Garland, our hero Deckard, or the new bounty hunter. And that's the end of this installation. I have to say that, having read the novel, the graphic adaptation seems to be holding up pretty well. In fact, it's more entertaining than having only seen the movie, since the movie was so different than the novel to begin with.
This issue's back matter is a recounting of Jonathan Lethem's entrance into PKD fandom. He also includes one of his early essays regarding what it means for a writer to be "Dickian." It's pretty much over my head, but PKD fans will probably dig it, especially if they have a master's degree in English Literature.
Rating: 3.5 / 5 Stars