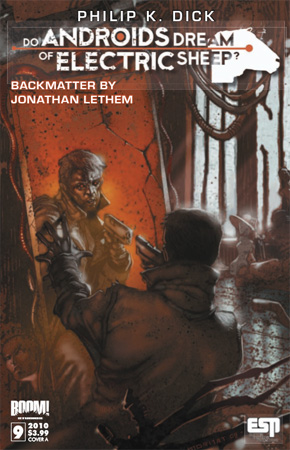 Issue: Do Androids Dream of Electric Sheep? #9
Release Date: March 3, 2010
Writer: Philip K. Dick
Artist: Tony Parker
Colors: Blond
Covers: Moritat, Scott Keating
Letterer: Richard Starkings of COMICRAFT
Backmatter: Jonathan Lethem
Publisher: BOOM! Studios
This is basically a great installment. There's a plot twist. There's suspense. There's a cliffhanger. I don't like the cliffhanger part, since I now have to find wait weeks to find out what happens next. But it's good storytelling, that's for sure.
Actually, I just called the library to put a copy of this novel on hold. So I'll probably find out what happens late tonight, depending on how long it takes me to get home, finish some work, and get into the novel. So BOOM! can congratulate itself: another person giving Dick a try because of their comic adaptation.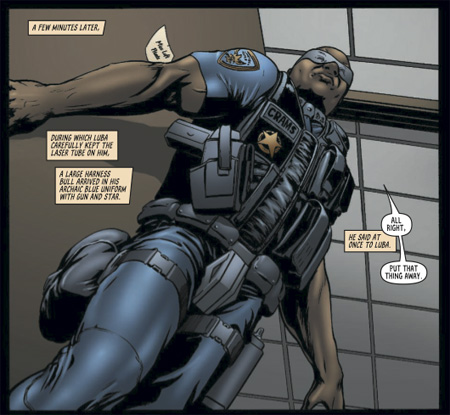 If you'll recall from the previous issue, our hero Deckard was interviewing Luba Luft. He thinks she's an android, but he has to administer that test to make sure she's not human before he kills her (you wouldn't want to go around killing people who turn out later to actually be people). The test asks bizarre hypothetical questions, and if you answer them without the correct level of empathy that a human would display, then you're not human.
But Luba throws Deckard for a loop. She pulls a gun on him and, instead of shooting him (which is what an android would do) she accuses him of being a pervert (because the questions sound rather perverted to prudish person, which she apparently is). She calls the police. When an officer shows up to find out what's going on, the uniformed cop doesn't believe Deckard's identification showing he's a bounty hunter working for the police. Deckard calls his boss to confirm his story, but his boss just hangs up on them. The police officer takes Deckard to the police station for booking, but Deckard notices they are going the wrong way. He thinks the cop must be an android.
But the cop thinks perhaps Deckard is an android. The police station Deckard is referring to hasn't been used for years. That's the cliffhanger.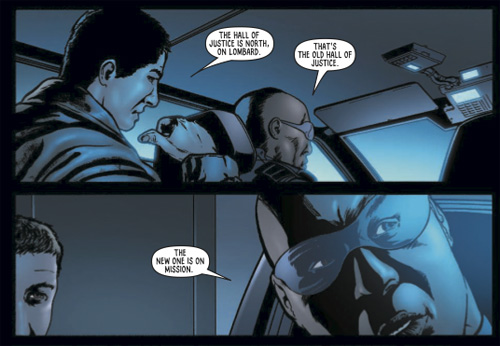 This is great because it's totally different than the movie. Things are taking a turn for the… for the worse? For the better? We don't know, but we want to find out. That's good storytelling, which explains why so many people like Dick.
The art is pretty good too. I especially like how they rendered the uniformed police officer. He looks like he could crush Deckard with his pinky toe. That means it would be pretty tough for Deckard to muscle his way out of the problem by overpowering the cop. He'll have to find another way. Again, good storytelling. Further good storytelling is the way Deckard simply let the cop frisk him and take him to the station. It's that "tough and good at killing androids, yet naïve and trusting" personality that makes this version of Deckard so interesting.
The backmatter in this issue is by Jonathan Lethem. He tells a story that probably resonates with anybody for whom PKD's work was a transformative experience growing up (which I am beginning to suspect was a lot of people). Since PKD was not one of the elements that touched my soul in those formative years, it's entirely lost on me. But even if you don't like Dick, it's not that bad of a story.
Rating: 3.5 / 5 Stars