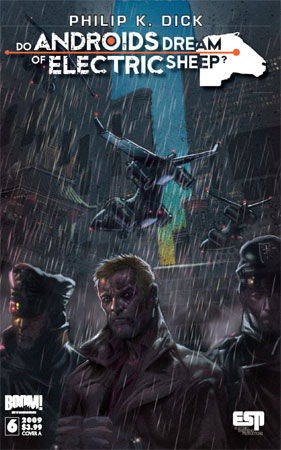 Issue: Do Androids Dream of Electric Sheep? #6
Writer(s): Philip K. Dick
Artist(s): Tony Parker
Cover(s): Bill Sienkiewicz, Moritat, Scott Keating
Colors: Blond
Letterer: Richard Starkings of COMICRAFT
Backmatter: Graeme McMillan
Publisher: BOOM! Studios
In my review of issue #5 I complained about the lack of action, but things are now starting to pick up. Rick starts on his manhunt – make that android hunt. He is ordered first to take down Plokov, the one that put the senior android hunter in the hospital. Rick also learns that a specialist Russian cop (the android manufacturing company's headquarters is in Russia) is on the way to "help" Rick, seeing as how these Nexus 6 models are so tricky. Rick doesn't need to worry, though. He won't have to split the bounty. Maybe he can get a real sheep after all!
Rick heads out on his own to get the first Android, but it skipped town after dispatching the previous android hunter. He then gets a vid-phone call from Rachel Rosen proposing that she help him with the androids he's trying to track down. She's a Nexus 6 android, and they might trust her enough to give Rick an edge. Logical, right? Of course, Rick doesn't dig on that idea, either, and we are left to ponder how Rick plans to hunt down the androids and keep all these people who want to "help" from getting in his way.
I have to say I realized the artwork is very good in this issue. Previously with Boom!, the tendency was excellent color and inking, and competent but not thrilling penciling, which probably is not an accurate description with digital art. What I mean is that the colors were always great, but I was neither impressed nor disappointed by the drawings. They were just kind of there. But in this series, both are high quality. Either that, or I fell for the old "make one of the characters a super hot chick with a penchant for wearing tight clothes" trick.
This issue doesn't contain a "backmatter." Instead, it has a few panels from the comic, with comments by the artist and the colorist. I prefer this to the backmatter, but that's because I'm fascinated by comic art and only have a grudging respect for PKD. For those who love his work, hopefully next issue will provide us with another backmatter entry.