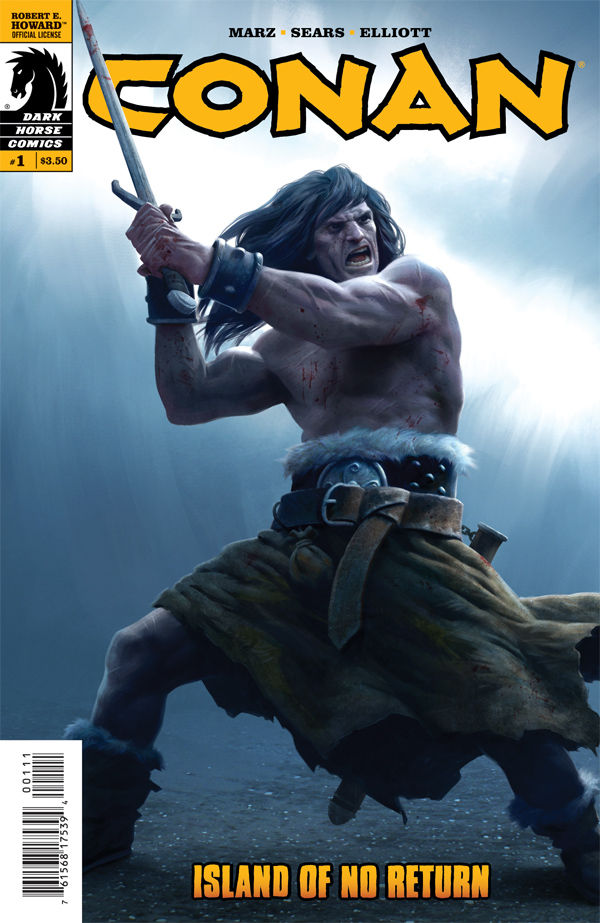 Issue: Conan: Island of No Return #1
Release Date: June 15, 2011
Script: Ron Marz
Pencils: Bart Sears
Inks: Randy Elliott
Colors Mark Roberts
Cover: Michael Kutsche
Letters: Troy Peteri
Publisher: Dark Horse Comics
Having been caught schtupping the boss's wife, Conan's in need of a way out of town in a hurry and he finds it in the guise of two beautiful (like they could ever be ugly) sisters. Hijinks and adventure are sure to follow.
The issue opens up with Conan on the run from the City Guards because he got caught doing the wife of the magistrate of Tarantia. Which, according to the intro, he'd been doing for some time. Because he's Conan. That's what he does. He's doing his Aladdin thing, running across the rooftops, smashing through vendor carts, all while in the buff. Again, because he's Conan and can do all that without fear of damaging his junk. Not finding a way out on his own, he's pulled into a stable by two sisters, Brenna and Venya, who not surprisingly have some of the most mind-boggling anatomy seen since X-Force in the 1990s. They make him an offer he can't refuse because he wants to get out of town and he wouldn't mind a bit a thieving, and they head out on their adventure to reclaim a treasure said to have been abandoned in a haunted castle on a deserted island.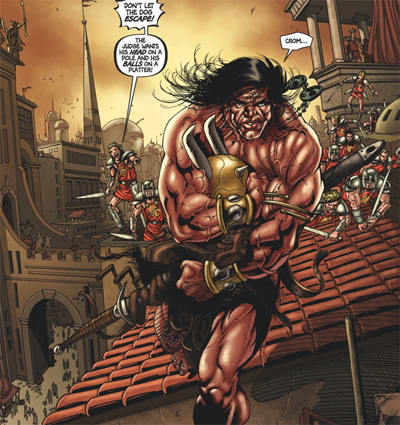 Since this is a first issue, you can't really comment too much on the story and all. It hasn't had a chance to develop much yet. It's a good start for me because I like coming into a story in the middle of some kind of action. I also really appreciated the salty language used. At times, some of the dialogue felt very modern but the actual use of the words (and I'm talking about it being printed out not like "#$%*" in place of the word) was appreciated as the Conan stories are adult in nature and it isn't very adult to put a bunch of punctuation marks where a word should be. The art works fairly well for the subject matter. Conan is suitably massive and physically imposing, and I like that his helm was kind of like Indiana Jones's fedora. The two female characters, on the other hand, were just ridiculous looking. But what else is new in comics, right, ladies? The settings and backgrounds were very impressive and expansive while in Tarantia and on the island/in the haunted castle.
Overall, it's a good start to what will hopefully be a fun, bloody, dark story for Conan to revel in.
Rating: 3 / 5 Stars