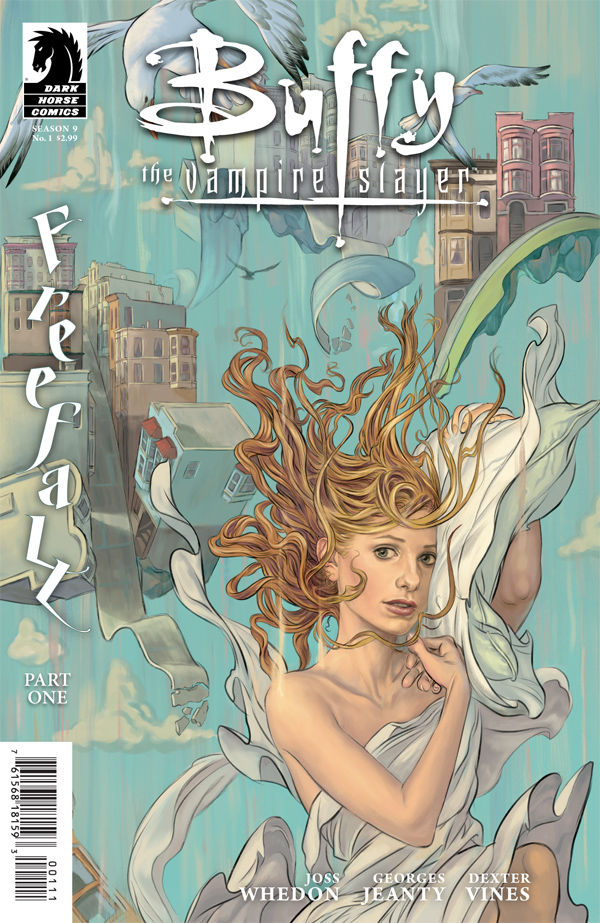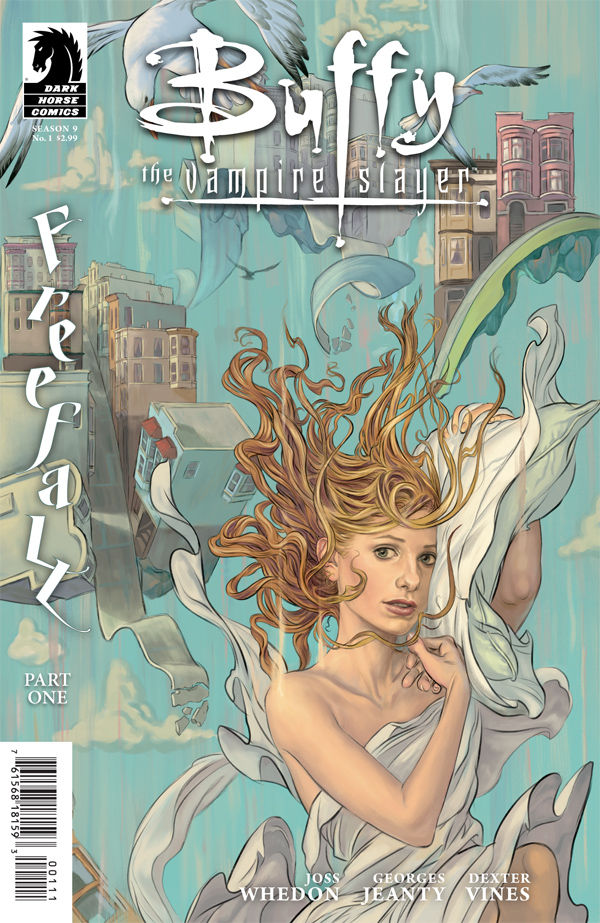 Issue: Buffy the Vampire Slayer: Season Nine #1
Release Date: September 2011
Writers: Joss Whedon
Pencils: Georges Jeanty
Inks: Dexter Vines
Colors: Michelle Madsen
Letters: Richard Starkings and COMICRAFT'S Jimmy Betancourt
Cover: Steve Morris
Alternate Cover: Jo Chen
25th Anniversary Cover: Georges Jeanty with Dexter Vines and JD Mettler
Publisher: Dark Horse Comics
Buffy's back and she's just as messed up as ever. When last we left our Slayer, she had rid the world of magic, put her former boyfriend in jail, and was continuing to string along her vampire stalker giving him hope that one day he might have a chance. But all is not right in the world and it's up to Buffy to continue the good fight, even if the world around her could care less. Buffy's a waitress with an attitude, Spike's still hanging around like a puppy, and Willow's trying to make a life without magic. Oh, how the mighty have fallen.
Buffy has tried to move on with her life. At least she's not still living on Xander and Dawn's couch anymore. No, she now has an apartment with roommates and a semblance of a normal life. Yeah, like that's going to happen. For all that Buffy's trying to put on a brave face and act like everything's okay, Willow seems much more well-adjusted. Her magic's gone, but she's lost the depression and focused on the positive. She seems okay, at least on the surface. And Spike's not doing half-bad either. He's still coming around like he and Buffy are best friends. No offense to Spike, but I wouldn't let the Slayer string me along for this long, even if she did give a glimmer of hope that they could work it out. But whatever, it's not like Spike's one to give up easily.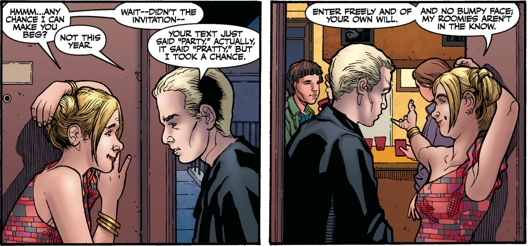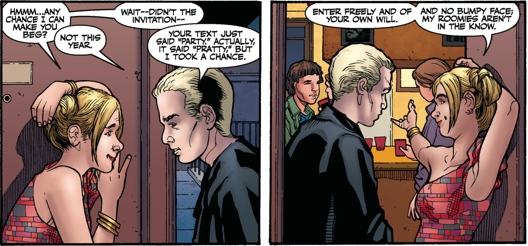 Buffy's life seems to be going okay, which can only mean it's headed for disaster. There's a monster out to get her, perhaps in retaliation for destroying the seed. Whatever its motivation, the hit has been put out on Buffy and he's determined to make her pay. It was nice to have a real meaty enemy, since most of this issue was about how crazy a drunk Buffy could be. But thankfully we ended with Buffy, Willow, and Spike out on patrol, the way it should be. You can completely upturn a Slayer's life, but you can't stop her from being a Slayer. And she also can't get away from student loans, it sounds like, but that's a story for another day. Until then, we're left with aimless Buffy trying to find a cause on which to focus. Welcome to the new life.
Rating: 3 / 5 Stars