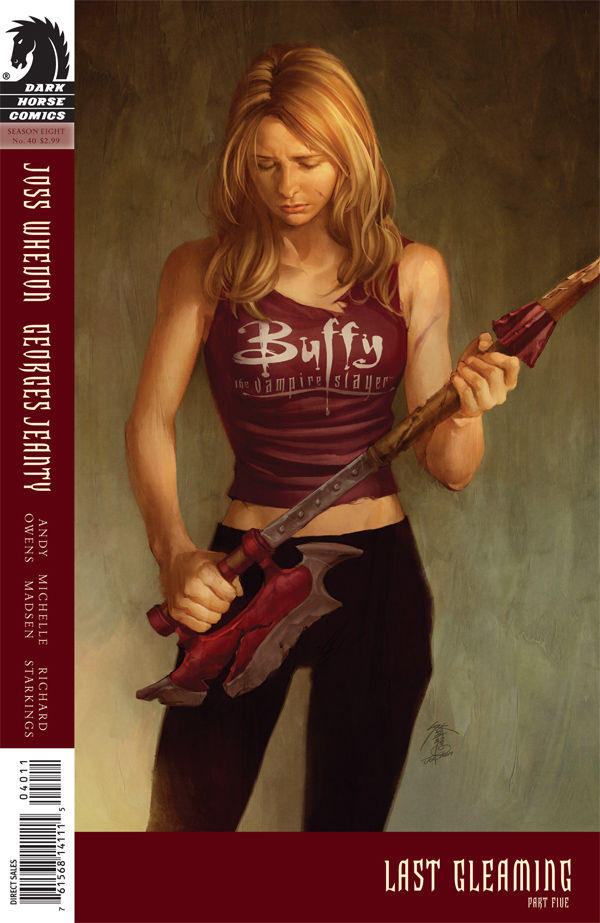 Issue: Buffy the Vampire Slayer Season Eight #40
Release Date: January 2011
Writers: Joss Whedon
Pencils: Georges Jeanty
Inks: Andy Owens
Colors: Michelle Madsen
Letters: Richard Starkings and COMICRAFT'S Jimmy Betancourt
Cover A: Jo Chen
Cover B: Georges Jeanty with Dexter Vines and Michelle Madsen
Publisher: Dark Horse Comics
It's the end of Season Eight! And we're starting off the issue with a time jump. When last we left our heroes, the apocalyptic aftermath had left the world in ruins. As this issue picks up, all seems well and Buffy seems overly cheerful as she serves coffee patrons at the corner bookstore. I feel like I've missed out on so much and we've only just begun.
So, if I pretend to have temporary amnesia and forget that we were just in the middle of the end of the world, the stand-alone situation is quirky fun. Buffy has fast reflexes and her old sense of humor is back. I've missed that, since lately she's been living in a permanent state of doom and gloom. Well, I would be too if it was the end of the world! I'm sorry, I can't just brush that aside as fast as Joss has seemed to. I have questions and they're not getting answers in the middle of a San Francisco coffee/bookshop.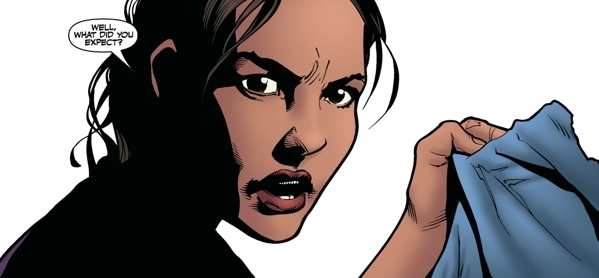 I'm glad Kennedy isn't letting the matter slide any more than I am. She berates Buffy for her actions — sucking all the magic out of the world and leaving everyone pretty much screwed. Poor Kennedy is left without a girlfriend again, since Willow doesn't feel their destinies can ever match, not with Willow lacking her powers. The entire wold is still feeling the repercussions of Buffy's decision and it doesn't look like it turned out for the better. Sure, Buffy and Dawn and Xander seem to be living in domestic bliss, but it feels like it's all just an act of putting on a brave face. At least, in Willow's eyes, it is.
But just when you think it's all over, they pull you back in. Assassinations are always a good plot point, right? Added to that is the outcome of Giles's will. While one would expect he would bequeath all his belongings to his favored Slayer, the joke's on Buffy as Faith came out the victor this time. Whether it's because he knew Buffy was strong enough to go it alone, as Faith pointed out, or the fact that he was tired of fighting the tragic battles Buffy kept pulling him into, we'll never know. But one thing's for sure, the world is a lesser place without him.
And like the wonderful vampire I knew he was, Spike is still sticking around, protecting Buffy from whatever evil may seek to do her harm. One day she'll realize what a great man she has right in front of her. I live in hope. Until then, she continues to patrol and live with the repercussions of her decision. The world may hate her, but she's still the Slayer and she'll carry that burden until she dies (again).
Rating: 3 / 5 Stars