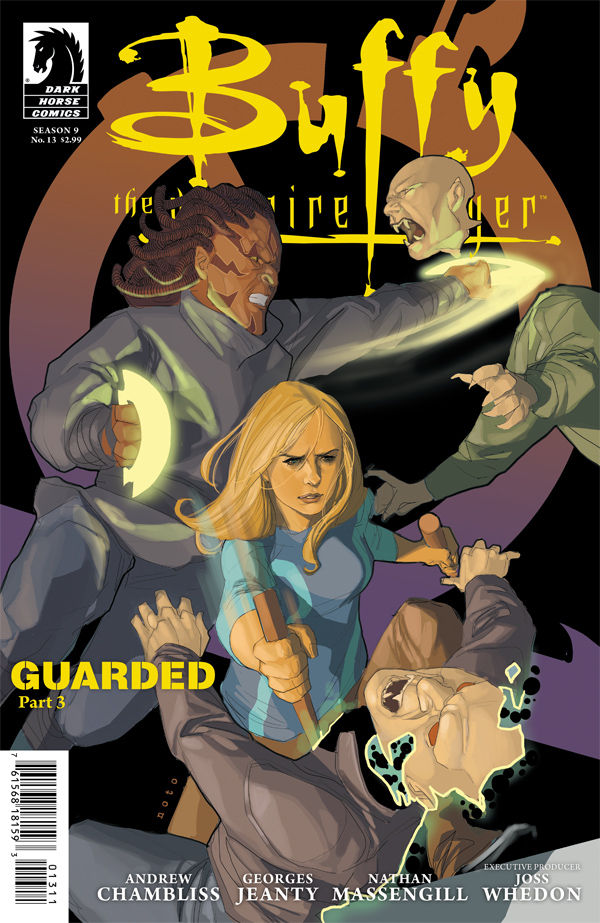 Issue: Buffy the Vampire Slayer: Season Nine #13
Release Date: September 2012
Writer: Andrew Chambliss
Pencils: Georges Jeanty
Inks: Nathan Massengill
Colors: Michelle Madsen
Letters: Richard Starkings and COMICRAFT'S Jimmy Betancourt
Cover A: Phil Noto
Cover B: Georges Jeanty with Dexter Vines and Michelle Madsen
Publisher: Dark Horse Comics
Buffy's still trying to find a purpose and Wolfram and Hart are still trying to find a way to regain control of our world. Seems like the more things change, the more they stay the same. When last we left the group, Buffy and her team were getting double-crossed by Eldre Koh. He's the big threat of this issue and the one that may prevent Tin Can's destruction. Buffy's going to have to figure out a plan, and quick, before the bad times start to escalate.
There are two storylines intertwined this month. First, it's Eldre Koh's mission to find out who imprisoned him and the extent to which he will go to gain that information. He has made an offer to the bosses at Wolfram and Hart. If they tell him what he wants to know, he will kill Theo, thus ensuring that Tin Can remains safe and the senior partners will have a way to stay connected to our world. I have to give props to Theo in all this because, despite being held hostage and having his life threatened, he still tries to gain the upper hand by talking to Koh, trying to figure out his motivations and perhaps talk him out of committing murder. Even though Koh saw right through the act, it's good that Theo tried.

The other storyline revolves, as always, around Buffy and her destiny. What is she to do with herself now that the world has changed? She's weighed down with the baggage of past choices, but that's not helping her move on and find a new life. Instead, she's holding onto her old ways and doing what she does best — protecting others through any means necessary. She knows that Wolfram and Hart can't get Koh's information instantly, so she uses the time to come up with a plan of attack. She has to make sure Theo's safe, that they can take down Tin Can, and perhaps even deal with Koh if time permits. Tall order, but Buffy's the Slayer, so she's used to impossible situations.
In the end, the situation was resolved without too much destruction or bloodshed. Buffy and Kennedy sneak in underground, bust in before Eldre Koh gains the knowledge he's been looking for, and Kennedy takes Theo to safety in order to complete the original plan to destroy Tin Can's servers. Buffy, meanwhile, faces off with Koh. She has to stick around and make sure Koh can't sneak in and reverse the self-destruct before it completes. Self-sacrifice, just another day in the life of Buffy.
In the end, Koh escapes with his life, Tin Can is no more, and Buffy fears for her job. However, instead of being reprimanded, she's commended for her work and offered a promotion. Defy authority and get rewarded? How is she ever going to learn not to do that if she gets patted on the back every time? But in spite of the accolades and the offer of money, Buffy decides that she has to do this for herself and no one else. Good for her, but being a Slayer isn't going to keep the bills paid on time. Hope she has a back-up plan to go along with her pride.
Rating: 3 / 5 Stars