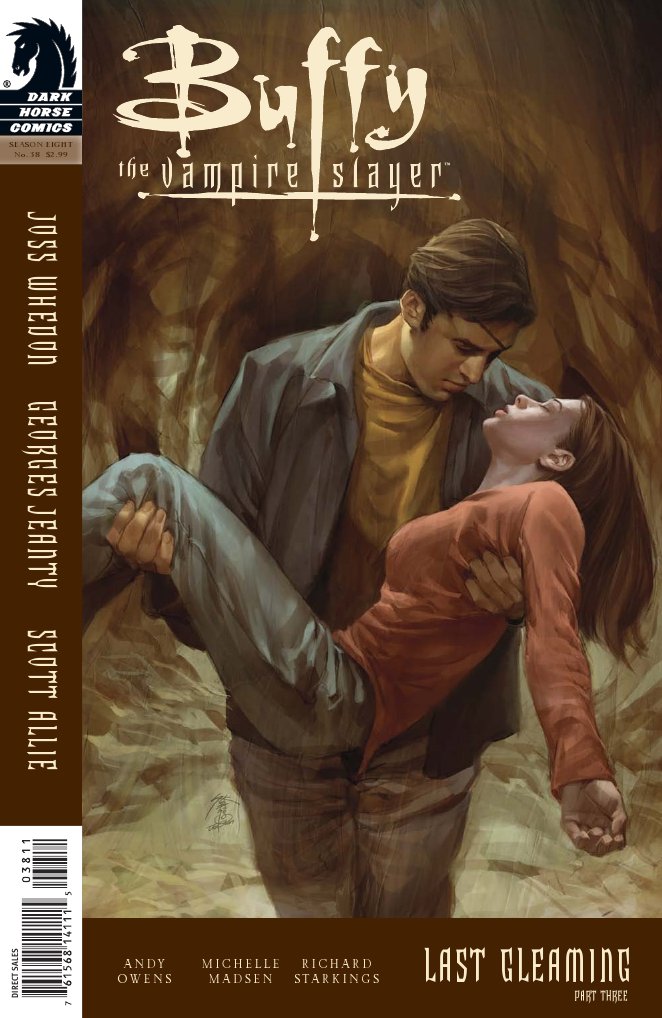 Issue: Buffy the Vampire Slayer Season Eight #38
Release Date: November 3, 2010
Writers: Joss Whedon and Scott Allie
Pencils: Georges Jeanty
Inks: Andy Owens
Colors: Michelle Madsen
Letters: Richard Starkings and COMICRAFT'S Jimmy Betancourt
Cover A: Jo Chen
Cover B: Georges Jeanty
Publisher: Dark Horse Comics
Going into this issue, I had not been keeping up with the lead-up story in the comics. Having watched all seven seasons of Buffy the Vampire Slayer and reading some of the beginning issues of the comic series, I thought I could surely just "catch-up" with this one. Well, I did read the short summation of what had happened between then and now, so I had a vague idea, but since I've always thought this universe was about the characters at its core, I was sure that the essence of them had stayed the same.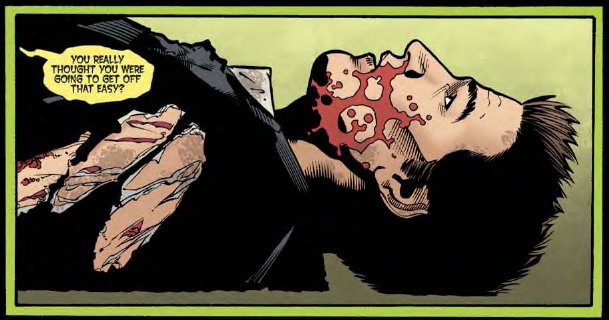 I was wrong. This is like a whole new world. And I can definitely see how they can explore realms previously untapped for the screen because most of this storyline would be too costly to put to film. Ah, the wonders of comics. Angel's having to account for his shortcomings of Twilight to the winged-lion and he's not getting off so easily. The lettering of the lion's dialogue certainly puts forth the assertion that its voice holds high command; forcing those around it to obey. Angel tries not to, hesitating on carrying out the orders to bring back the seed, but Twilight already exists in the form of Angel himself. Cue dramatic pause.
And then we switch to my favorite vampire, Spike, who has a bit of a secret to reveal. The Master is alive. I am ecstatic over this news, as I always did like The Master. It seems the seed enslaved him over eight centuries ago. And, this power can restore that which has been killed; namely The Master himself, with creepy dialogue lettering of his own. He is bound and determined to wipe away any misconceptions the Scoobies may have about this situation. Angelus and Buffy are set to reign above all others and everyone else shall perish along the way.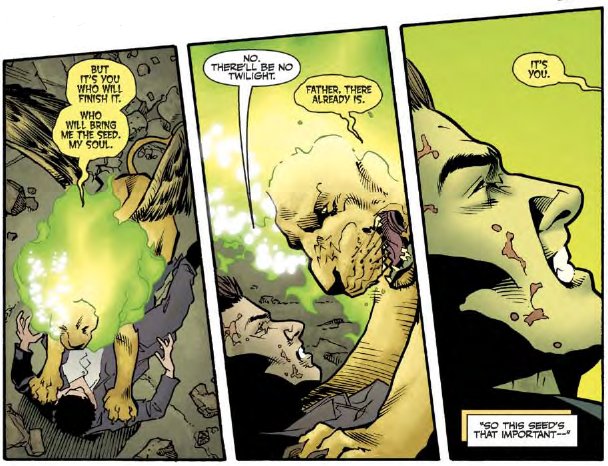 That's when the creatures show up. I have no idea what they are, but they look like Gorn from Star Trek. If they're supposed to be lizard creatures, it's a spot-on adaptation. In the ensuing battle, Willow busts out with the flame-throwing and Dawn gets hurt. It seems like Dawn's always getting hurt. And Buffy's immediate reaction once the fight is done is to instantly try and kill The Master. The more things change, the more they stay the same. But Willow talks some sense into her and shows that they're all fighting on the same side. Buffy and The Master on the same side? Okay, not everything's the same.
All of Willow's convincing is for naught, since The Master shows his true colors and knocks out first Buffy and then Spike. And yet, Willow's still fighting for her opinion to be validated. I don't get this at all. Remember Dark Willow? This seems like a definite precursor to a second round of that. It's a dangerous path she's walking. And then Giles gets into the act by trying to show Buffy that they might have to take unconventional steps for all of this to end well. I'm not so sure that's even a possibility anymore.
Then we return to Angel and his winged-lion commander, who tells him to fly and Angel does it. Wow, that's some mind-control he's got going on! But if that wasn't weird enough, we've got robot bugs on ships and Dawn with the power to heal, plus Super Buffy with added powers. I feel I've missed so much, yet it's strangely amusing to try and piece it together on the go. At least Giles hasn't changed too much; he's still as mysterious and often-absent as before.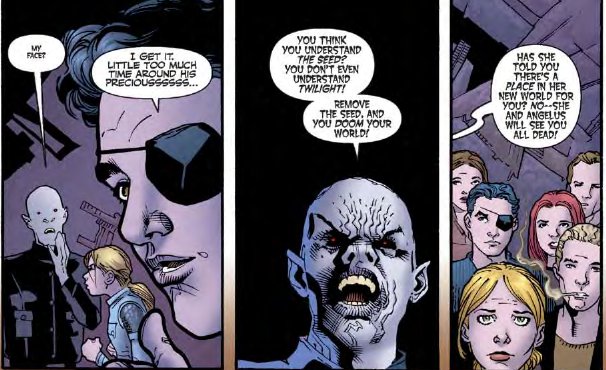 Meanwhile, Xander's taken Dawn to be looked after because of her injury. The medic is trying to use the power of persuasion to convince Xander that this is definitely not the life he wishes for Dawn. Oh, yeah, I forgot about that part. Xander is apparently in love with Dawn. I am letting that go, since every time I think about it I only get more confused.
We end the issue with Willow and The Master doing something, but I'm not quite sure what. There's a lot of red surrounding them and Willow's eyes are red, so perhaps she's invoking some evil from within her? Or maybe she's just chanting to make The Master feel more at ease. I never know when it comes to Willow. Besides, Buffy and Spike are off fighting the unending line of monsters, so we've got bigger problems to deal with.
And number one of those big problems would be the return of Angel. Buffy's so relieved to see him, but that soon backfires as he punches her through a wall. Angel has left the building, there's only Angelus now. Personally, I've always liked Angelus more, so if he wants to be the evil embodiment of Twilight, I am all for that. But we will have to wait and see what transpires next time.
Rating: 3 / 5 Stars