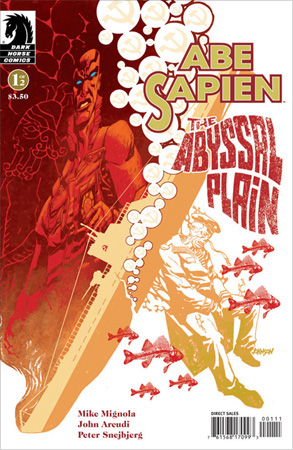 Issue: Abe Sapien: The Abyssal Plain #1
Release Date: June 30, 2010
Writers: Mike Mignola and John Arcudi
Artist: Peter Snejbjerg
Colors: Dave Stewart
Letterer: Clem Robins
Cover A: Dave Johnson
Cover B: Peter Snejbjerg with Dave Stewart
Publisher: Dark Horse Comics
Have you ever wondered what Abraham, or "Abe," Sapien does when he's not working a case for the Bureau for Paranormal Research and Defense (B.P.R.D.) with Hellboy? Then you're in luck, because Dark Horse Comics recently released the first issue in another spin-off by Hellboy creator Mike Mignola. Similar to the previously released one-shot Abe Sapien: Drums of the Dead (March 1998) and the five-issue miniseries Abe Sapien: The Drowning (2008), Mignola and John Arcudi's two-part spinoff Abe Sapien: The Abyssal Plain reboots Abe's story by revisiting his first mission with the B.P.R.D.
In Abe Sapien: The Abyssal Plain #1, Abe's unique talents are called upon when a naval crew discovers a sunken Soviet U-boat rumored to contain a powerful ancient relic. What Abe discovers in the murky ocean depths can only be described as a watery tomb, strewn with the bloated and lifeless bodies of the U-boat's crew. While Captain Sullivan is out for nothing more than profit after several previous fruitless attempts to find the sunken Soviet vessel, even a successful mission will not satisfy Abe, whose disgust at having to intrude upon the U-boat crew's final resting place is highlighted not only by his inner monologue, but also by his anger at Captain Sullivan's crass plans.
Although constructed similarly with regards to his vast knowledge of paranormal history, the Abe Sapien presented by Mignola and Arcudi in Abe Sapien: The Abyssal Plain #1 is far less passive than his onscreen counterpart, which may surprise those who were introduced to the character by Guillermo del Toro's Hellboy films. The comic gives readers an interesting look into the inner workings of the B.P.R.D.'s amphibious agent by making them privy to some of his thoughts, and hints at a dark past marked with unknown pain and suffering.
The visual style of Abe Sapien: The Abyssal Plain #1 deviates from that of Mignola's Hellboy comic book series in which Abe frequently appears. The Hellboy comics, which for the most part were illustrated by Mignola himself and scripted by John Byrne instead of The Abyssal Plain's John Arcudi, have a very unique visual style that employs a great deal of negative space and a very consistent color scheme, provided by Mark Chiarello and Matthew Hollingsworth. Abe Sapien: The Abyssal Plain #1, on the other hand, uses a wider array of colors and more detailed depictions of the characters' surroundings. Of course, Abe's plunge into the murky depths to investigate the U-boat necessitates frames filled predominantly with dark colors and black shadows, but even these similarly colored panels display a different drawing style, provided by comic artist Peter Snejbjerg, than the various Hellboy comics that Mignola drew himself.
The first half of the story presented in Abe Sapien: The Abyssal Plain #1 is very intriguing, and the last few pages of the issue indicate that the second installment in the series may give Abe the opportunity to highlight the excellent marksmanship and formidable hand-to-hand combat skills not included in the movie version of his character. Of course, we will have to wait and see whether or not that will be the case for Abe Sapien: The Abyssal Plain #2, but I hope that Mignola and Arcudi take advantage of the scenario and readers get to see Abe kick some ass for a change.
Abe Sapien: The Abyssal Plain #2 hit shelves on July 28th, so stay tuned for Fandomania's review of the story's conclusion.
Rating: 4 / 5 Stars