DC Direct's line of superhero collectible busts ushers in the Man of Steel with this newest release, a limited edition of 4000 pieces. They've been producing this line of busts for a while now, starting with the wildly popular Women of the DC Universe and then moving on to Heroes and Villains of the DC Universe (why the second line was called "Heroes" and not "Men," I still have no clue). You'd think they'd have it down to a science by now after somewhere around twenty-five characters. For the most part they do, but every once in a while we get a weird entry in the line like this Superman.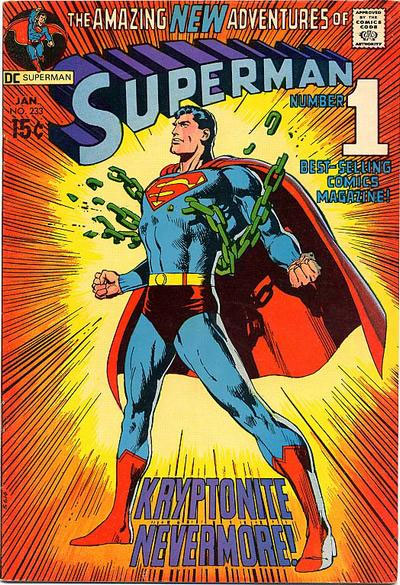 The Superman bust is designed by Carlos Pacheco and sculpted by Jean St. Jean, both of whom have turned out fantastic sculptures in the past. Superman's pose here is a suitably iconic one, showing him breaking free of some chains, reminiscent of the cover to Superman #233 (shown above). In fact, everything below the neck on this bust looks fine. The chains are believably dense, the costume is accurate, and Superman's musculature is appropriately defined. My main problem with this piece is, unfortunately, with Supes' head.
Perhaps Pacheco was going for a Bronze Age look to match the comic cover or maybe he had something else entirely in mind, but the noggin Superman ended up with is less than heroic. In fact, it makes him look like he's suffering from IBS after downing a Kryptonite gordita. Really, the whole piece might make more contextual sense as sculpted if they removed the chains and replaced the base with a lead toilet.
Sculpt aside, the paints are pretty sloppy on this one as well. There's some messy bleeding between the red and yellow on Superman's belt, and there's a hugely egregious color bleed at his hairline. Having a little skintone bleeding into the hairline is not uncommon for DC Direct busts, but it's rarely as bad as it is here, where the whole underside of Superman's trademark hair curl is painted in fleshtone. Add to that a strange patchy spot on Superman's chin, and the whole piece sadly fails.
I'm really disappointed by the way this one turned out. I've been impressed by both of the previous "Heroes of DC" releases (Batman and Green Lantern), as well as with DC Direct's recent Cover Girls of DC statues, and I was optimistic about this Superman. I suppose you can't win 'em all, though, and this Supes will be relegated to the back of the shelf in my IKEA Detolf, behind his more attractive brethren.
Rating: 2 / 5 Stars