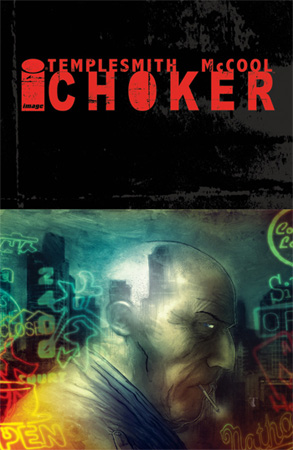 Issue: The Choker: Volume 1
Story: Ben McCool
Art/Design: Ben Templesmith
Letters: Tom B. Long
Publisher: Image Comics
Crime noir is nothing new to comics. With hit series like 100 Bullets, Sin City, and Criminal, there's no shortage of dark crime stories filled with anti-heroes, seductive dames, and themes of corruption and moral ambiguity. So what makes Choker so special? Honestly, not much. It follows the tried and true formula for noir storytelling while adding in some unique, slightly supernatural elements. Unfortunately, die-hard fans of the genre will probably be looking for something with a little more depth than what's offered here.
Choker follows former cop Johnny "Choker" Jackson and his partner Seaton Price, both of whom are private investigators in the fictional Shotgun City. Jackson is pulled back into the Shotgun Police Department because a man he busted years ago, Hunt Cassidy, is now loose and selling a new designer drug to kids. The Chief of Police wants Jackson back on the force to find Cassidy and stop the flow of drugs to the streets. Oh, and this drug turns people into cannibalistic vampires. With powers.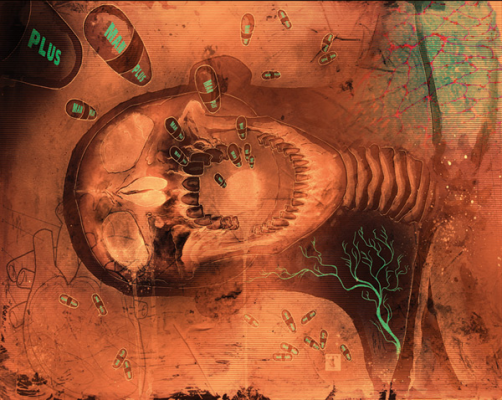 Jackson is then teamed up with Flynn "Dick Puncher" Walker, the stereotypically tough female detective in a male-dominated police force. And by "tough," I mean she doesn't take crap from anybody (her nickname is Dick Puncher, after all).  To help combat this deranged army of vampires, the police force uses a drug called "Man Plus" which gives the user enhanced strength, but also increased aggressiveness. Expect the blood to flow freely and limbs to keep flying once the vampires and juiced-up cops start battling each other.
The artwork by Ben Templesmith really pops off the page. For a crime noir book, Choker features a lot of color, although this usually comes from things like neon signs and blood splatter. His art should look familiar to vampire fans — he also did the artwork for Steve Niles's 30 Days of Night. Occasionally, the panels get a little cluttered and because of the caricature-style way Templesmith draws his people, it can be a little hard discerning what's going on, especially during the action-heavy moments.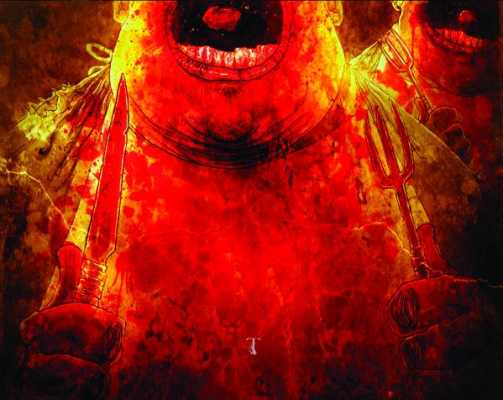 What disappointed me most about this book was how simple the story turned out to be. You can see the plot twists coming from a mile away, and I didn't feel that there was much depth to most of the characters. Still, the story itself is entertaining enough and self-contained, though this volume ends with a segue into the second. This book is more for readers who enjoy over-the-top violence over a great story. Choker definitely has moments of humor that fit in well within their world (wait until you see what Flynn keeps dangling from her rearview mirror — hint: it's not fuzzy dice), and there's a lot that can be done with the relationship between hard-boiled Jackson and his nerdy, bookish partner Seaton. I can see this book evolving into something more in the future.
The Choker: Volume 1 isn't a bad comic, it just doesn't live up to the expectation set forth by other crime noir stories. This is more for the vampire crowd or for those who pick up comics more for the artwork than the story.