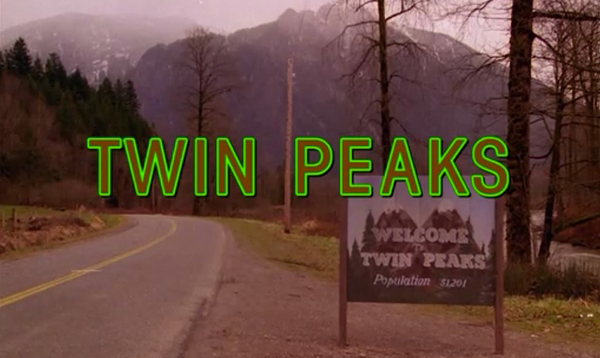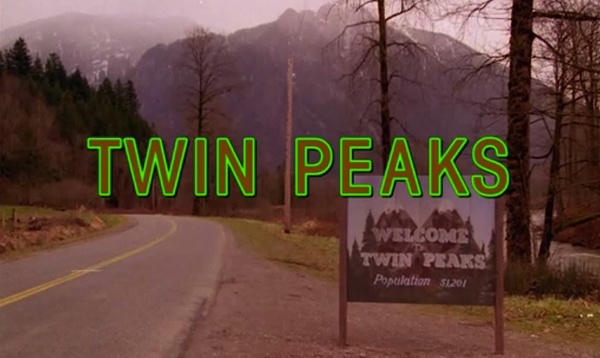 I've told this story many, many times over the Internet, but I'm going to tell you once again.
It was 1985 and a video store opened down the street. Soon enough, my dad was making dubs of movies for us and even my uncle. My uncle was a young man at the time, playing Stray Cats covers with his band and indulging in indie movies. At the time, David Lynch's Eraserhead had been released on VHS and he wanted a copy. My dad obliged. I've also stated before that my father exposed me to many movies and TV shows growing up, much like my grandma taking me to movies countless weekends.
For some reason, in 1985, when I was 6 years old, my dad thought it was OK for me to watch Eraserhead. For some reason, he thought that my wee little mind could comprehend such a film. All I remember is Mary attempting to feed the baby — and its incessant cries and being sick and dear god, the swaddling. Oh, the swaddling.
"Daddy, what's wrong with the baby?"
"It's just a little messed up."
Yes, this was my introduction to the world of David Lynch.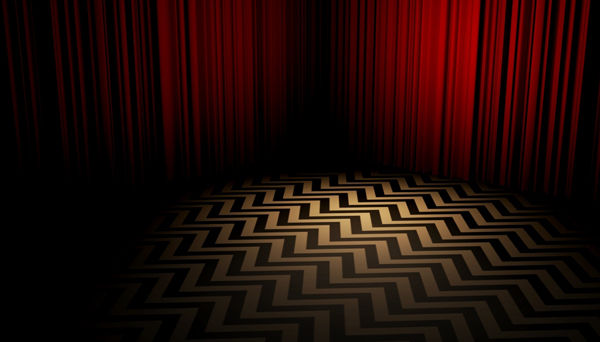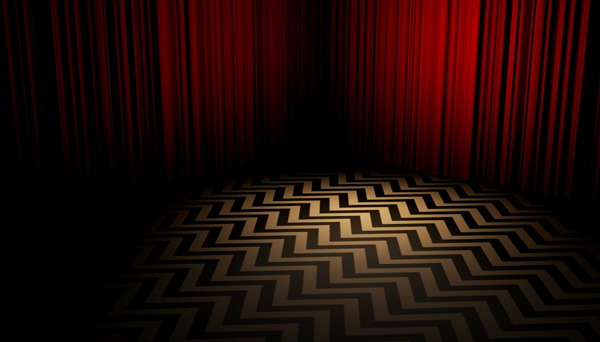 In 1990, a show came on ABC about a small town in Washington. The local prom queen had been found dead, wrapped in plastic, on the beach. An attractive FBI agent was being called in to investigate. What seemed like a normal mystery show was about to turn into a twisted insane world that was sometimes incomprehensible.
At 11 years old, I was ready for what I was about to take on.
I had been ready for years.
David Lynch's Twin Peaks, for me, was one of those turning points in life. I had always been the girl in my group of friends that didn't like what everyone else liked. I always liked what was "weird". For some reason, Twin Peaks was actually an exception. Each week my friends and I would discuss the show in detail with each other. Of course, we all had our crushes on the show, whether it be Special Agent Dale Cooper or bad boy Bobby Briggs — hell! We even thought abusive truck driver Leo wasn't too shabby. I would attempt to dance like the Man from Another Place. We thought if we could look like Audrey then we'd be cool. If only we could stand the taste of coffee at our age. We'd try to talk backwards, yet forwards. You get the idea.
But every week, for the next year, our discussions always came down to the same question:
Who killed Laura Palmer?
We all had our theories — was it Leo or Jacques or even Mr. Horne (as even he was a bit of a creep in his own way)? We philosophized and never really figured it out on our own. That was the beauty of Twin Peaks. There were always perfect side stories with characters (a solution I throw out from time to time is "cotton balls!") — but the show never got too far-fetched in that time leading up to the discovery of Laura's murderer. After, however, there were too many moments that seemed to be filler, but perhaps really are meaningful all in their own ways. And wow, was it twisted. What the hell was going on?? It was an exhilarating show that has never been topped for me.
As for owning memorabilia from Twin Peaks, I have a small collection of the loveliest items that goes beyond the definitive DVD box set.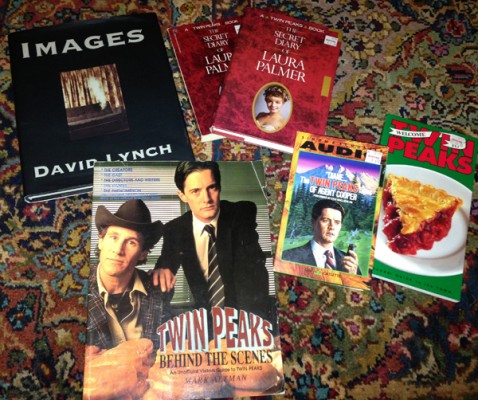 Of course, I have The Secret Diary of Laura Palmer — in hardcover and paperback. Plus an assorted array of guidebooks and behind the scenes books, David Lynch photography, and the coveted Dale Cooper "Diane" tapes.
I wrote a novel for my English class when Twin Peaks was on the air titled The Unicorn. Every character in it is named after someone on the show. Even my nom de plume is an homage. To this day, it is the most horrid ten pages I have ever read.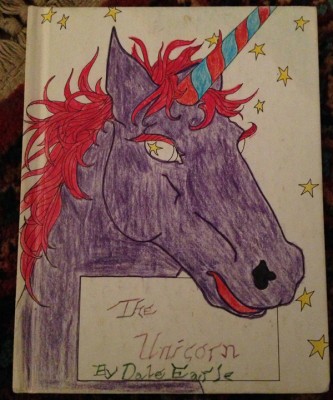 The elusive Rolling Stone issue with the ladies of Twin Peaks was recently discovered on a trip to Half Price Books and snagged for a mere $5.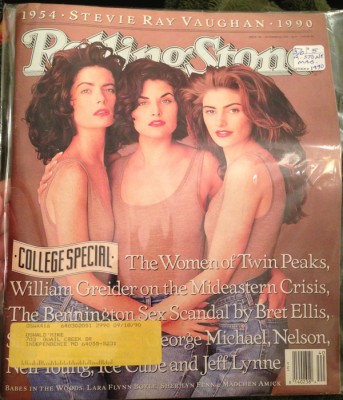 Here is an interesting story. My friend, Richie, worked for Hallmark — the card company — during the Twin Peaks boom. Apparently they were to put out a calendar — which was pulled at the last minute. However, promotional posters for the calendar were made. She owns a framed poster — which I have begged to buy from her on many, many occasions.
The Japanese laserdisc is another item in my collection which was snagged for $4.99 at the local Vintage Stock store. It includes the international version of the pilot that brings immediate closure to the murderer question. I actually own quite a few laserdiscs despite having no player.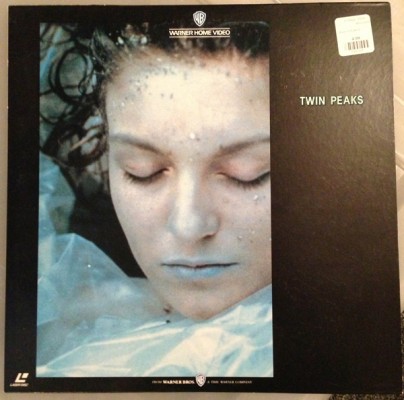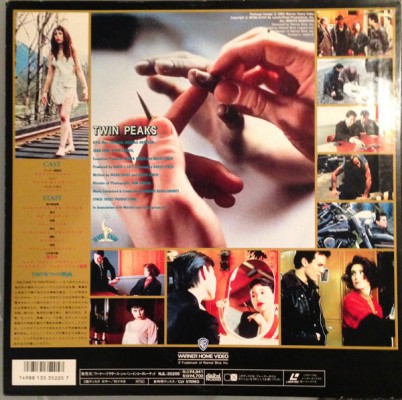 This lovely bus shelter poster was obtained from the streets of London by a friend of mine who will remain anonymous. It marked the 20 year anniversary of Twin Peaks and the box set that was released in the UK.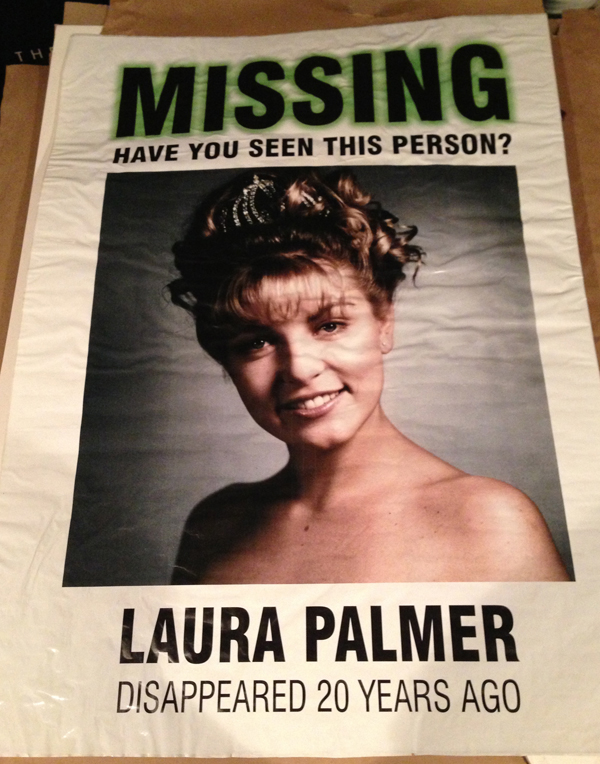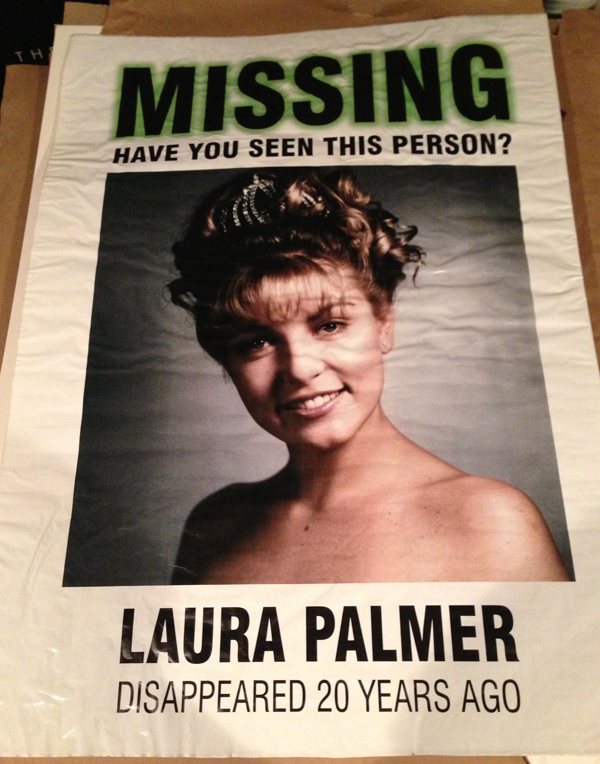 A few more items I have are two prints. One features the lovely Dale Cooper complete with Black Lodge floor design. I hope to get a Black Lodge rug soon. I already have red curtains in my front room — time to complete the look.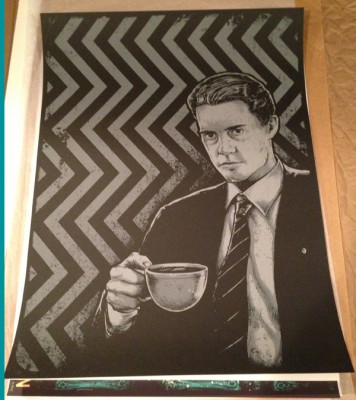 The second print is Leland Palmer. For those who have seen the series — you understand the beauty of this print.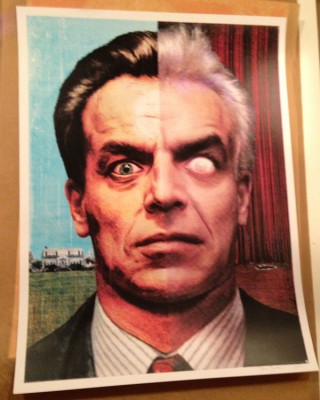 I have two cool items from the show itself: a menu from Twede's — the original diner retitled as the RR on the show — and a RR mug!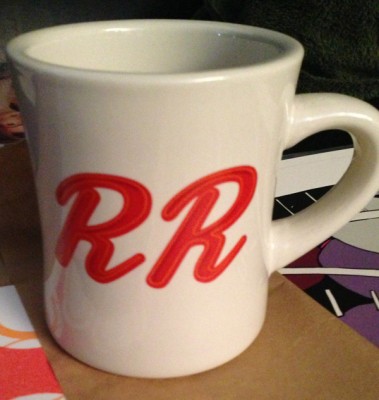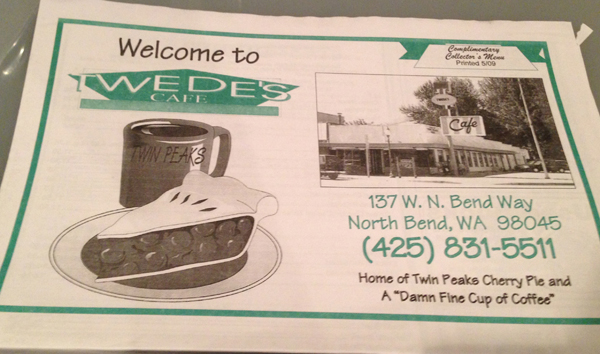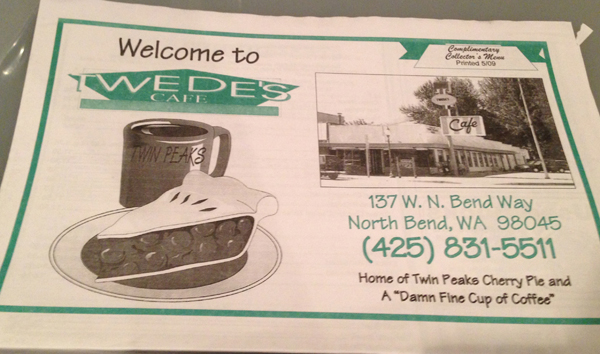 Despite all of these lovely things, there is one item I will never get back that still holds a huge spot in my heart. My Log Lady t-shirt.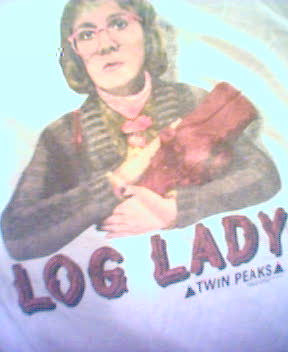 This shirt was given to me on my 12th birthday by my friends, and well, I'm nice and I let a friend borrow it and it was never seen again. It still upsets me to this day.
And, on a shelf in my house, there is a framed photo of Laura. Smiling. Happy and alive.