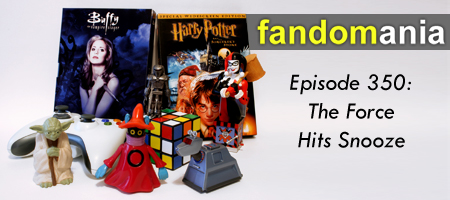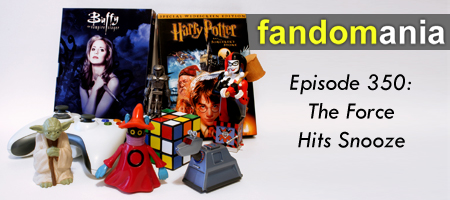 [audio:http://traffic.libsyn.com/fandomania/Episode_0350_-_The_Force_Hits_Snooze.mp3]
We went to MegaCon this weekend! We also talk about the latest TV news, the start of DC's Convergence comics, the newest LEGO game, and more.
00:00:29 – Episode Opening
00:00:50 – We went to MegaCon in Orlando this weekend.
00:11:08 – There's strange news about Showtime's Twin Peaks revival.
00:17:59 – More Arrested Development is on the way!
00:20:12 – Sony may actually make the long-developing adaptation of The Dark Tower.
00:24:31 – Jason read the first week's worth of DC Convergence comics.
00:34:10 – We talk about the new Infinite Crisis video game.
00:39:04 – LEGO Dimensions is the latest Skylanders-esque video game.
00:45:44 – We track the latest developments in the ex-Xbox chief's career.
00:51:28 – Episode Closing
You can send email to us at podcast@fandomania.com, and you can subscribe to the Fandomania Podcast at iTunes.