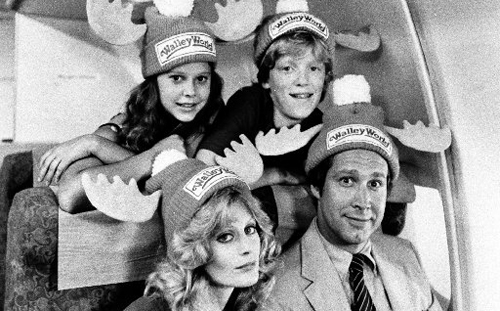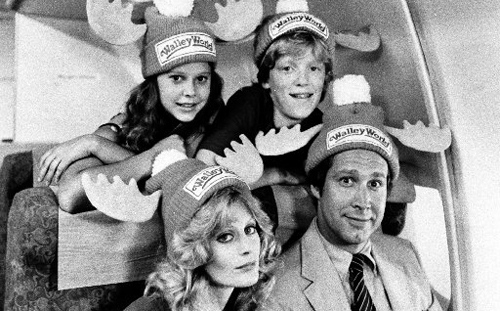 Children, it is that time of year when I cry out to those around me, "Merry Christmas!"
More than likely, to those I hold dear and close, I will be following this up with "The sh*tter was full." (Speaking of which, NSFW warning for the videos below!)
As I stated last week, my favorite cinema family in history is more than likely the Griswolds.
Clark, Ellen, Rusty and Audrey first graced our theatres in 1983 in National Lampoon's Vacation. Penned by John Hughes, the film follows the Griswolds as they attempt to drive across the country to Walley World. I was lucky enough to see this incredibly movie at a very early age. I remember heading out on numerous vacations the years following, calling the car the "family truckster" and proclaiming everywhere we went that we were the "first ones here!".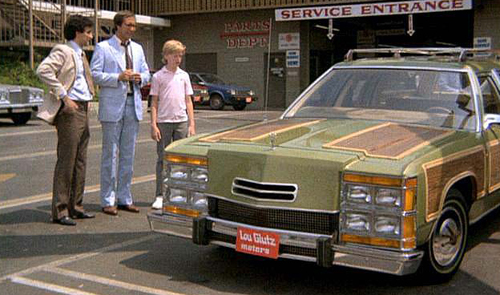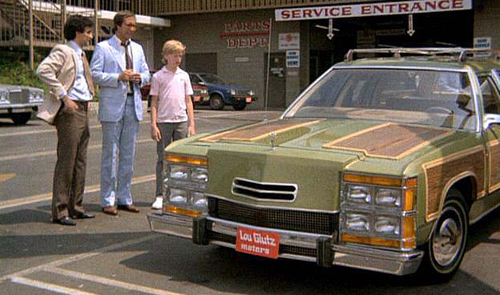 The beauty of Vacation lies in the fact that every single thing that happens is perfectly plausible — possibly a little far-fetched, but perfectly plausible. Let's take a moment and just go ahead and put it out there: If I write about a film, more than likely, if you watch it with me, I'll be fighting to not quote along with it. I will also slip it into regular conversation because nothing worthwhile is easy, Ellen. Okay, back to the article.
It's little things that make the Griswolds so real. The kids think their parents are lame. The parents are still in love with each other and show it in ridiculously funny ways. Dealing with the situations they are put in, their reactions are genuine as hell. Clark is constantly trying to get Rusty's acceptance in everything he does throughout Vacation. "Right Russ?" is actually a theme throughout the films. Aunt Edna's over the top irritation over the fruitcake "Do you enjoy throwing up every five minutes, Claude?!" The entire sharing of the beer scene where Clark's glasses disintegrate. And then something extra special. I just rewatched it and noticed something I hadn't before. Throughout the entire movie the family truckster has a high pitched squeaking noise coming from it. Brilliant.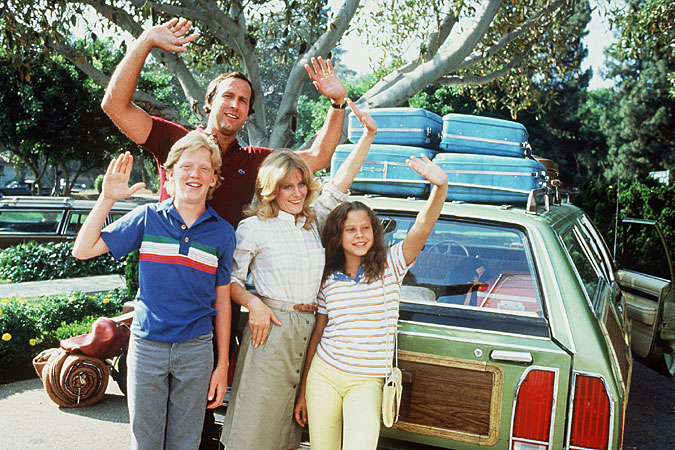 I simply cannot mention every detail of this movie — or any of the movies — so I'll go with one thing I appreciate, and that has stuck with me, from each.
For Vacation it is simple.
The Sandwich Dance.
Clark has been driving like across the country and every so often he encounters the gorgeous Christie Brinkley. The model appears in her red corvette, taunting him, causing him to speed and, in the end, skinny dip. In between, Clark and his family have picked up Aunt Edna and her dog Dinkums (he watches Family Feud). After stopping for a nice picnic, whom does Clark spy across the road? His mystery woman. Sandwich in hand, he attempts to seduce her in the best way possible.
A little dance.
Two years later, the Griswolds (or Griswalds in this one) win the game show Pig in a Poke — and a luxury European vacation! (Psst! That's the name of the movie!)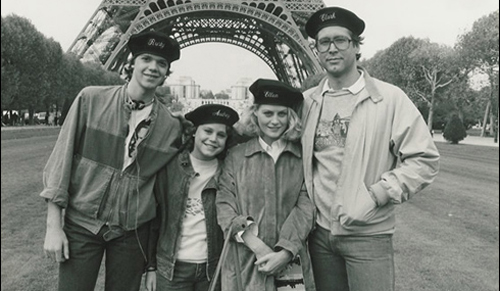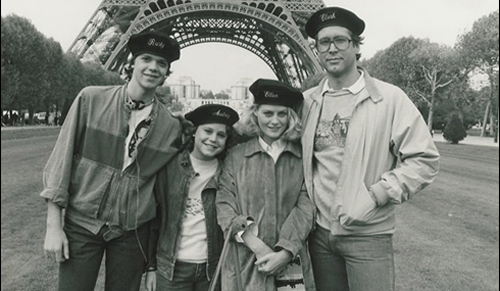 This time, the family's hijinks are just a little more far-fetched. We have dogs jumping off the Eiffel Tower, a man bootlegging a sexy video left on the family's stolen camera, a German dance troupe attempting to kill Clark by slapping him to death and, somehow, they get caught up in a kidnapping. And despite all this, the movie still rocks. It's even better than Vacation in many ways.
I actually own a European Vacation poster. It's proudly displayed at the end of my hallway so that every time I walk down it, I have to smile.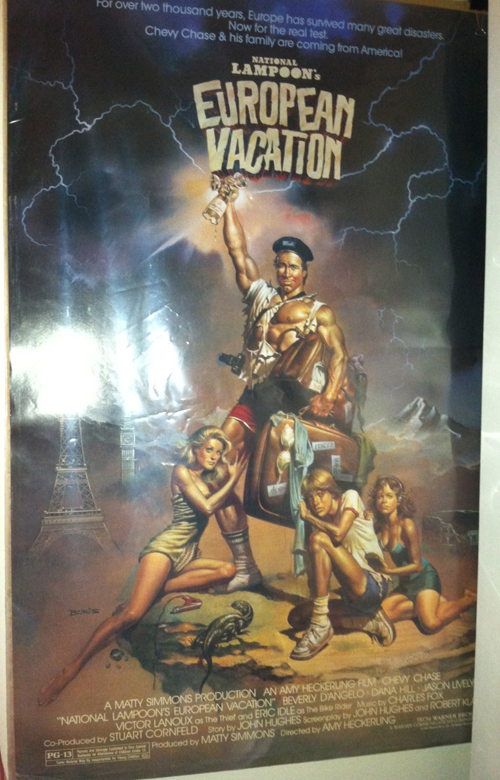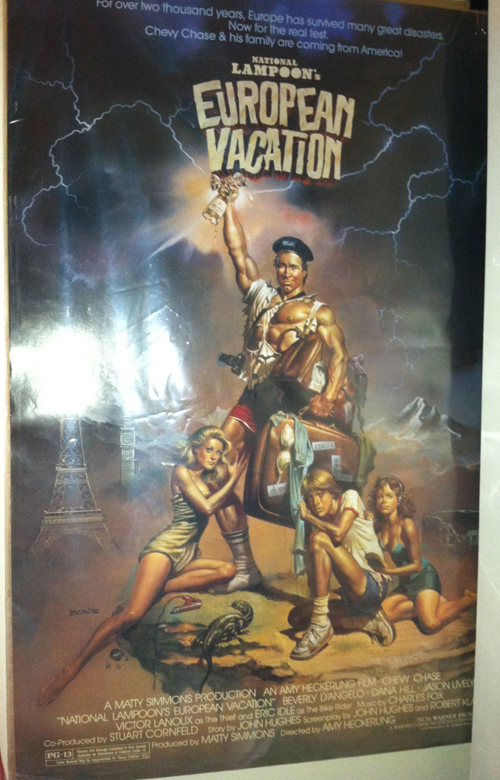 Now, out of all the events in European Vacation, I can't pick a favorite. I guess the ones filled with the most adult humor are what I'm drawn to. I can't help it. Call me immature. Then there is the honeymooning couple and Rusty's fascination with them as they continuously aggressively make out in public. The German couple that take the Griswolds in even though they don't know who the **** they are. RUSTY, THE EUROPEAN TOUR. The dream sequences are epic.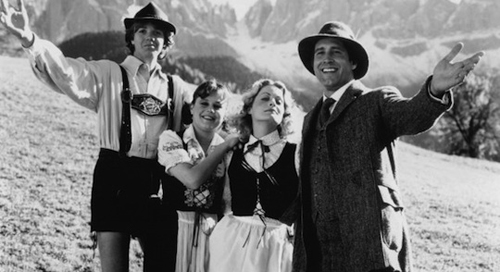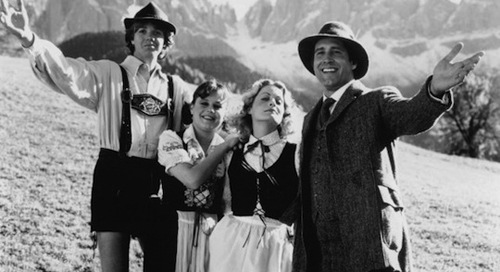 Pretty much everything in the movie up until Italy, I adore. After Italy, the movie gets a little wonky. It just doesn't have the same flow. But we'll ignore that as 3/4 or maybe more like 7/8 of the movie is amazing.
Every so often in life, I have to sing a little song. I don't really know the real song it is based off of. I just sing what Russell Griswold is singing. Yep. For European Vacation I will pick the lovely events that happen on the train to share with you. Pay attention to Rusty's song. Perhaps one day I'll serenade with it.
Side Note: I tortured a group back in 2000 when we went to England by crying out multiple times, "Hey, look, kids! Big Ben! Parliament!"
Speaking of torture, yep. It's coming upon that time of the year where I'll be quoting Christmas Vacation much more often. (Maybe I should just start writing articles called "Movies I Quote A Lot".) Christmas Vacation, the last of the series to be written by John Hughes, was released in 1989 — which is actually kind of scary to think about because it seems like it was yesterday or even "ten years ago".
Again, we catch up with the Griswolds who are reluctant to celebrate Christmas at their home because that means all the family under one roof. While trying to get in the holiday spirit, Clark has to deal with douchebag neighbors, the fact that his boss is a cheapskate with year end bonuses and that Cousin Eddie and his family are living in an RV parked in the driveway. Well, that's a condensed set of events.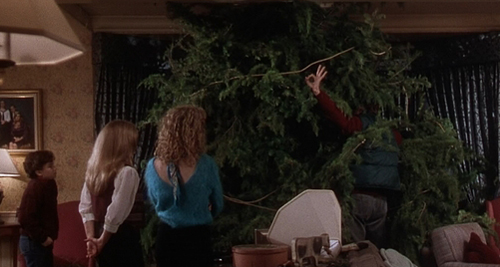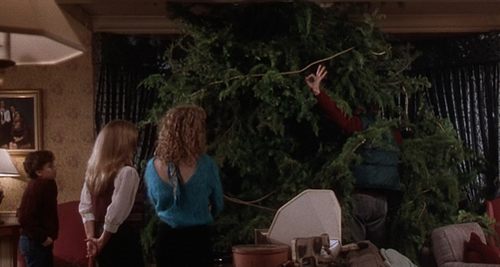 Christmas Vacation is a plethora of hilarity. There's the lighting of the house, the cat, the squirrel, the burning of the tree, the fantasy girl, Aunt Bethany — "Is Rusty still in the navy?". Let's just say it became a staple in my family and we watched it every year. When I purchased it years ago, I was able to get a copy that came with a special ornament!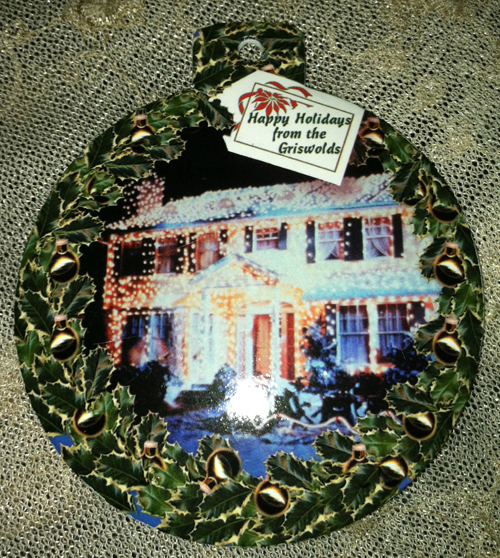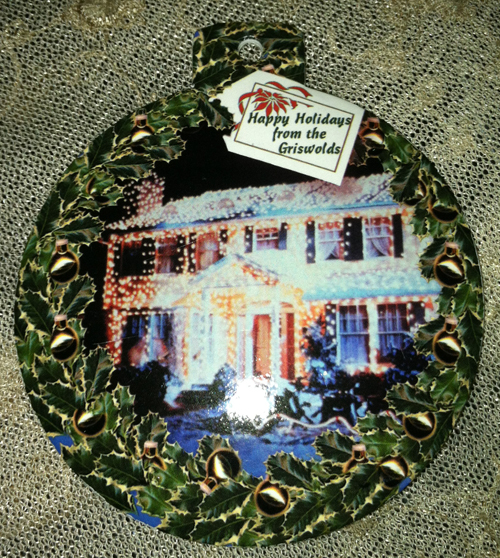 There really is a deep lovely message to the movie — and while it's not the same feel as the two prior films, it still has the Griswolds and that's all that matters.
So, if you're ever in my presence and I cry out "Metallic Pea?! No! Antarctic Blue!" or maybe, "Bah! Bah! Bah! Bah! Bah! Bah! That's gone, right? You erased it?" — just know, I'm not really crazy. I just have been with the Griswolds so long that I feel like they're my own family.
And when you look out the window this holiday season, remember that I'm wishing you a Merry Christmas…