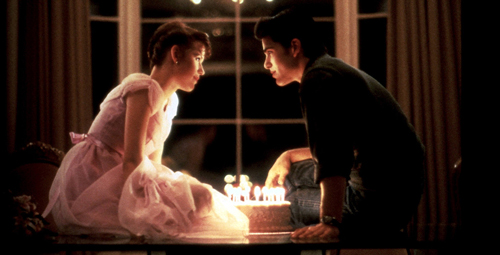 Remember when I mentioned that I run through scenes of movie dialogue in my head? Well, I use these quotes in every day life, too. All of the time.
Say you ask, "Hey, Lauren, what's up?"
I am more than likely to respond, "You know, things, life… whatnot."
This small detail about me is another long story.
It starts with a man named John Hughes.
I honestly don't remember which John Hughes film I saw first, Sixteen Candles or Vacation. Either way, the two films — and most of the John Hughes arsenal — are in my DVD collection. And, like most anything I grew up with, I have some choice items in my home from these movies — and quite a few that I still really want.
While I could try to make an entire article on every John Hughes movie that I fully appreciate — and that has shaped me — the article would run on and on and on. So, I'm going to break this up for you all.
Let's start with one of my favorite movies ever made: Sixteen Candles.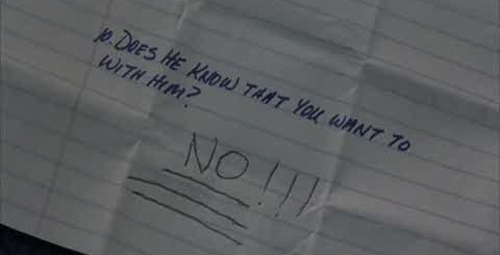 I remember watching this movie often growing up. Often enough that I used to act out scenes from the movie – especially Molly Ringwald's Samantha filling out a quiz her friend gave her and casually attempting to pass it to her friend during independent study – only to have it intercepted by Jake Ryan. I had this scene down. The writing of "No!!!" complete with all the exclamation points and underlines. The awkward look back at Jake where Sam sees he is looking at her and she has to attempt to look like she's rubbing her cheek on her shoulder. The dropping of the note. All of it – down.
Now, at the time, and until I was old enough to "get it" – I had no idea that Sam was filling out a sex test. I had no clue what the questions being asked of her meant. I had no idea that she desperately wanted Jake in more ways than I was aware of. And you know what? It didn't matter. I wanted to be Sam in the worst way – and I still, to this day, am dreaming of stepping outside and having Jake Ryan waiting for me across the street.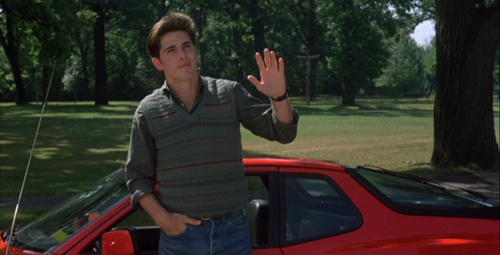 A girl can dream, dammit.
I think this movie still stays with me in a lot of ways because I identify with Sam. She feels everyone around her more or less ignores her. She is deserving of attention that her family – and most importantly the boy she has a major crush on – are not giving her. Maybe she's a little awkward and unique in her own way, but she's pretty damn cool. She knows she has silly dreams of romance and life – but she is grounded. Her sister's elaborate wedding to her is a joke. The fact that everyone fawns over Caroline, Jake's girlfriend, is a joke. Sam breaks things down to a realistic level – which ultimately validates her fantasies. She knows that if she's that passionate about Jake and being with him, he has to see things the way she does. Yet, as much as Sam believes this, she still believes that Jake has to think she's like a pathetic little puppy that follows him around.

All the while, as Sam struggles with getting Jake to notice her, sweet little Anthony Michael Hall – The Geek/Farmer Ted is following her around. (He's not really a farmer, he's a freshman). He has a major crush on her, and while Sam doesn't want to break his heart, she can entertain him, and knows that she can really trust his advice. Hell, she even helps the poor dude out and gives him her underwear to make it seem like The Geek is cooler than he is to his pals. (They betted on floppy disks that he could do it with her – and those are expensive!) While the Geek has his own charming elements, he and Sam are not meant to be. She ultimately will end up with Jake – but it could never have happened without Farmer Ted. He's like her fairy godgeek or something.
I watch Sixteen Candles every year on my birthday – and then some. I'm actually watching it while I type this and I am fighting the urge to quote along. I truly adore this movie more than anyone knows. Well, now you have a better insight.
Somehow these notable John Hughes movies have seemed to have regained popularity with younger generations. There are I Heart Jake Ryan t-shirts available to buy everywhere! I would love to own one, but I am scared that people may not know that I've truly loved this fictional character since I first saw the movie in the early '80s.
So – onto the collectibles! A few years ago I was lucky enough to score an original Sixteen Candles poster cheap on eBay, of course.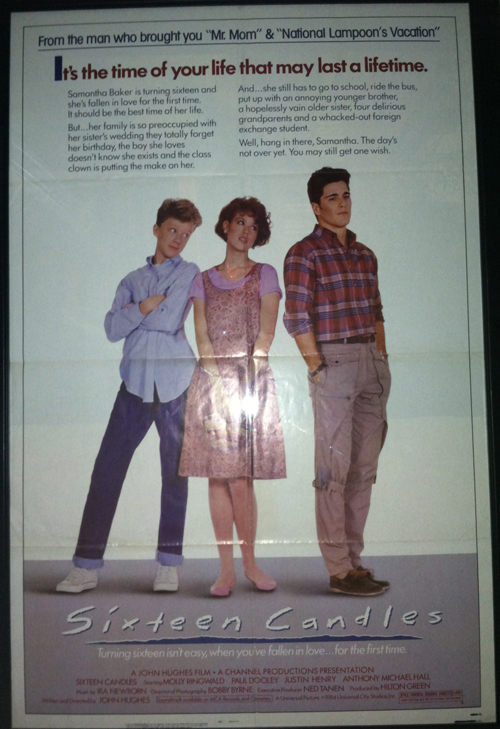 A rare item I have is the same Harvey Edwards gallery print that Sam has on the wall of her bedroom.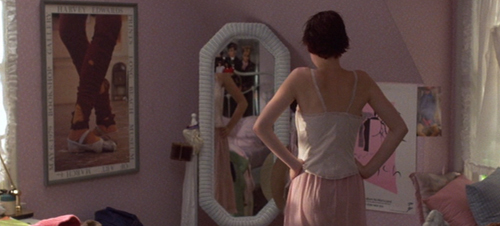 I actually owned this ballet print for a few years until I discovered that my hero Sam also owned it. Pretty cool.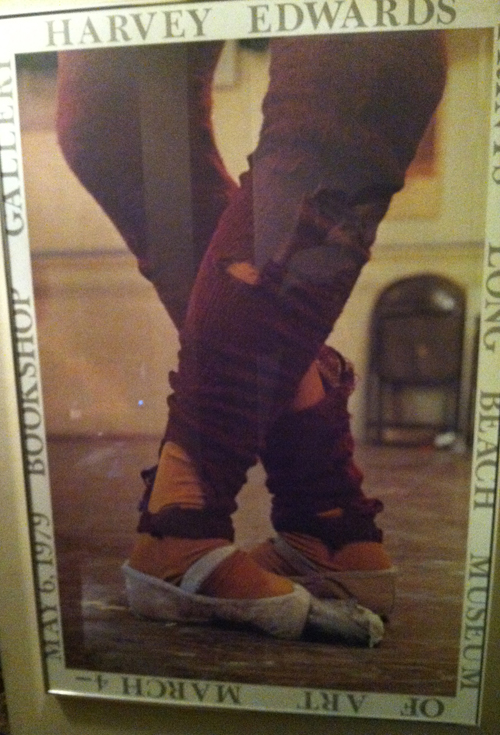 I also have the soundtrack on vinyl.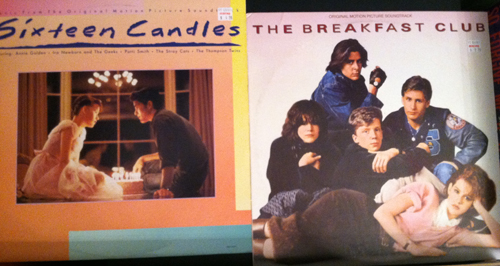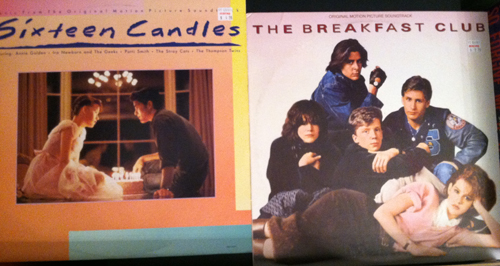 Well, I should say a record with "music from" the film. It doesn't have the greatest song ever from the movie: "Ring Me Up" by the Divinyls. This incredible song was used during one of the best scenes in the movie:
Again, I could go on and on about this movie. There are so many moments. I can quote the entire thing.
JAKE RYAN.
I just LOVE IT.
Oh? You see that I have The Breakfast Club soundtrack too? Well, children, I'll explain that one next week.
Until then, I hope it goes good for you.
It?
You know, things, life… whatnot…