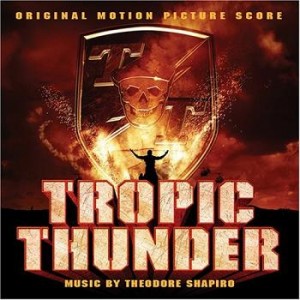 Composer: Theodore Shapiro
From: Lakeshore Records
By now it's common knowledge that one of the essential components of any film, be it action, comedy, horror, et cetera, is the score. It's the composer's duty to set music to a film which will make the emotional impact of each scene all the more rich and poignant. When a motion picture score is lauded, it's usually the score for some epic adventure or sweeping romance. It's actually quite seldom that the score for a comedy has quite the same impact. It's with that in mind that we now direct our attention to the original motion picture score for Ben Stiller's savagely funny Hollywood satire, Tropic Thunder.
The score is composed by Theodore Shapiro, who is an old hand at delivering music for comedies, having composed the scores for such memorable films as The Devil Wears Prada, Starsky & Hutch, and Dodgeball: A True Underdog Story. After reviewing his track record, I looked back and reflected on how effective the music was in those films, and comparing those with Tropic Thunder I've got a feeling that Mr. Shapiro has the composing chops to rival many of his peers.
Tropic Thunder is a film that accomplishes its goal of being a solid punch in the face of Hollywood cliches and conventions. The movie conveys everything in a serious light and they let the comedic material flow from that. If you've got a comedy or satire where the actors tell a joke and proceed to wink at the camera in self-satisfaction, then the film is already ruined. Everyone involved with this film dared to approach this with the same type of melodrama you'll find in every epic war movie. It stands to reason that the music should follow suit, and that's precisely what Shapiro's score does. If I were to play the score for someone and never tell them what movie this is from, I'd bet you good money he'd think it was from some balls-to-the-wall action flick, not from a raucous comedy. I'm sure this was Theodore Shapiro's intention, and to this aim he succeeds.
An interesting change however, is listening to the score on its own. This is truly the ultimate test of a score's merit. If it works well on its own, imagine how well it works incorporated with the film. Suffice to say, as I'm writing this I've listened to this CD four times in a row, and I still haven't grown tired of it. The score is remarkably intricate in its layering and its variety. You could stage an action sequence in your head while listening to this. You could make the emotional scenes reach their full potential by matching it with the heights that this score reaches. It's safe to say that the reason Shapiro's score works so well as a comedy score is because it works just as well (maybe even better) as a dramatic action score, allowing you to embrace it with more enthusiasm than you would with a traditional comedy score. In listening to this CD, I find it noteworthy (no pun intended) that the score is so seamless, it's practically impossible to pick out where one track ends and another begins. It feels more like one continuous piece of music that is constantly transitioning through different modes of melodic intensity. If you were listening to this while reading a detailed synopsis of the movie, you could still feel the impact of the story from the score alone.
Now I'm not going to say that this score is the second coming, but it's definitely one of the most enjoyable scores of the year. The score is by all means entertaining, but It feels like it's just that. I'm glad for that though. It means that the composer has yet to break out his big guns. It's like he's waiting for that one great project to come along. I'm sure that after the box office love of Tropic Thunder has subsided, everyone involved with the making of the film will continue to move on toward new and different things. Theodore Shapiro will move on as well, but if he keeps writing scores like this, he'll move on to bigger, better things.
IN ESSENCE: An energetic score which shows an up and coming composer's skills and accomplishes the goals set for it with total commitment, but that's all.
Final Grade: B+