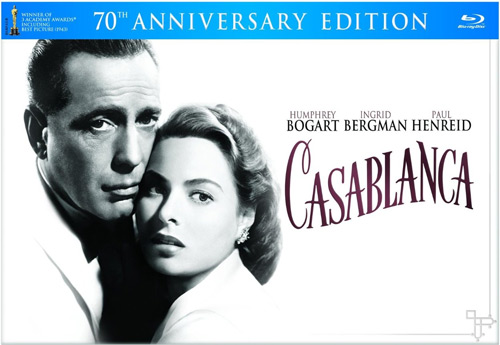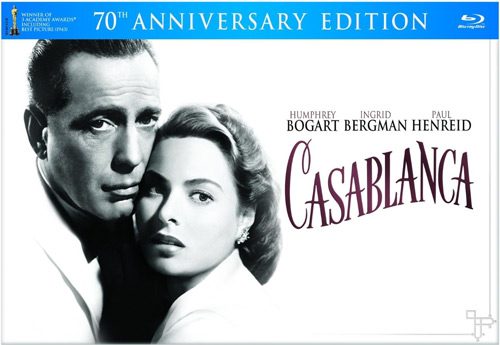 When discussing classic Hollywood, it's virtually impossible not to mention Casablanca. It even has its own segment in a Disney theme ride! The film has had previous releases on Blu-ray, but Warner Bros's new Casablanca 70th Anniversary Edition truly is the definitive version of the movie.
Released in 1942, Casablanca has become an iconic film that regularly finds its way to the top of "Best Movies Ever" lists. At its core is the broken relationship between Humphrey Bogart's bitter American expatriate Rick Blaine and his former lover, Ingrid Bergman's Norwegian Ilsa Lund. Blaine now lives in Casablanca, where he runs a bar and gambling establishment while rubbing elbows with all manner of society. Ilsa and her husband Victor Laszlo (Paul Henreid) show up in the bar shortly after Rick comes into possession of stolen transit documents that would allow free passage through German occupied Europe. The ensuing conflicts, confrontations, and revelations eventually lead to the climactic airfield scene that would be the defining scene not only of Casablanca but also of this era of Hollywood moviemaking.
The newly released 70th Anniversary Edition arrived in stores on March 27, 2012, in a big and beautiful box stuffed full of bonus material. The three discs that come in the box include a Blu-ray that contains the film itself alongside a huge assortment of extra features, a second Blu-ray devoted entirely to bonus material, and a third disc that presents the movie on DVD. Casablanca's high definition transfer here is breathtakingly perfect, looking and sounding even better than many current movie releases when they arrive on Blu-ray. After seventy years, this one never has been in better form.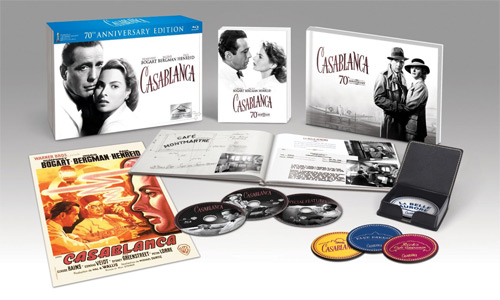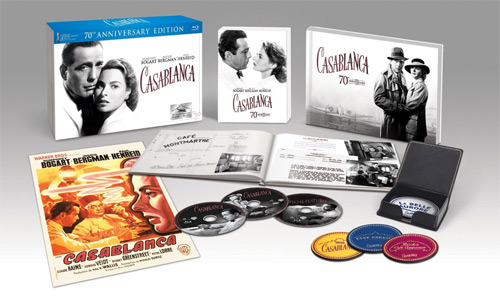 In addition to the three discs encased in collectible packaging, there's also a 60 page hardcover photo book full of production notes and behind the scenes information. You'll also find a mini reproduction of the 1942 French theatrical poster for the movie, as well as a keepsake box with four drink coasters from Rick's Café Américain. The on-disc features are even more impressive, with more than 13 hours of additional content. Among the specials included on the Blu-ray discs are:
Michael Curtiz: The Greatest Director You Never Heard Of – an exclusive featurette examining the life and works of Casablanca's director
Casablanca: An Unlikely Classic – an exclusive documentary about the origins and making of the film
Introduction by Lauren Bacall
Audio commentary by Roger Ebert
Audio commentary by film historian Rudy Behlmer
Warner Night at the Movies – an authentic pre-movie assemblage of 1940s war reels, Merrie Melodies cartoons, and more, lasting for nearly an hour before Casablanca automatically begins playing
Great Performances: Bacall on Bogart – Lauren Bacall hosts a feature-length special about Humphrey Bogart
You Must Remember This: A Tribute to Casablanca – another documentary about the film, this one running just over a half hour in length
As Time Goes By: The Children Remember – Humphrey Bogart's son and Ingrid Bergman's daughter reflect on their parents' work and lives
Deleted Scenes
Outtakes
Cartoons
Audio Scoring Stage Sessions
11/19/47 Vox Pop Radio Broadcast
Theatrical Trailers
You Must Remember This: The Warner Bros Story – a five hour (!) documentary about the origins and rise of Warner Bros, narrated by Clint Eastwood
The Brothers Warner – another feature length documentary, this time illuminating the Warner Brothers themselves
Jack L. Warner: The Last Mogul – a final featurette documentary, this one running nearly an hour in length
There's something for anyone with even a passing interest in classic Hollywood in this new limited edition set. From the definitive version of Casablanca to fully featured additional material about the making of the film and its stars to an exhaustive history of the Warner Bros studio and its place in the pantheon of moviemaking, there truly is nothing missing here. The Casablanca 70th Anniversary Edition released on March 27, 2012, and is in stores now.