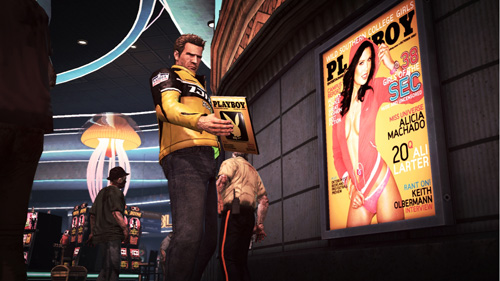 For some time now gamers have been exposed to conspicuous product placement in their video games, making the recently announced partnership between Capcom and Playboy magazine no surprise to those familiar with this practice. Late last week it was announced that content from the iconic publication will be featured in Capcom's forthcoming title Dead Rising 2, set for release later this year.
An undisclosed upgrade for main character Chuck Greene will be available to gamers that uncover the Playboy magazine in Dead Rising 2, and players will come across ads and billboards that will feature specially selected issues from Playboy's 57-year history.
"The Sin City-type environment in Dead Rising 2, Fortune City, is a natural playground for the Playboy Bunnies," said Seon King, Senior Director of Licensing for Capcom Entertainment, Inc.  "We have integrated the Playboy brand throughout the game in ways that bring even more life to Fortune City and add to the user experience."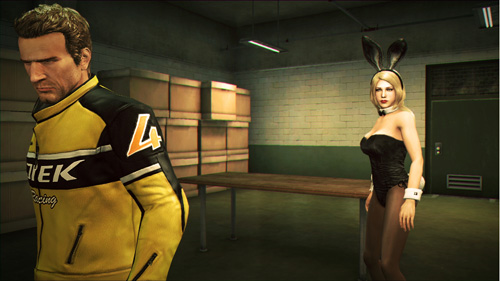 The new "magazine system" for Dead Rising 2 is the evolution of the popular "book system" featured in the game's predecessor, Dead Rising. In addition to Playboy, various other themed magazines will also be available to Chuck throughout the game. Players will score bonuses to use to help fend off the zombie hordes when they pick up various publications.
Dead Rising is well-known for allowing players to pick up and use everyday items to fight off the undead, and Dead Rising 2 will go even further, allowing players to create combination weapons from nothing more than a couple of everyday objects, a roll of tape, and Chuck's skilled hands and inventiveness. That water gun and can of gasoline? Flamethrower. A car battery and garden rake? Electrified cattle prod. Players will earn more Prestige Points (PPs) the more combination weapons they create and use, helping their character to level up at a faster rate.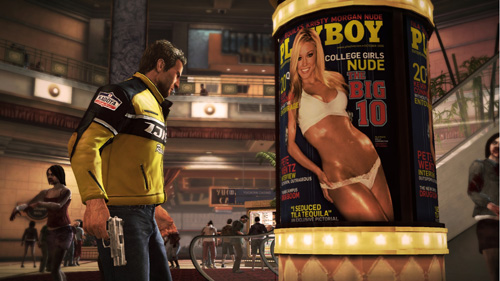 Players' search for Zombrex, a drug that will stop Chuck's daughter Katey from turning into a zombie, will take them to Fortune City, America's largest adult playground where they will participate in the zombie game show Terror is Reality. There Chuck's strength and agility will be tested as the former motocross champion faces a seemingly endless zombie horde. After the zombie outbreak occurs, Chuck must survive the undead for 72 hours while pitted against bosses and psychos, trying to save other survivors along the way.
Dead Rising 2 will be released later this year for the Xbox 360, PlayStation 3, and PC platforms.