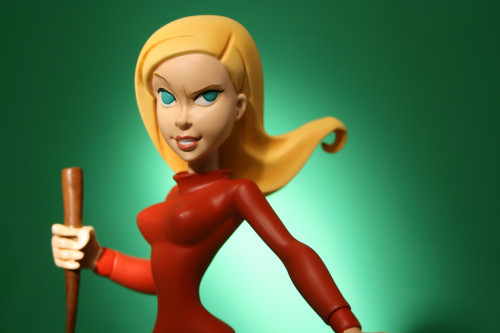 Electric Tiki's animated style Buffy Summers statue is a statue I've personally been looking forward to for a long time. She finally made her way into my collection yesterday after her recent release, and here's a review of the piece, complete with photos.
When Electric Tiki announced the animated Buffy line, some folks cried, "Does everything have to be animated?" Well, no, but making things animated nearly always makes them even more awesome. I have a lot of love for the cartoony-style statues from Star Wars, Lord of the Rings, and Pirates of the Caribbean (not to mention the disturbingly cartoonish upcoming Friday the 13th Jason statue), and I really like the cute little Super Hero Squad representations of the Marvel heroes, as well as their Star Wars, Transformers, and Indiana Jones counterparts. So it's a no brainer that I'd be into this Buffy line, especially given my complete obsession with the Buffy the Vampire Slayer TV series.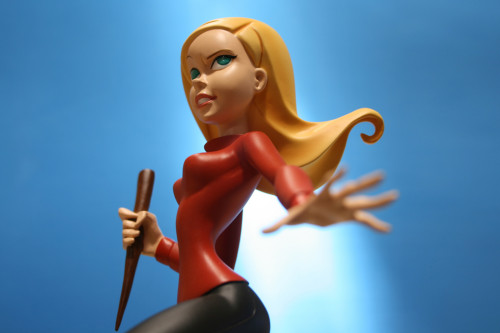 The first release in this series is Buffy Summers herself. She comes in the outfit made famous in the musical episode, "Once More With Feeling," rocking the red high-collared shirt and black pants. She comes with a cool and detailed display base, as well as with four different hands. By default, Buffy doesn't have any hands attached in the box, but you can plug any of the four included hands into her arms via metal pegs for your choice of how she should be displayed. There's a left hand holding a wooden stake, a right hand with a stake, a right hand with a pool cue stick (which she used to beat and skewer demonic puppets in the episode), and an empty left hand.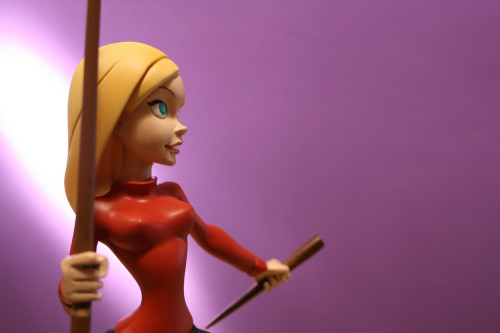 The sculpt is amazingly expressive and entirely cute. Buffy is posed mid-step and looks like she's about to launch into kicking some vampiric butt. She has a slightly sneering smile with one eyebrow raised, and her hair is flipping out to the side, conveying her motion excellently. The sculpting on the base is a nice touch as well. It's a circular base with a stone-textured floor for Buffy to stand on, and there is a faux-wooden pedestal beneath it, ornamented with knobs and three small stone ledges. The ledge onto which Buffy is stepping sports a gargoyle-like face that, upon closer inspection, appears to be a Turok-Han (uber-vamp).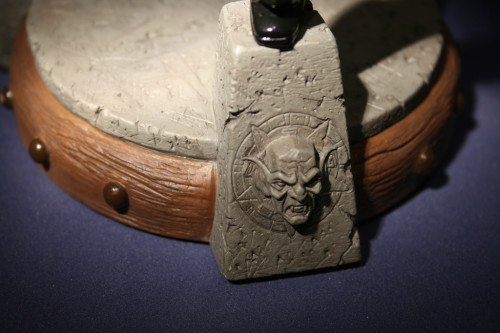 The statue comes in a nice, big box that has not only photos of the statue on the outside, but also a bunch of concept sketches of an animated Buffy. I really liked that touch and thought it added a lot to the packaging. What didn't add to the packaging was the styrofoam packing inside. Most big-release statues nowadays come inside boxes that have a styrofoam block that holds the statue securely for transport. The foam block usually is two big pieces of foam that interlock to make a sort of "coffin" for the collectible. Inside, the styrofoam is hollowed out to follow the contours of the piece for better protection. The Buffy statue's styrofoam block doesn't interlock at all and relies solely on a band of tape to hold it together. Inside, there are some rectangular cutouts that hold the statue in place, but they're not really contoured to the statue like I'd want them to be. And overall, the styrofoam just feels cheap and flaky, not smooth and solid like I expected. That said, it did protect my statue, and Buffy got here in one piece, so I really shouldn't be complaining. And if the styrofoam insert is the only quibble I can find with this statue, that's a really good thing.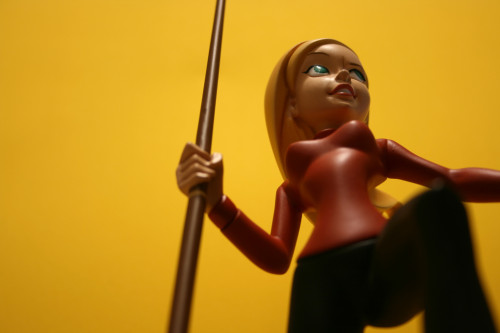 Buffy measures around 9.5″ tall and is limited to 1000 pieces. I can't recommend this statue highly enough. It's fantastic for any Buffy collector or for anybody who collects animated-style pieces. Sideshow Collectibles handled the distribution for this statue, and while they're currently sold out, you still can get on their Wait List, just in case someone cancels their order. The next piece in the series will be Buffy's witchy friend Willow, and she's still available for preorder here: Link.
You can see the rest of my photos below:
( Buffy the Vampire Slayer Tooned Up Maquette )