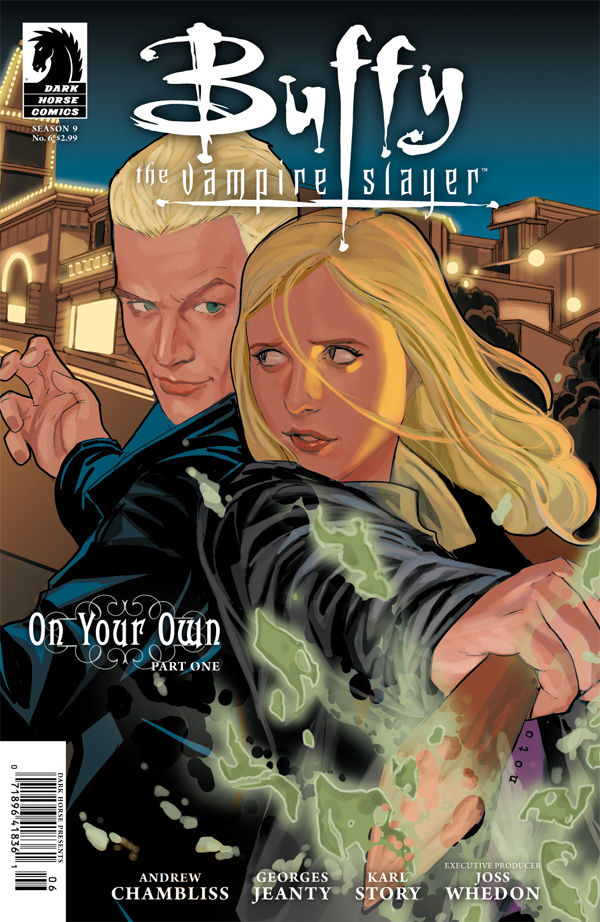 Issue: Buffy the Vampire Slayer: Season Nine #6
Release Date: February 2012
Writers: Andrew Chambliss
Pencils: George Jeanty
Inks: Karl Story
Colors: Michelle Madsen
Letters: Richard Starkings and COMICRAFT'S Jimmy Betancourt
Cover A: Phil Noto
Cover B: Georges Jeanty with Dexter Vines and Michelle Madsen
Publisher: Dark Horse Comics
Can a Slayer be a mother? And more importantly, is Buffy even ready to welcome motherhood? She's got a lot of thinking to do and even more soul-searching before she can come to a decision. It's going to take a lot of support, but maybe the path has already been chosen for her.
When last we left our Chosen One, Buffy had just discovered she was pregnant. And now she's got to figure out what to do about it. There has been a Slayer who had a child before, and that would be Nikki Wood. So, this issue we got some great flashbacks to mirror Nikki's story to Buffy's. Three years before Spike killed her, Nikki was a Slayer who was pregnant. Not a safe option in her line of work, but she was a determined woman who knew what she wanted. It didn't matter that she was unaware of the father, this was her child and she could take on the responsibility. However, she didn't have to carry to burden alone because her Watcher, Crowley, was willing to support her for whatever she needed.

Like Nikki, Buffy is clueless as to who the father of her baby is. She's got it narrowed down to the house-warming party, but there were a ton of guys there and a period of alcohol-induced blackouts, so it's anyone's guess who got her pregnant. But Spike's on that list of potentials and I am screaming in hopes that he's the father. Their love story is so tragic. Both love and care for the other, but are hesitant to admit it. While a child being brought into the world filled with supernatural threats isn't ideal, it would make me so happy if that were to occur. A Slayer and a vampire mated is one thing, but to have those roles served by Buffy and Spike would be glorious.
At the moment, Spike's doing a ride-along with Detective Dowling, trying to teach him the art of killing zompires. And it's not the training that was as important that night as was the bonding. Yes, Dowling and Spike bonded! At first Spike was trying to convince Dowling to get with Buffy because the detective would be good for her. My favorite vampire was willing to sacrifice his own love and step aside to see Buffy with someone who would be safe and not bring home even more evil than she's already forced to deal with. This is why I love Spike. He's a good man.
But Dowling saw through Spike faster than I would have given him credit for. I was amused at Spike's short-version recounting of his and Buffy's relationship. It's hilarious when you condense it that much, but the truth shines through. Buffy keeps coming back to Spike when she needs darkness, or so he thinks, and Spike keeps holding onto Buffy because he still loves her, even if he won't admit it out loud. With a little prodding from Dowling, Spike's finally at a point where he might be able to admit it to the woman he loves. And, so, with a call from Buffy sending him running, he's at the point where he can make the admission if given the chance.
While Spike was doing his patrol, Buffy's been busy herself. Who's the one person she could go to for advice on being a Slayer and being a mother? Robin Wood, Nikki's son. He knows better than most the sacrifices that one has to make as a Slayer and what consequences there are for trying to balance motherhood and destiny. What surprised me, though, was that it was Robin who was trying to talk Buffy into keeping the baby. Here's a man who lost his mother to the dangers of being a Slayer, who saw her escape for a year only to be drawn back by her calling, and yet he thinks Buffy is strong enough to have a child. Unlike his mother, Buffy doesn't have to do this on her own. She could make it work, and I believed that she knew that, too. And, yet, the dangers of the fight were what weighed on her mind the most.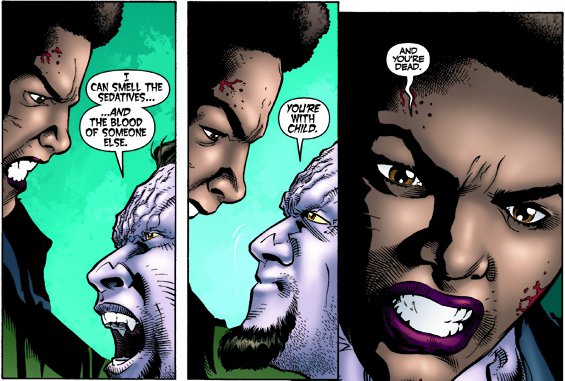 As we end this issue, there were a number of revelations made. Just as Spike was ready to admit his love for Buffy, she tells him that she's going to have an abortion and needs his support to help her through the process. Spike was literally knocked off his feet. Buffy's pregnant. She doesn't think she should have the child. Where does that leave the two of them? I get Buffy's reasoning for her choice, but I want it to be Spike's baby and I want them to do this together. They deserve the chance. We're left to wonder whether she will go through with the abortion or if something will come up to force her to change her mind. Perhaps it is indeed a Slayer/Vampire child and is protected because of that, but we'll have to wait until next issue to find out for sure.
Rating: 4 / 5 Stars