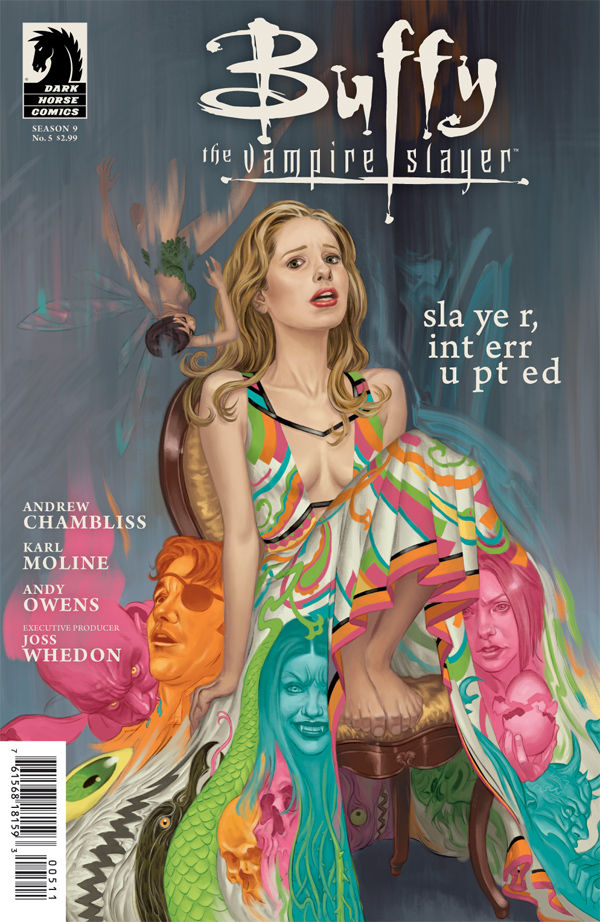 Issue: Buffy the Vampire Slayer: Season Nine #5
Release Date: January 11, 2012
Writers: Andrew Chambliss
Pencils: Karl Moline
Inks: Andy Owens
Colors: Michelle Madsen
Letters: Richard Starkings and COMICRAFT'S Jimmy Betancourt
Cover A: Steve Morris
Cover B: Georges Jeanty with Dexter Vines and Michelle Madsen
Publisher: Dark Horse Comics
This issue of the Buffy comic seemed to be all over the place. We ended a dramatic arc with the last issue, though it was more with a whimper than a bang, and we're starting up a possibly new arc this month. However, I have no idea what's going on. There's dreams and destinies and fairies and a twisty end that left me sad rather than excited. Another day in the life of Buffy Summers.
Going by just the cover, we've got Buffy in a dress comprised of haunting images of her friends and enemies, which reveals way too much of her breasts. Putting the sexualized image aside, does this mean Buffy might be going a bit crazy in the storyline? That's what I expected, but instead we start off with fighting a zombie horde, Xander and Dawn getting turned into zombie vampires, and then the First Slayer shows up to dust them.

Fear not! It was just a dream. From a storytelling standpoint, this is the worst way to start off a storyline. I felt like the first few pages were wasted on an event that wasn't even real. We get it, Buffy's messed up in the head and is now weighed down with all the implications of her actions, but still it seems like she only cares in so much as it relates to her and her world. Same old, same old. Also, it looks like her roommates didn't kick her out before, which they totally should have, so it makes me question the people she's surrounding herself with anyway.
However, the First Slayer is not done with Buffy yet. She once again returns and tries to convey her message, albeit in a very vague way. Buffy's kept the broken Scythe in a trunk in her room, but the First Slayer shows her a vision reminiscent of The Sword in the Stone. The Scythe sits embedded in a stone, atop a pile, guarded by a mass of zombies. Only the Slayer can remove the blade, but since the First Slayer insists that's no longer Buffy, she's going to have her work cut out for her. When Buffy goes on the attack against the First Slayer, she is revealed not to be the noted warrior, but a cousin of Tinkerbell. This would be the point when I started yelling "I don't understand any of this!" And while we're on the topic of not understanding, the artist seemed to be on a roll to see how many hairstyles Buffy could go through in one issue. I got very distracted by it and felt like there was no point in adding the variety to the panels. We know time has passed, there's no reason to go wacky with the hairstyles to denote that.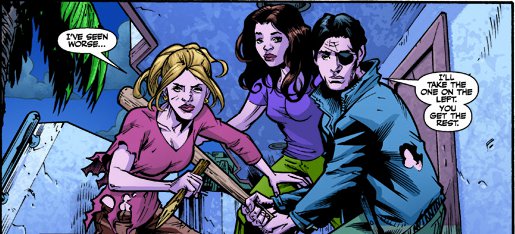 Getting back to "Buffy's Dreamland Adventure", we soon find out that the power of the Scythe isn't meant for Buffy, but for Willow. She holds the key to undoing all the wrong that Buffy has wrought. Isn't that always the way? Buffy screws up, Willow has to step in and help her fix it. I like that Willow will have a purpose again, since her magic removal has put her in a bad place. And Buffy doesn't have time to deal with that problem anymore anyway because she's got an even bigger problem. She's pregnant, but by who? Who was the last guy she had sex with? I can't remember. I wish it was Spike, oh how I wish. However, best guess is that this is Angel's baby. Until we find out who the real Daddy is, we'll have to wait and see how the Slayer deals with impending motherhood. This is going to be good… in a possibly bad way.
Rating: 3 / 5 Stars