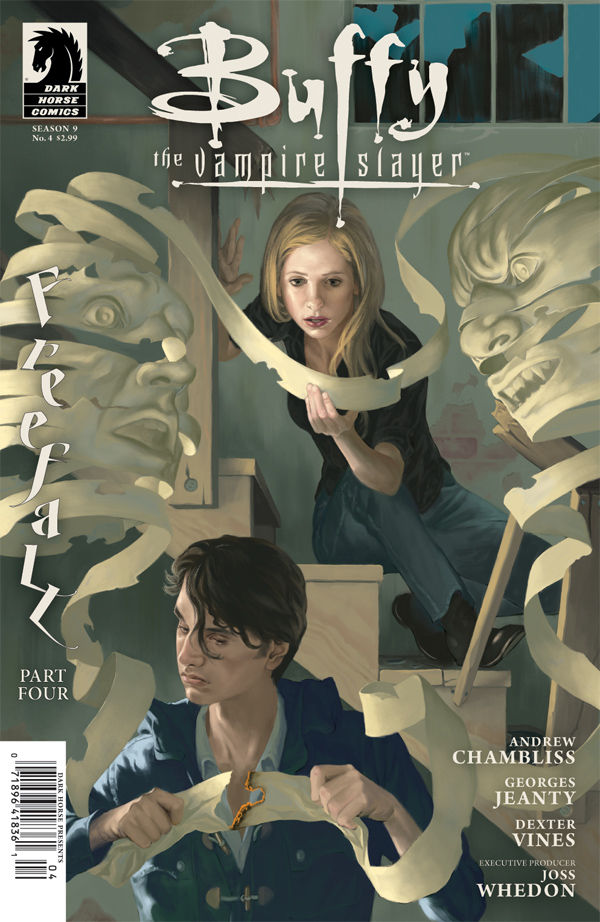 Issue: Buffy the Vampire Slayer: Season Nine #4
Release Date: December 2011
Writers: Andrew Chambliss
Pencils: Georges Jeanty
Inks: Dexter Vines
Colors: Michelle Madsen
Letters: Richard Starkings and COMICRAFT'S Jimmy Betancourt
Cover A: Steve Morris
Cover B: Georges Jeanty with Dexter Vines and Dave Stewart
Publisher: Dark Horse Comics
This issue was supposed to be the ultimate showdown between Buffy and Severin. To me, it was a bit more like a letdown. I didn't feel like the threat of Severin was fully realized before it was all said and done. The high point, however, was that we get a few more tidbits of Spike confession over his longing for Buffy. Well, at least the issue wasn't a total loss.
We start with a flashback. Three months Severin has been trying to track down a vampire for vengeance, but has instead turned his attention to Buffy. If she hadn't destroyed the Seed, the vampires wouldn't have gone crazy, and his life wouldn't have been turned upside down. So, now, he's aiming to take away her power in order to make her pay. And he's willing to pin a few hundred "vampire turned human" murders on her as well.
Meanwhile, Spike and his newfound friend are escaping Alcatraz by boat. Hey, it's worked before! And Koh actually makes Spike open up more about his relationship with Buffy, as well as the fact that it's nowhere near the level he wants it to be. Well, he kinda hints at it, and we can fill in the gaps. I hope that he and Buffy can achieve a good relationship again. Maybe with some therapy and both of them coming to terms with where they are now.

Once again, Xander's able to give us a bit of levity in this issue. I like that he's become the voice of reason in all this. Let's not blindly follow the woman who has sacrificed us time and time again. Let's instead try to have a normal life and let her deal with these issues on her own. Yes, Xander, I agree. But it seems Willow's a bit more forgiving than her friend, and lends Buffy a shoulder to lean on when it all goes down. I'm still angry on Willow's behalf, though. Buffy did ruin all their lives with her actions and she still hasn't quite gotten that into her head, except for how it affected Buffy personally.
As with every issue ever, it's Spike that races in to help save Buffy from certain death. He almost lost his own life during his valiant attempts, but between him and a cop bent on solving the case in his own way, Severin is taken down, Buffy is saved, and Spike isn't a dead human. It felt like it happened much too quickly, but perhaps it's just a set-up for the next big adventure rather than sloppy writing. The fight for her life isn't over just yet, as there's a new threat on the horizon, but for now she can rest and get ready for the next time someone wants to take her down. She's the Slayer, it's what she does.
Rating: 3 / 5 Stars