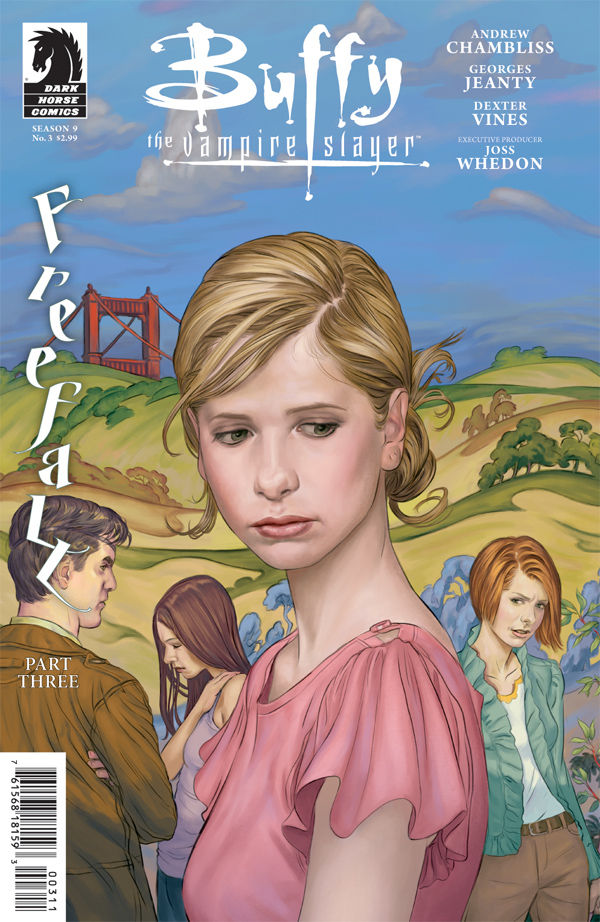 Issue: Buffy the Vampire Slayer: Season Nine #3
Release Date: November 2011
Writers: Andrew Chambliss
Pencils: Georges Jeanty
Inks: Dexter Vines
Colors: Michelle Madsen
Letters: Richard Starkings and COMICRAFT'S Jimmy Betancourt
Cover A: Steve Morris
Cover B: Georges Jeanty with Dexter Vines and JD Mettler
Publisher: Dark Horse Comics
When there is supposed to be no more magic in the world, a guy who can turn vampires into corpses is sure to catch someone's attention. And that means Buffy must figure out how it all works. That's her mission in this issue of the comic. But is Severin telling the truth when he says he's just as clueless as she is?
Meanwhile, the cops are still looking for Buffy. You don't slip out of police custody without getting someone on your trail. Buffy's roommate directs the officers to Dawn and Xander's place, but Buffy is not to be found there either. She's a wanted woman on the run, in more ways than one, since the supernatural realm also wants to see her harmed. Good thing she's got Spike on her side.
I always adore when Spike gets to go bumpy face and remind others why he was known as the slayer of Slayers for all those years. And his scare tactics certainly work because, even though he didn't get a name, he did get a location. Seems the big demon is holing up in Alcatraz before he makes his move. Yes, the infamous prison reminds him of home. How quaint. But I fear that he will find Buffy sooner rather than later.
We also get a bit more information on Severin. He's a trust-fund kid who did not come into his gift willingly. Instead of being a Psuedo-Slayer, he was instead looking to be a vampire. After his girlfriend got into the fanged community, she devised a plan. She'd turn, and then turn him. He was all for it until her vampire nature was revealed. She was no longer the woman he loved, but instead a monster, and he didn't want to become one, too. So, in an act of survival, he turned her back and killed her, not knowing he harnessed the power to do so. And thus began his journey to turn every vampire back into the humans they once were, before sending them to their deaths.
And like a time-warp, Buffy calls together the Scooby gang to investigate. I love Xander's little quip about his lost eye. It's the small jokes that make it all worthwhile. Dawn and Xander are the only two that show up, and Willow only has an open mind when Buffy admitted there might be some negative ramifications from the destruction of the Seed. Yeah, you think? But I appreciate that neither Willow, nor most of the rest of them, are quick to forgive Buffy for her actions. She needs to learn that many others are affected by the choices she makes.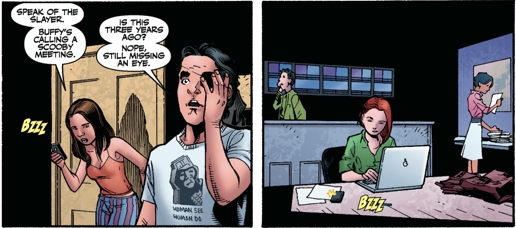 Since the Seed's destruction, the way vampires are made has changed. That means they're much more feral and, apparently, more like zombie vampires. Not good. But while Buffy's all gung-ho to fight the creatures, Dawn and Xander are more concerned with the immediate situation of Buffy being on the run from the law. Their attempts to get Buffy to talk to the detectives go unheeded, but it was a nice gesture.
Spike's tracked down the big demon in Alcatraz and finds out that he's not the one they should be worried about. Instead, the demon brings news of a bigger, badder enemy named the Siphon. This creature is known to rip mystical power from all he touches, and the Slayer is included amongst them. Sound like anyone you know? I told you Severin wasn't to be trusted! And now he's turned his attention to taking out Buffy. How will she get out of it? We'll have to wait until next issue to find out.
Rating: 4 / 5 Stars