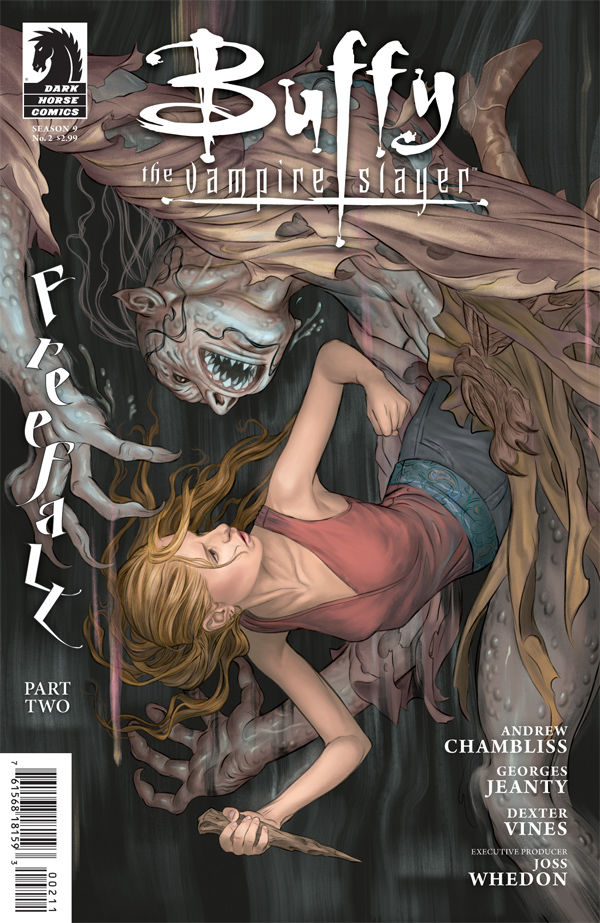 Issue: Buffy the Vampire Slayer: Season Nine #2
Release Date: October 2011
Writers: Andrew Chambliss
Pencils: Georges Jeanty
Inks: Dexter Vines
Colors: Michelle Madsen
Letters: Richard Starkings and COMICRAFT'S Jimmy Betancourt
Cover: Steve Morris
Alternate Cover: Georges Jeanty with Dexter Vines and JD Mettler
Publisher: Dark Horse Comics
Buffy's back, continuing her journey to remain the Slayer in the aftermath of the Seed's destruction. When last we left the group, Willow, Spike, and Buffy were up against a loan-collecting demon. We'll get back to that soon, but first there's a murderer in our midst. The cops are investigating a dead guy, the latest in a long line of bodies that have been found in the area lately. I was willing to carry on with that storyline for a bit, but two frames later we're back to Buffy and her demon-turned-collector. You remember him from last time, right? Seems that with the Seed's destruction, he got trapped here and had to make a living somehow. Loan collection seems like a good career choice. So, to get him off her back, Buffy does the honorable thing and pays him off. And so ends our bit of comedy for the month.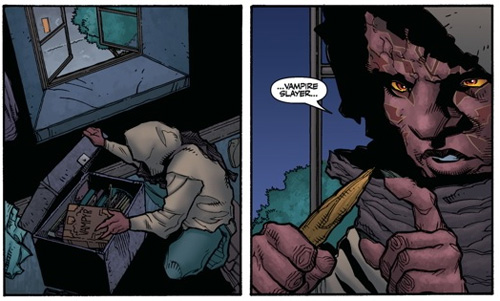 Getting back to more important matters at hand, kudos to Willow for calling out Buffy on her too-small view on the world around her. Buffy's actions affected everyone, but she seems to forget that sometimes. Buffy needs to snap out of her despair because there are still bad things roaming out in the world and she needs to step up and help take care of them. In fact, one such baddie is coming crawling into her window late at night to go searching through her things. I guess Buffy being broke means a security system is a luxury.
And then we get thrown back into the murder investigation, in the middle of a frame series. These transitions are a bit too quick for me. I am having a hard time keep track of who is where and when. But I have to say I'm very interested in these killings because they're not simple murders of people on the street. No, these victims are from the '40s, '50s, and '60s, yet look exactly the same as when they disappeared. A mystery! I like those. And one of the cops has a theory as to why they're eternally youthful. It must be vampires.
Buffy's out doing her thing, protecting victims from wandering vampires. She's the Slayer after all. Too bad she's also being arrested. You can't just kill a vampire with a stake and expect the cops to look the other way. But now the story's finally tying together because the cops from the murder investigation know she's a Slayer and their victims were likely vampires, so it would stand to reason that Buffy killed them all. Going from a Slayer to a serial killer, is that a step up on the career ladder? And not only is she a wanted criminal, she's also an escaped one, sneaking her way out of the station and heading straight to Xander and Dawn's apartment. Not the best plan, but desperate times and all that.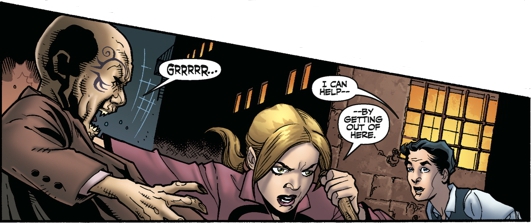 I'm actually a bit surprised, but a little happy, that Xander and Dawn don't instantly agree to help her. They've got their lives and Buffy has ruined it a few too many times already, so they send her away to deal with it herself. But like all the times before, who's going to stand beside her? Spike. And Buffy's making a bit of progress on this whole fractured relationship they've got going. She freely admitted she'd miss him if he died. I'll take my victories where I can get them. So Spike's on the case, Buffy's on the run, and vampires are roaming the town. Fun times!
But here's where things get interesting. The guy Buffy saved before is a Slayer, but apparently not in the usual way. He touches the vampires and they become human again, then die. So it seems he would be responsible for the trail of bodies that have littered the town lately. I am left intrigued by this new player in the game. Who is he? Where did he come from? Will he be an ally or an enemy? We'll have to wait and find out.
Rating: 4 / 5 Stars