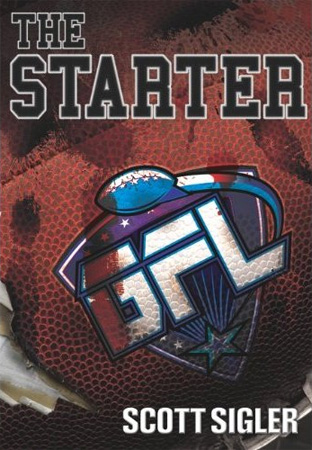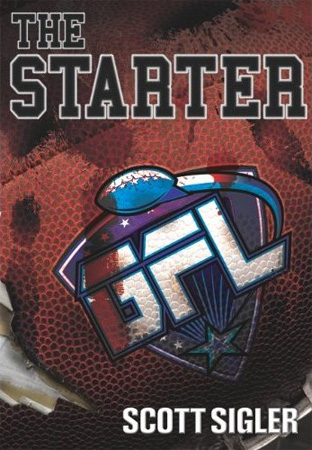 Title: The Starter
Author: Scott Sigler
Scott Sigler has returned to the Galactic Football League universe with The Starter, the sequel to 2009's The Rookie. Just like in its predecessor, Sigler delivers an action-packed blend of football, gangsters, and science fiction. He manages to combine these seemingly disparate elements into one cohesive story that, as usual, entertains the reader with a believable group of characters thrown into a nearly impossible situation. (Note: it should go without saying that this review may spoil events in The Rookie. But I'll say it anyway.)
In The Rookie, Quentin Barnes, the titular quarterback for both books, faced several challenges and managed to overcome most of them. In this book, he faces even more. From the opening terrorist attack on the Krakens to personnel problems to crossing the owner of the team on multiple occasions, Quentin just can't seem to catch a break. He is forced to make tough decisions to help his team, decisions that potentially jeopardize his new-found (and unexpected) friendship with several of his teammates when his team starts off the season with a losing record. Sigler's characterization makes us feel for Quentin's heartbreak when he reveals to two members of the team that they are being traded. I still can't believe that I can empathize with a football player, but Sigler is just that good.
In addition to Quentin's characterization, I really enjoyed the characterization of female characters in the books. It's not simply that they are allowed to play on the team in an equal capacity. There is also no questioning of their role, nor really even any kind of commentary. If a HeavyG human female is the best fullback, she gets the job. And the Sklorno players are all female. That's just how football is played in the 27th century. When Quentin has a problem with a new player, for example, it's because she wants his job, not because of her gender. It's a small thing, perhaps, but I found it interesting precisely because of its banality.
It isn't just the characterization that makes for a good Sigler novel, of course. It's also his use of different genres to great effect. There's the football, of course, which drives most of the story. In order to give the reader a feel for the game, Sigler describes one or two key plays from each game rather than going into detail about the entire game. This keeps the pacing going while still giving time for the other elements to develop. The gangster element, for example, really shows up much more in this book. Gredok the Splithead, the Krakens' owner, makes an enemy that will surely come back to haunt him in the next book. And it's because of Quentin's actions that he does it. Although Quentin has grown in many ways in both this book and The Rookie, he still hasn't quite figured out the whole mob thing. This book starts to change that, and I suspect the next book will push it even further.
I do have a couple of minor quibbles with this book, both of which have to do with seemingly dropped plotlines. I mentioned Quentin having a problem with a new female player earlier, one who wanted his job as quarterback. Although there is some rivalry in the beginning, it never really goes anywhere. It just sort of disappears. It's not really a big deal, and I suppose it could simply be that they both realize that the team is more important than they are, but it might have been interesting to see Quentin get a little taste of what it feels like to have someone gunning for his position (a role he played with Don Pine in the first book). There is also the matter of the aforementioned terrorist attack on the Krakens. Even by the end of the book, it is still not clear who the target was. Of course, this could be setting something up for the next book, and it's also entirely possible that it's just a reflection of reality: sometimes terrible stuff happens with no explanation. But this is fiction, and, as Tom Clancy said, unlike truth, "Fiction has to make sense." Given Sigler's propensity for setting things up long term, however, I'm guessing it will make sense in the next book.
In the final analysis, Scott Sigler has yet again given us an amazing story. Although it was a different experience reading this story first instead of hearing it first as I have with all of Sigler's other works, I could still hear Sigler doing all of the character voices as I read. That's just how good he is: his voice stands out whether he's reading or I am. I'm still surprised that I can enjoy a book about football so much, but I have to say that I can't wait for The All Pro.
Rating: 4.5 / 5 Stars
(all images from the wiki at Scottsigler.com)