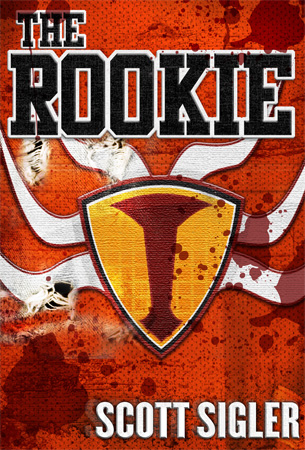 Title: The Rookie
Author: Scott Sigler
The Rookie was first published as a free podiobook back in 2007. It has subsequently been released as an iPod app as well as a gorgeous, limited edition hardcover book from Dark Overlord Media. The novel is set nearly 700 years in our future, in a galaxy populated with many, many alien races, some of whom have at some time or another been at war with each other. In order to keep the peace, one of the races, the Creterakians, have set up a Galactic Football League. Yes, that's right, it's a sci-fi football book.
The story is about Quentin Barnes, a rookie quarterback in Tier Two who's never played with any of the many alien races that populate the upper tiers (the league is divided into three tiers with Tiers I and II being similar to our NFL and Tier III being similar to college ball). And he's also been taught that the other races are satanic by the religion he was brought up in. Oh, and did I mention that there are alien gangsters who use the legal immunity of upper tier football players to smuggle drugs and other illegal substances? Yeah, they're in the book, too. And one of them runs Quentin's new team, the Ionath Krakens.
Despite the fact that I am not a huge football fan (I will occasionally watch our local team, the University of Florida Gators, on TV, and I usually watch the Superbowl, but I have no attachment to who actually wins), I thoroughly enjoyed this book. Sigler writes extremely good fiction that is believable and vividly descriptive. And he knows how to pace his action to keep his readers hooked. For example, several times throughout the story, Quentin feels as if time has slowed down while he plays. The crowd noises in the audio version actually die off, and we feel time slow. The text doesn't convey this sense quite as well, but it's certainly still clear.
Sigler is also not shy about bringing the violence — in fact, one of his signature lines is that his books contain "lots AND LOTS of violence." Since this book is about football, there is certainly plenty of violence; in fact, players even die on the field. Without spoiling too much, one of the deaths in this book is really important and actually had me tearing up at one point.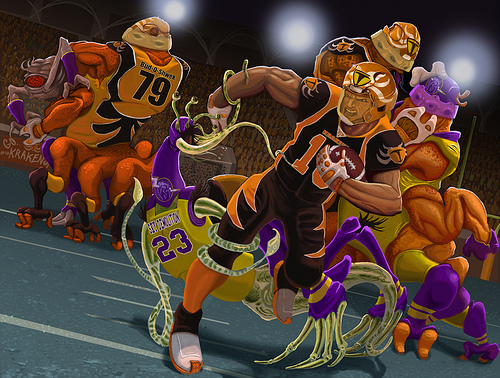 And that's what really keeps me coming back for more: the emotional attachment to the characters. I've read or listened to this book three times, something I almost never do. Sigler deftly handles the growth of Quentin from a backwater second-stringer too arrogant to realize how little he knows to the undisputed star quarterback of the Krakens. In the hands of a lesser writer, Quentin could have just been a "Purist Nation" anti-alien bigot who refused to speak to his alien teammates let alone taken advice or help from them, but Sigler makes us believe his evolution by making Quentin a three-dimensional character who comes to realize that much of what he was taught as an orphan child is simply wrong.
As I mentioned, there are both an audio version and a print version of this book. I would recommend both. Sigler's production for the audio (remastered production by Arioch Morningstar), as well as his performances of the various characters, really serve to bring the story to life. Even without attribution tags, you can quickly identify speakers, and the alien voices even get their own effects. The actual print book is a "young adult" version without the adult language of the podcast. It contains beautiful, full color descriptions of the various alien races as well as the teams of the GFL. In addition, it contains a timeline of events leading from our time to the time of The Rookie. It even mentions events in other Sigler novels since they are all set in the same "Siglerverse."
In the interest of full disclosure, I have to admit that I am an "Original Junkie," one of the legion of fans that started listening to Sigler's podiobooks back when he first started (my first was Ancestor, his second podcasted novel after Earthcore). I have actually referred to Sigler as my Future Dark Overlord (or FDO as he puts it) and have evangelized to many, many people, including my high school students. So, yeah, maybe there's a touch of bias going on. But the reason that I'm a junkie in the first place is because Sigler knows how to tell a good story. And his writing keeps getting better, as evidenced by the publication of two hardcovers for Crown, one of which made the New York Times bestseller list. For this reason, I am very much looking forward to the release of The Starter, the sequel to The Rookie, later this year. So if you're looking for something with plenty of action, plenty of violence, and plenty of emotional investment, The Rookie is a great place to start your addiction to Sigler.
Rating: 4.5 / 5 Stars