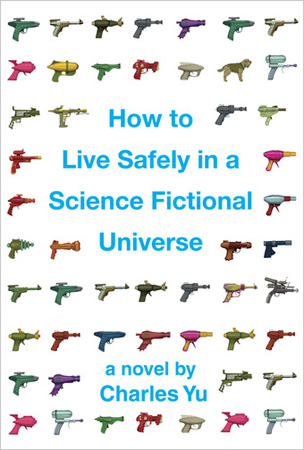 Title: How to Live Safely in a Science Fictional Universe
Author: Charles Yu
Publisher: Pantheon Books
Release Date: September 7, 2010
How to Live Safely in a Science Fictional Universe, the first novel by award-winning young short story writer Charles Yu, can best be described as meta-science fiction. It tells the story of Charles, a time machine technician living in Minor Universe 31, a fictional construction that was abandoned before completion. It is not big enough to hold epic stories or space operas, and it is seriously lacking in people capable of being heroic protagonists. While going about his daily duties — repairing time machines and basically saving people from themselves — he is jerked out of his complacency into a time loop. In trying to escape the loop, Charles goes on a journey through time and space as well as a journey of self-discovery, learning much about both himself and the missing father he has spent so many years looking for.
I like to read science fiction, so when I saw this title on the "recommended reads" shelf at the local bookstore, I picked it up to read the flyleaf. The premise sounded intriguing and the comments on the back sounded promising, so I spent one of my Christmas gift cards on it. I'm not sure I would do that a second time, knowing what I know now. I liked Yu's writing style — the words flow off of the page and draw the reader in, particularly in descriptive passages. He was able to turn an interesting story premise into a thought-provoking narrative that explores the nature of relationships, regret, and wishful thinking in a very unique way. I suppose I would have enjoyed it more, therefore, if that was the kind of book I had been expecting when I bought it. I made the mistake of trusting the New York Times Book Review reviewer who was quoted on the back of the jacket, comparing Yu to Douglas Adams in terms of his humor. Frankly, although the book did have its funny moments, it was nowhere near the standard set by Douglas Adams, who was in fact able to say deep and thought-provoking things about human nature while being hilariously funny all the time. The lesson in this: don't believe everything you read, especially on the back of a book jacket!
If you are in a serious, soul-searching mood and want to be challenged with deep thoughts about dealing with a past that you can't change, then by all means, pick up this book. Otherwise, you can safely skip it and not have missed much. If I come across any more of Yu's writing in the future, I will definitely take a look and possibly even give it a read, but I will do so with clearer expectations about what I am getting into.
Rating: 3 / 5 Stars