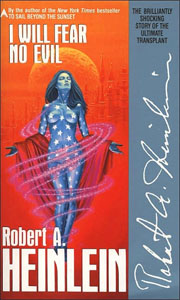 Have you ever wondered to yourself, "What would it be like to be a member of the opposite gender?" Well that's not what Johann Smith was thinking when he sent out an advertisement rewarding one million dollars for a brain dead patient with his rare blood type. Why? Well Mr. Smith had grown quite old, and in keeping with the human condition wanted to find a way to extend his rapidly closing life.  When money is nothing, attempting a very risky and very controversial brain transplant is nothing. What Johann hadn't counted on was his new body being that of his young, attractive and female secretary, Eunice.
Many will say that this is not one of Heinlein's best books. Sure, the moral comes late and doesn't seem to have anything to do with the rest of the story. Heinlein has some themes that are in most if not all of his books, this one being the importance of procreation, along with the search for immortality, free love, and the differences and relationship between emotional love and sexual experience. I will even say that by no means is this book a classic of any genre, but it is a book I have read several times over. However, it does have merits. This is, to my knowledge, one of the first science fiction works to show a homosexual couple in a sympathetic way, and it does explore the topic of gender roles.
Sure there are some scenes that I wouldn't recommend anyone under thirteen read where Johann, newly christened Joan Eunice Smith explores what it is like to love both physically and emotionally from the viewpoint of a woman. It should also be mentioned that there is probably more than the physical explorations. With her new identity she has to cope with acting like the lady she now is, and to help her is the disembodied consciousness of Eunice. While it is never stated one way or there other, there is some serious question as to whether or not this constant voice is a figment of Joan's imagination or that she really does exist in Joan's transplanted brain.
Why shouldn't Joan continue to be a crotchety old man even though he now inhabits a young woman's body? Why should he have to change his personality at all? Well that has something to do with Heinlein, for he certainly has a feminine ideal. Once Johann becomes Joan he must fit the mold of a perfect Heinleinian woman. This means she must be absolutely beautiful, must care about her looks, must be pleasing to the men (usually older, affluent men), be domestic, be incredibly intelligent, cook a mean breakfast, and be sexually active (usually towards the aforementioned purpose of procreation).
While all of these seem like they should really piss of a feminist, much like myself, Heinlein has some redeeming factors for women, and in another one of his books he states to the effect that women shouldn't ask for equality, because they are already superior. That's not a direct quote, but it's the general idea. I'll go more into feminism and Heinlein at a later date, be sure of that, but as it relates to this book, Joan feels the pressure to conform to societal stereotypes for women but takes it a step further with her exploration of being a woman. Not being shy, she wants to experience all there is to offer, while deciding that in a hundred years not much has changed. Technology will change over time to be sure, but the things humans do for love and pleasure are the same.
This is a good read if you don't want to take it too seriously. The social issues are there for you to explore if you like, and really neither Johann or Joan are overly endearing characters, but Eunice is. You can easily take it as it is, contemplate existence, ponder over gender roles, or any other of a myriad of topics it can bring up. I find it's a fun read either way. I would really recommend it to anyone who like Heinlein's voice as a writer but can step back and realize that this isn't Stranger in a Strange Land. It is experimentation with "what ifs" and definitely worth a read.
"The idiot box is for idiots"
–Kelly Melcher