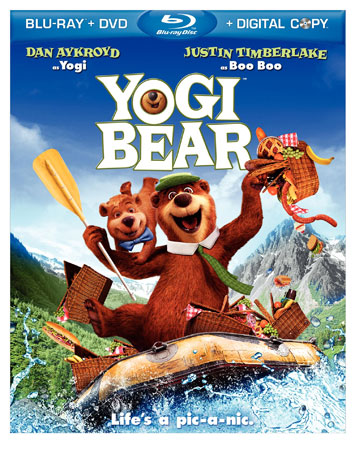 Everybody's favorite bear comedy duo made their way into the digital age last year with the big budget live-action / CG Yogi Bear movie. The film arrived on home video this month as a Blu-ray digital combo release.
When Yogi Bear and Boo Boo made their debut in 1958, Daws Butler and Don Messick immortalized them with their unforgettable voice work. Yogi's talk about "pic-a-nic baskets" and Boo Boo's drawl are as intrinsic to their characters as are Yogi's hat and Boo Boo's bow tie. It's hard to bring back such classic and recognizable characters in a new medium and with new voice actors, but that's where the 2010 Yogi Bear movie excels. Dan Aykroyd nails Yogi's speech patterns, and Justin Timberlake makes for a convincing Boo Boo. Who'd have guessed it? The characters themselves make good transitions into CG as well, thankfully. A lot of new CG movies tend to turn beloved 2D cartoon characters into 3D monstrosities, but Yogi and Boo Boo make the jump admirably, keeping their signature looks and personalities intact.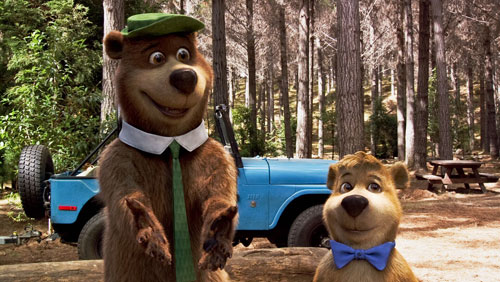 As great as the classic characters are, the movie could have used a more original plot. How many times has Jellystone Park been in trouble and needed Yogi's help to save it? Or even more specifically, how many movies about wildlife parks have been about money shortages threatening to shut the parks down? That's the familiar road Yogi Bear takes as Mayor Brown (Eastbound & Down's Andrew Daly) plots to funnel money from the park into his own reelection campaign. It's up to Ranger Smith (Ed's Tom Cavanagh) and documentary filmmaker Rachel (Anna Faris from Scary Movie and a million more recent comedies and cartoons) to partner up with Yogi and Boo Boo to bring in enough money to save the park. All the expected shenanigans ensue, and there are quite a few legitimately funny parts that stand out in spite of the done to death plot.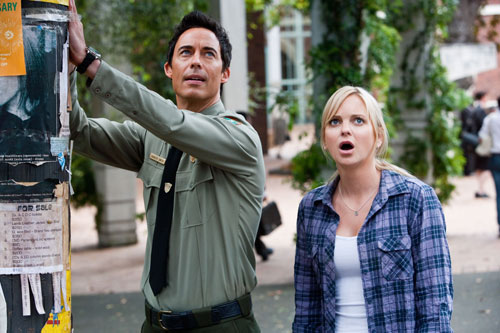 Yogi Bear follows the likes of the recent Chipmunks movies and the upcoming Smurfs adaptation by inserting its animated characters into a live-action world to interact with human actors. As is often the case with these things (Roger Rabbit being an obvious exception), the human actors are where this movie lags a little. The same story would have worked just as well or better with the whole thing being animated. Still, Yogi Bear is an enjoyable family film that maintains enough of its classic character to deliver some nostalgia to longtime Hanna-Barbera fans while still being a fun watch for the kids.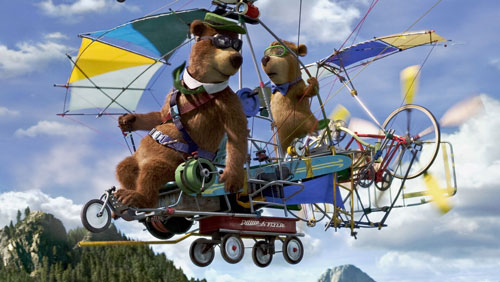 The Blu-ray combo pack comes with the movie on Blu-ray, DVD, and as a digital download (via a limited time code that's included in the package). Along with the movie, there are a few special features that deliver some new featurettes, as well as some interactive experiences:
Spending a Day at Jellystone Park – A feature that takes you on a click-through tour of the park. By interacting with the park's locations you'll find some new production featurettes that add up to around half an hour of content.
Are You Smarter Than the Average Bear? – An interactive memory game.
Looney Tunes: Rabid Rider – A fantastic three-minute short featuring the newly CG-ified Road Runner and Wile E. Coyote.
Yogi Bear hit Blu-ray and DVD on March 22, 2011.