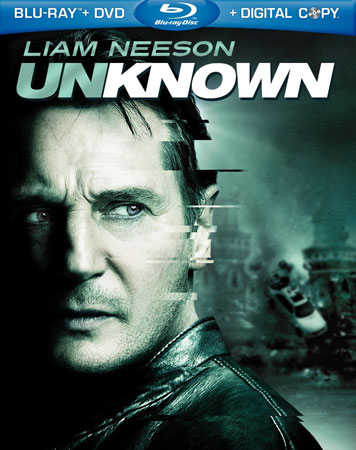 There was a time when Liam Neeson was the face of Oscar-lure film making, headlining Schindler's List, Rob Roy, Les Misérables in the early to mid-'90s. In 1999 he ignited his lightsaber as Jedi Master Qui-Gon Jinn for The Phantom Menace and became an action hero, seemingly overnight. Neeson's career has continued to evolve with turns in Batman Begins, Taken, Clash of the Titans, and The A-Team and voice work in Fallout 3 and the Narnia films. Somehow he has managed to maintain his theatrical gravitas through all the action movies without seeming out of place in any of his recent roles. That's an uncommon feat, and it brings us to a unique career point, when Liam Neeson suddenly is entirely believable at the front of a twisty action-espionage film in his late fifties.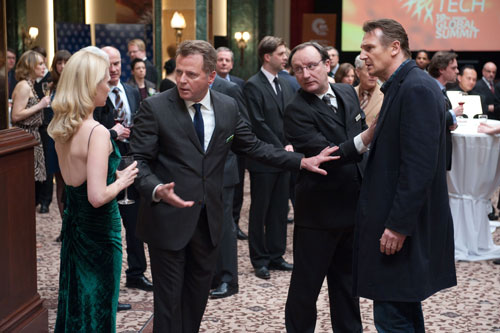 Firmly rooted in its genre, Unknown is an engaging and surprising thriller, even if it borrows heavily from the likes of the Jason Bourne films and even from Neeson's 2008 thriller Taken. Here Neeson plays Dr. Martin Harris, an American biologist attending a summit in Germany with his wife Elizabeth (January Jones). After a luggage mix up, Harris leaves his wife at their hotel and hops in a cab to go back to the airport. On the way, a freak accident throws his taxi off a bridge and into a river, where his anxious but quick thinking cabbie (Diane Kruger) manages to save his life and drag him to safety. Knocked unconscious, he remains in a coma for four days. Upon awakening, he is surprised to find that no one has been looking for him. Even more perplexing, when he finally tracks down his wife, she no longer recognizes him and is in the company of another man (Aidan Quinn) who claims to be the real Dr. Martin Harris.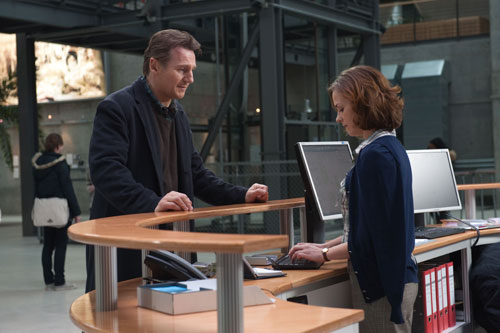 "Our" Dr. Harris sets out to prove his identity and to unravel the mystery of why and how someone would impersonate him and bring his wife into the scheme. The more he delves into the identity theft, however, the more he questions his own sanity and wonders whether he really knows what is real and what is imaginary. Harris gets help from a former Stasi agent (Bruno Ganz) who now works as a private investigator, and he tries to establish contact with his old friend Rodney Cole (Frank Langella). As pieces begin to fall into place, Harris realizes the puzzle is larger than he's expected, and there's more at stake than just his own identity.
Though Unknown does cobble together elements from previous thrillers and introduces a few turns we've seen several times before, the outstanding cast pulls it all together into an arresting narrative that manages to be suspenseful and surprising. The script does not stand up to close scrutiny, but it's fairly easy to overlook some giant plot holes for the sake of the overall production. Fans of Neeson's Taken badassery will want to check this one out, as will anyone looking for a modern espionage thriller with a Hitchcockian air.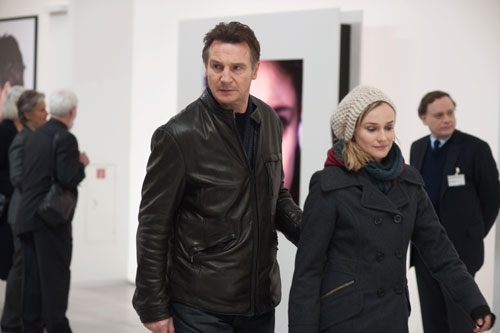 The combo pack from Warner Bros packages together the Blu-ray and DVD versions of the movie with a code for a digital download. The three versions of the movie are identical, aside from the varying audio and visual qualities of their formats. You won't miss out on any extended footage if you watch it on DVD, but it looks and sounds much better on Blu-ray, of course. The DVD version includes one featurette, "Unknown: What Is Known?" while the Blu-ray includes that one as well as a second brief featurette about Liam Neeson as an action hero. Those are the only two special features in the package.
Unknown arrived on DVD, Blu-ray, and download on June 21, and is available for purchase now.