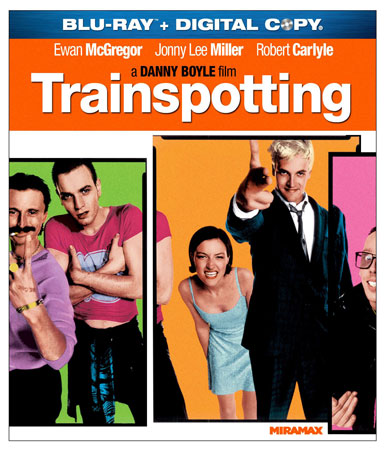 If I ever had the urge to engage in some hardcore recreational pharmaceuticals, there's an entire subgenre of films I could watch to dissuade myself from those choices. While Trainspotting might not be as bleakly terrifying an addiction movie as Requiem for a Dream, it still presents some pretty terrible consequences for living a heroin addicted life.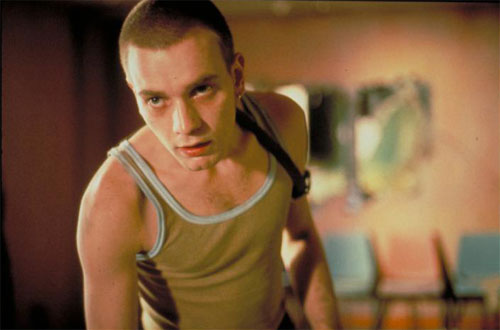 I didn't see Trainspotting when it originally released in 1996, and I somehow managed to miss watching it at any point in the ensuing fifteen years. This week it arrived on Blu-ray, and I finally got a chance to check out this Danny Boyle film I'd heard so much about. The times have changed since 1996, but the viewing made me every bit as uncomfortable as I imagine audiences felt when they first saw it more than a decade ago. The movie's effect likely was a little different for me, though, as many of the actors in it have made themselves known to me in the interim through various genre and mainstream TV shows and movies. It's hard for me not to see a heroin-addicted Obi-Wan Kenobi and Eli Stone (Ewan McGregor and Jonny Lee Miller) hanging out with a violence crazed Professor Rush and an underage sexpot Mrs. Schroeder (Robert Carlyle and Kelly Macdonald) when I see Trainspotting in 2011.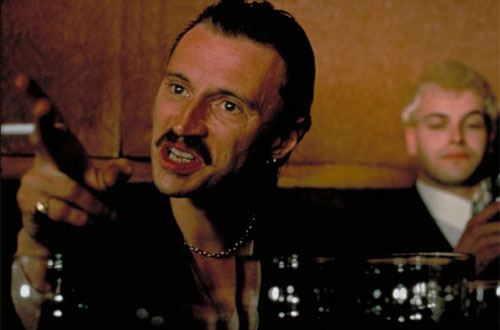 Set in Scotland, Trainspotting follows a group of young friends through their miserable lives as they go off and on drugs and find themselves in and out of all sorts of associated trouble. Ewan McGregor plays Renton, our window into the group, and a heroin addict who occasionally tries to clean himself up. His circle of friends, most of them fellow druggies, includes con-man Sick Boy (Jonny Lee Miller), athlete Tommy (Kevin McKidd), and well intentioned but bumbling Spud (Ewen Bremner). Also along for the ride is their non-addict friend Begbie (Robert Carlyle) who has a penchant for violent outbursts, as well as Diane (Kelly Macdonald), a young girl Renton befriends while out clubbing.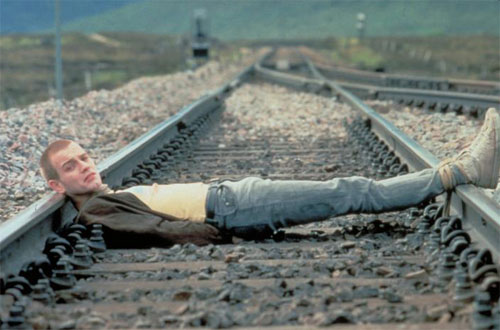 Rather than follow one linear plot, Trainspotting sticks with the format of the novel on which it's based to present slices from these young Scottish hooligans' lives, assembled as separate episodes arranged in generally chronological order. The movie manages to tread a thin line between comedy and tragedy as we watch the kids' lives tumble in perpetual failure, even as we laugh at the ridiculousness of the situations into which they get themselves. There also are a few genuinely horrifying moments, usually surrounding Renton's attempts to get onto or off the drugs. A particular scene in which he's staring at something on the ceiling has lodged itself in my mind and probably never will vacate.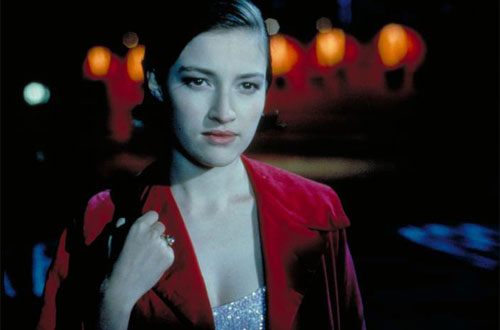 Lionsgate's new Blu-ray release is a collector's edition that presents the movie itself with a sharp transfer that looks especially great in bright and colorful scenes. In addition to the film, the Blu-ray offers a big assortment of special features:
Audio commentary with Danny Boyle (director), Andrew Macdonald (producer), John Hodge (screenplay writer), and Ewan McGregor (Renton)
The Making of Trainspotting featurette
Trainspotting retrospective featurette
Interviews with Danny Boyle, Andrew Macdonald, John Hodge, and Irvine Welsh (the original novel's author)
Interviews from the Cannes Film Festival
Over 10 minutes of deleted scenes with audio commentary
Photo gallery
Theatrical teaser and trailer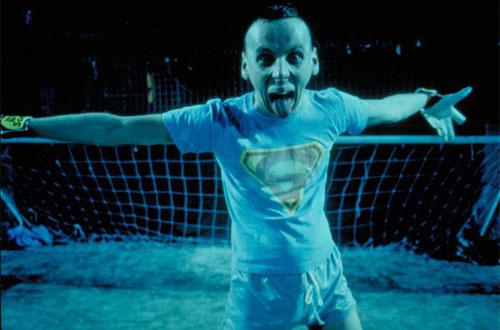 The Trainspotting Collector's Edition released on Blu-ray on September 13 and is worth checking out if you already are a fan of the movie or if you're a newcomer like me who has followed the cast and crew's post-Trainspotting careers.